A powerful explosion destroyed a building in the English city of Leicester and killed four people with British police ruling out a terror link to the blast.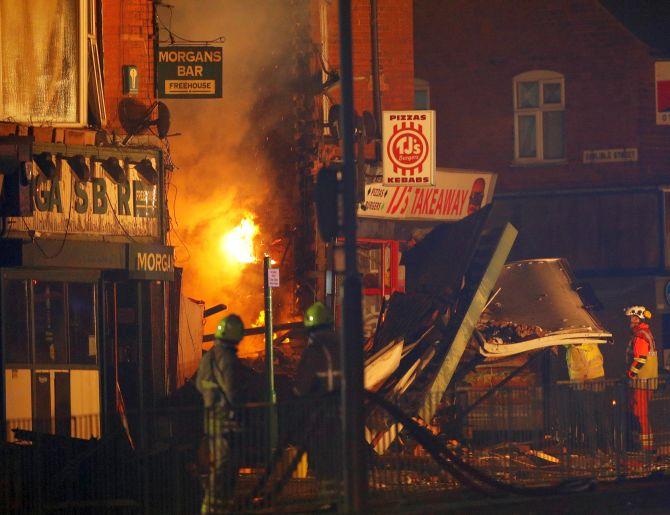 IMAGE: The explosion took place inside a two-floor building with a loft conversion that had suffered a "pancake collapse". Photograph: Darren Staples/Reuters
Police declared a "major incident" after the explosion occurred on Sunday evening on a stretch of road containing commercial and residential properties close to Leicester's city centre.
Four people died after the explosion and subsequent fire destroyed a shop and the flat above it.
A fire and rescue service spokeswoman said the emergency services were conducting a search and rescue operation and it was unclear if people were trapped in the rubble.
British police said there was no indication the explosion was linked to terrorism.
"The cause of the explosion will be the subject of a joint investigation by the police and Leicestershire Fire and Rescue Service," police said in a statement.
"We would ask that the media and public do not speculate about the circumstances surrounding the incident, but at this stage there is no indication this is terrorist related," it said.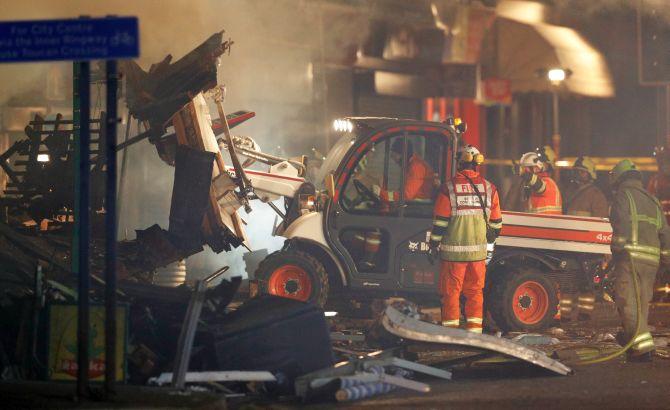 IMAGE: Members of the emergency services work at the site of an explosion which destroyed a convenience store and a home in Leicester, Britain. Photograph: Darren Staples/Reuters
The emergency services said they were called to reports of a blast shortly after 7 pm (local time) and six fire engines were sent to the scene, the BBC reported.
A fire service spokeswoman said the property was a two-floor building with a loft conversion that had suffered a "pancake collapse".
The emergency services have cordoned off about 60 houses in the area, which was a mix of apartments and small shops, including a convenience store, a kebab restaurant and a Polish grocery.
Eyewitnesses said there was thick smoke in the area. One neighbour told BBC she heard "this big thud, like an earthquake".
"The building had gone down and people were trying to help where they could by taking the bricks off. But the fire was getting bigger and bigger so people were told to leave the scene," she said.
She said she and others helped a boy, believed to be aged about 15, who was hurt in the blast.
"He was in there when it happened. I think he was in the flat above the shop. We were keeping him warm and assuring him he'd be OK and the ambulance would be there," she said.