While thousands of demonstrators flooded the streets of major US cities again on Saturday night -- protesting the recent killings by police of black men Philando Castile in suburban St Paul, Minnesota, and Alton Sterling in Baton Rouge, Louisiana -- a demonstration in St Paul took a particularly violent turn, with participants hurling Molotov cocktails, fireworks, rocks, glass bottles, concrete slabs, and bricks at riot gear-wearing police officers.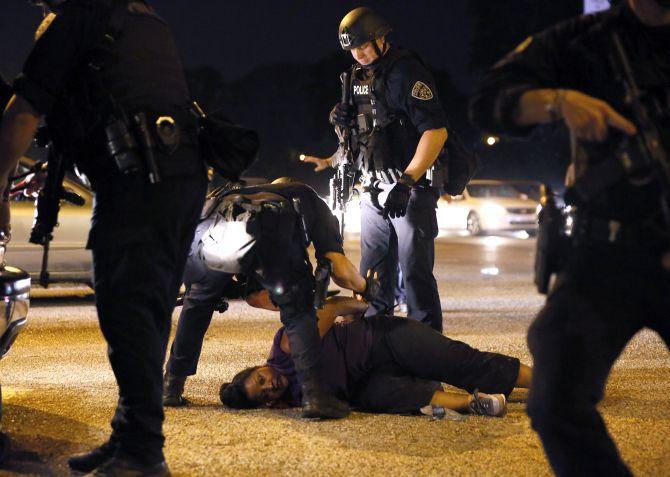 IMAGE: A woman protesting the shooting death of Alton Sterling is detained by law enforcement near the headquarters of the Baton Rouge Police Department in Baton Rouge, Louisiana. Photograph: Jonathan Bachman/Reuters
At least five officers were injured. One policeman was hit with a glass bottle and another by fireworks, according to St Paul police.
Another was hit on the head with a large piece of concrete and one more was hit on the head with a rock.
The scuffle broke out overnight on Saturday in St Paul, Minnesota, where the protesters clashed with police on Interstate 94, reports CNN.
The authorities said that the demonstrators blocked the freeway and threw bottles, bricks and fireworks at the police personnel, thereby injuring at least five officers.
IMAGE: Police are seen as people gather on Interstate 94 to protest the fatal shooting of Philando Castile by Minneapolis area police during a traffic stop, in St. Paul, Minnesota. Photograph: Adam Bettcher/Reuters
Police spokesman Steve Linders said the police used crowd control measures, including smoke, and fired marking rounds similar to paintball rounds. By morning, the police arrested 50 people.
The unrest took place just miles from where Philando Castile, one of the victims, was shot by the police.
As many as 200 people forced their way past Minnesota state patrol troopers, who were trying to block them from getting on the road.
After hours of clashes, things appeared calmer and a cleanup ensued.
Baton Rouge, the other city reeling from the killing of one of its residents, also witnessed masses of people taking to the streets. Demonstrators gathered at the convenience store where Sterling was shot before making their way to the Baton Rouge police department and the state Capitol.
About 1,000 protesters faced off against riot gear-wearing police officers, while shouting "No justice! No peace!"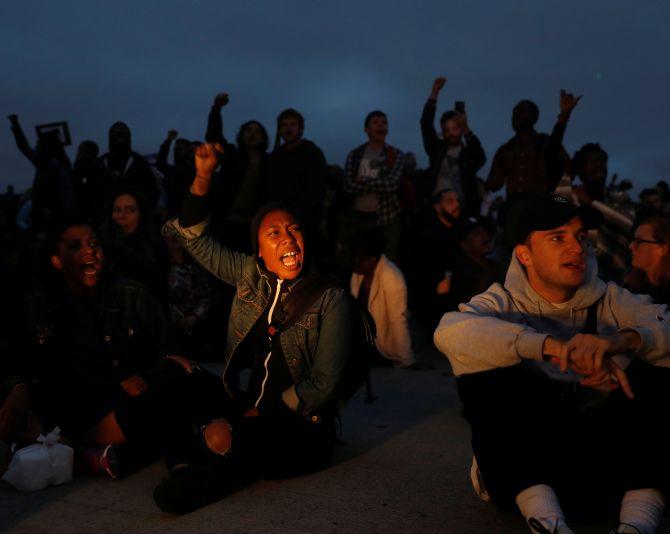 IMAGE: Demonstrators sit on Highway 880 during a protest against the police shootings that lead to two deaths in Louisiana and Minnesota, respectively, in Oakland, California. Photograph:

Stephen Lam/Reuters
Members of the New Black Panther Party for Self Defense were also present, shouting "Black Power" and raising their fists. The protests died down a little after midnight.
Two weapons were confiscated, according to a police spokesman.
Among those arrested was prominent Black Lives Matter activist DeRay Mckesson. It was unclear why he was arrested.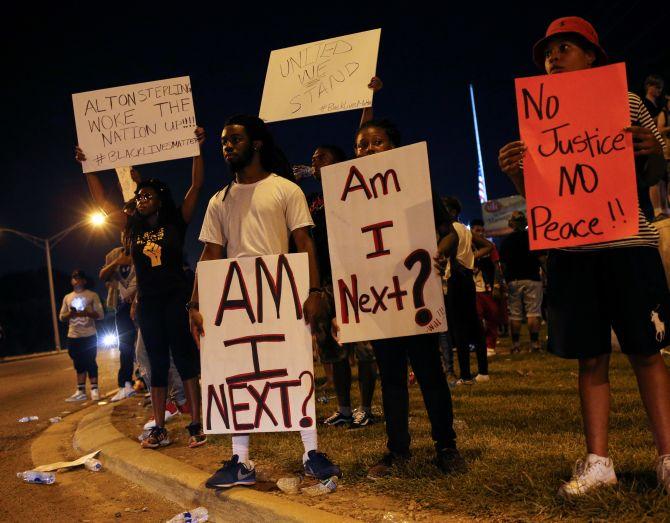 IMAGE: Demonstrators protest the shooting death of Alton Sterling near the headquarters of the Baton Rouge Police Department in Baton Rouge, Louisiana. Photograph:
Shannon Stapleton/Reuters
He was filming live the moments leading up to his arrest. "The police in Baton Rouge have been truly awful tonight," Mckesson said on the video, while walking along Airline Highway. "They have provoked people, they chase people just for kicks. The police have been violent tonight. The protesters have not."
Protests were held in other cities, including Washington, New York, San Francisco, Nashville and Indianapolis.
-- With inputs from Agencies