Sporadic incidents of violence were reported on Monday during a Congress-led opposition sponsored 'Bharat bandh' against spiralling fuel prices that disrupted normal life mainly in Bihar, Kerala, Karnataka, Assam and Odisha.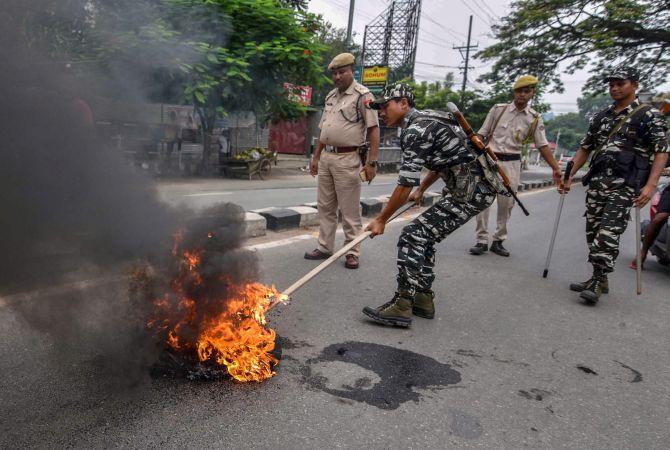 As the Congress top brass including party chief Rahul Gandhi targeted the Modi government at a protest rally in Ramlila maidan in Delhi, offices and educational institutes remained closed and vehicles were off the roads in the states hit by the bandh that drew a mixed response.
The bandh was called by 21 opposition parties that included the Congress, its allies and the Left.
Scores of Congress activists were taken into police custody in several states for forcibly trying to enforce the bandh, according to reports from the state capitals.
While the Congress and other opposition parties claimed the bandh was a success, the ruling Bharatiya Janata Party claimed it was a flop.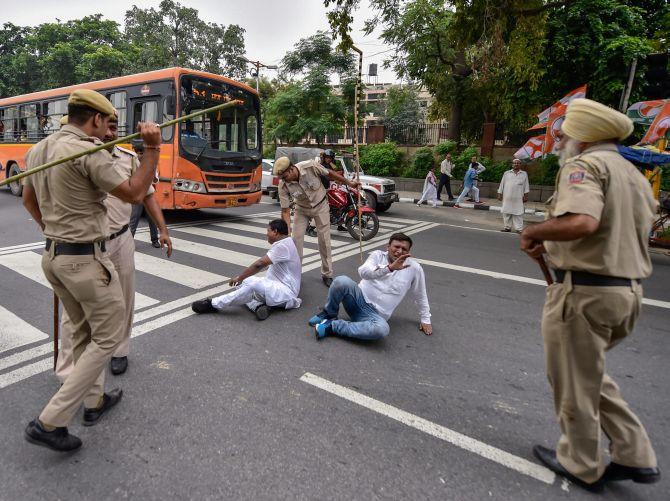 Normal life was largely unaffected in Delhi, Uttar Pradesh and Himachal Pradesh while schools and shops were closed at several places in Rajasthan.
The bandh call evoked a mixed response in Punjab, Haryana and Uttarakhand.
Traffic movement was normal across Delhi.
However, roads leading to Rajghat and Ramlila Maidan where Congress chief Rahul Gandhi and party top brass, including Sonia Gandhi and Manmohan Singh, held a protest witnessed traffic congestion.
Congress workers staged dharnas at petrol pumps to protest the hike in fuel prices. Heavy police deployment was made in the city with reserve police personnel and motorcycle patrols being put on high alert, a senior officer said.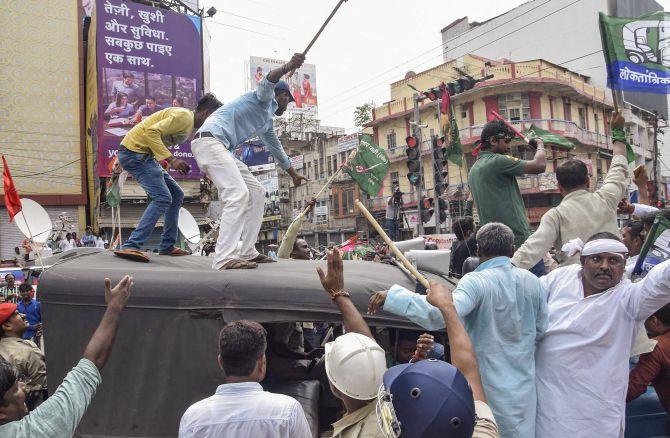 Congress leaders, including Delhi unit chief Ajay Maken, protested by riding a bullock cart to a petrol pump near Rajendra Place. A scooter was kept down on the cart symbolising the 'plight of the common man', party leaders said.
In neighbouring Uttar Pradesh, protests had little impact on normal life as most commercial establishments and educational institutions functioned as usual.
Chief Minister Yogi Adityanath slammed the Opposition accusing it of 'negative thinking'.
The 'Bharat bandh' call evoked a mixed response in Punjab, Haryana and Union Territory Chandigarh.
Though the Chandigarh Congress unit claimed that the bandh call had public support, local BJP MP Kirron Kher said there was no impact.
In Haryana also, Congress workers took out protest marches and held demonstrations at Ambala, Panchkula, Yamunanagar, Rohtak and Panipat.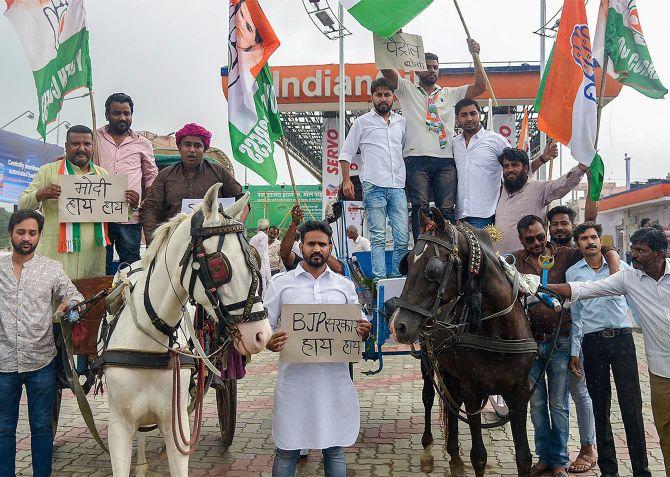 In Srinagar, the Jammu and Kashmir unit of the Congress took out a protest rally.
However, there was no affect of the bandh call on the normal life in the valley.
In Jammu, several hundred Congress activists were detained as the party staged protests across the region. The party's call to the business community and transporters to join the strike, however, failed to evoke much response.
Schools and markets remained closed in Rajasthan.
The Congress held demonstrations and rallies in various districts including state capital Jaipur where Pradesh Congress Committee president Sachin Pilot, All India Congress Committee general secretary Avinash Pande led the protest march.
The bandh call evoked a mixed response in Himachal Pradesh. Many shops were shut till noon in Lower Bazar, Middle Bazar, Ram Bazar and Lakkar Bazar in Shimla.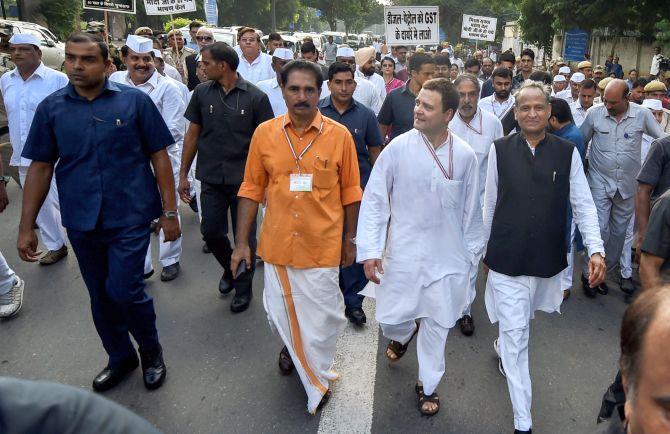 As per reports, some shops and business establishments remained closed in Solan, Chamba, Sirmaur, Dharamshala, Kangra, Palampur, Mandi, Rampur, Kullu, Una and Hamirpur.
Congress workers across Uttarakhand hit the streets to protest against the rise in petrol and diesel prices.
The 'Bharat bandh' call given by the party, however, received a mixed response with visible impact in places like Uttarkashi and Rishikesh while in several other cities there was only isolated closure of shops.
Bihar witnessed widespread arson, vandalism and disruption of rail and road traffic. Burning tyres were placed on railway tracks in the old Patna city area disrupting movement of trains.
The BJP held bandh supporters responsible for the death of a two-year-old girl in Jehanabad while being taken to a hospital but the local administration denied the allegation that the ambulance carrying her was stopped by the protesters.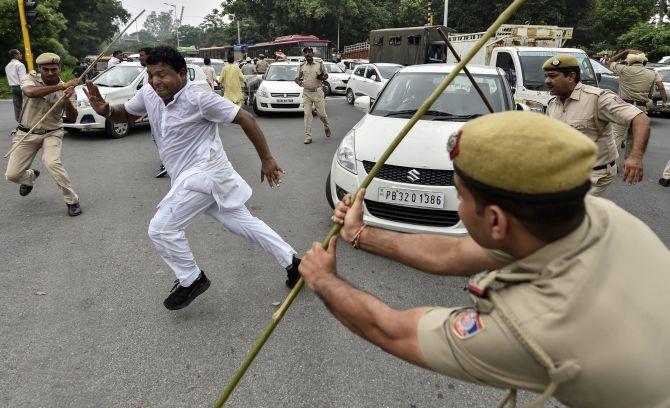 Union minister and senior BJP leader Giriraj Singh termed the bandh as an 'electoral stunt' while his party colleague Ram Kripal Yadav claimed the shutdown was a 'flop'.
In states like Kerala, Karnataka, Bihar, Odisha and Arunachal Pradesh life was hit by the shutdown, but Uttar Pradesh, West Bengal and Mizoram remained largely unaffected.
The Left observed a 12-hour strike in Kerala and West Bengal instead of the 9 am to 3 pm shutdown called by the Congress and other parties.
The dawn-to-dusk hartal, called by the ruling CPI(M)-led Left Democratic Front in Kerala and Congress-headed opposition United Democratic Front was near total and passed off peacefully.
The hartal hit normal life and both public and private transport buses and autorickshaws stayed off the roads.
Addressing the protest rally, Rahul Gandhi alleged hatred was being spread and the country being divided under the rule of Prime Minister Narendra Modi.
United Progressive Alliance chairperson Sonia Gandhi was also present.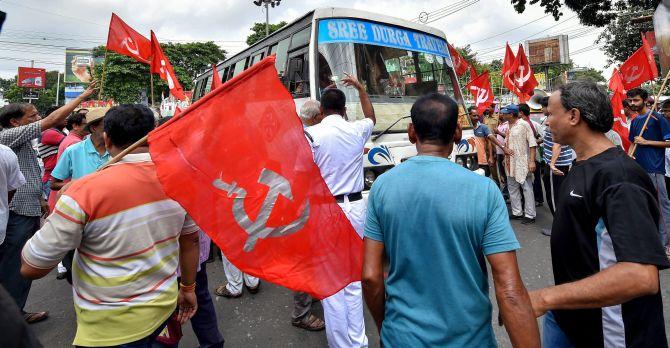 Former prime minister Manmohan Singh said it was time for all opposition parties to shed their differences and move forward unitedly 'to save' sovereignty and democracy.
The BJP defended the rise in oil prices, attributing it to global factors, and accused the Congress and other opposition parties of resorting to violence during the bandh as people did not support their call.
Prasad claimed that the people understood the government's point of view and refused to support the 'Bharat bandh' call.
"That is unnerving the Congress and other opposition parties. Their resort to violence is designed to overawe the people of India. An atmosphere of fear is being created," Prasad told reporters.
Protesters targeted buses, including some school vehicles, and disrupted rail traffic at some places in Maharashtra and Madhya Pradesh, officials said.
At some places, petrol pumps were also targeted.
Schools, colleges and shopping establishments remained closed at a number of places in Maharashtra, Madhya Pradesh, Chattisgarh and Gujarat, officials added.
However, in Goa the Congress did not observe the shutdown because of the Ganesh Chaturthi festivities.
Its leaders in the state visited fuel pumps to apprise people of the Centre's policies, which the party claimed, had led to the skyrocketing of the fuel prices.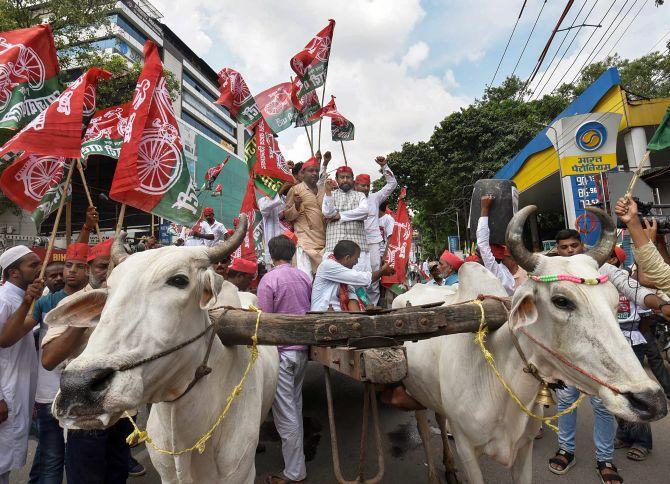 Protesters targeted buses, including some school vehicles, and disrupted rail traffic at some places in Maharashtra and Madhya Pradesh, the officials said. At some places, petrol pumps were also targeted.
The bandh call given by the Congress was backed by the Nationalist Congress Party, the Raj Thackeray-led Maharashtra Navnirman Sena, the Samajwadi Party, the Peasants and Workers' Party and the Bahujan Samaj Party.
The ruling Shiv Sena, meanwhile, said the Congress' bandh failed to generate desired impact in Maharashtra because the Uddhav Thackeray-led party was not 'consulted' over the protest, a day after the Sena spurned the Congress' demand to support the shutdown.
Maharashtra Minister of State for Home Deepak Kesarkar (Shiv Sena) said the bandh was observed only in half of Maharashtra.
Sena is a partner in the BJP-led governments at Centre and Maharashtra.
Senior Sena leader and Rajya Sabha MP Sanjay Raut on Monday said the bandh would have generated better impact had the Congress consulted his party in advance.
Meanwhile, Sena president Uddhav Thackeray dodged a question on whether the party didn't join the bandh at the behest of BJP chief Amit Shah.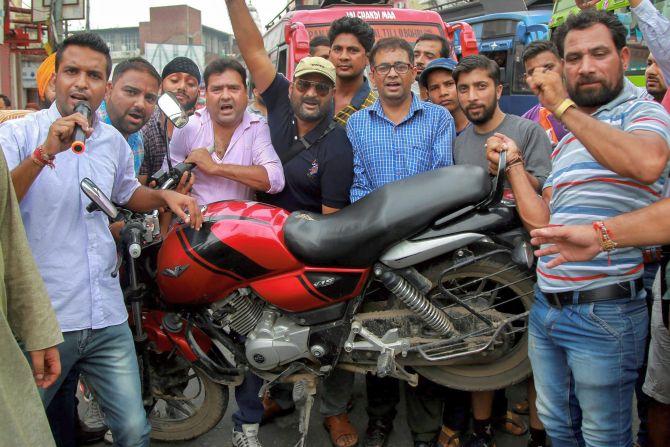 In Maharashtra, as many as 14 buses of civic undertaking BEST (Brihanmumbai Electrical Supply and Transport) were vandalised by protesters in various parts of Mumbai, a spokesperson of the transport utility said.
Most of the buses were attacked in Central Mumbai and suburban Chembur, he said.
In Pune, three buses of a private school were stoned and damaged early morning when they were on their way to pick up the students, its management said.
No one was injured in the incident and the police is investigating the case.
In Mumbai, schools, colleges, banks and offices remained open though attendance was reported to be thin.
Workers of the opposition parties staged protests in various parts of the BJP-ruled Maharashtra.
They briefly disrupted transport services by stopping suburban trains and metro rail at various places in Mumbai.
Nearly 100 Congress leaders and workers were detained during the protest in Mumbai, a police official said.
Maharashtra Congress president Ashok Chavan, who led the party's protest in the state, travelled by a local train to Andheri railway station, before staging a 'rail roko' (stopping the trains) there.
Members of the MNS unsuccessfully tried to block motorcade of Chief Minister Devendra Fadnavis near Siddhivinayak Temple, where he had come for an event.
They were held by security personnel deployed there.
The workers of the Raj Thackeray-led party reportedly vandalised the office of BJP corporator Vinod Mishra in Dindoshi and also deflated tyres of BEST buses in Goregaon.
In Madhya Pradesh too, the bandh evoked mixed response amid sporadic violence and attempts to disrupt the train services.
While the MP Congress called the shutdown successful in the state, the ruling BJP accused the former of adopting 'anarchic' ways to intimidate people to enforce the bandh.
In Bhopal, a flower shop owned by Madhya Pradesh Chief Minister Shivraj Singh Chouhan's son Kartikey was at the centre of a protest by Congress workers.
The shop, situated in Ravishankar Market, later downed the shutter, Madhya Pradesh Congress spokesperson Pankaj Chaturvedi said.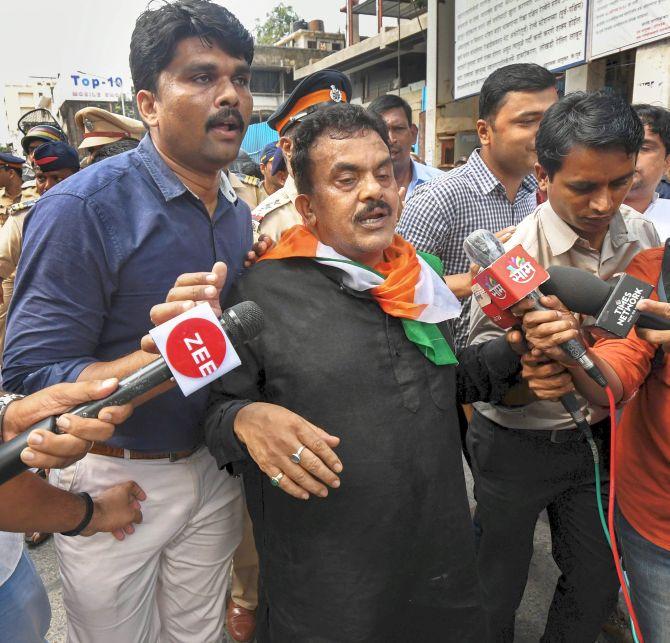 A mixed response to the bandh was witnessed in Chhattisgarh too.
Many business establishments remained shut in major cities including Raipur and buses stayed off roads.
No untoward incident was, however, reported from any part of the state, according to the police.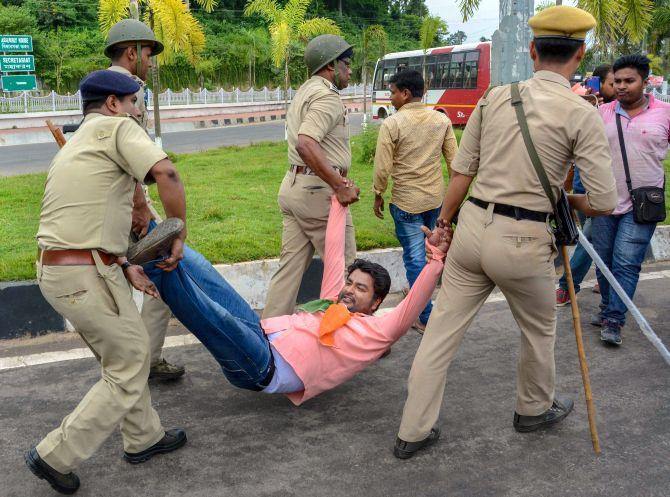 In Gujarat, schools were shut in areas including Ahmedabad, Rajkot and Mehsana and there were reports of Congress workers forcing petrol pumps to down shutters in some parts of the state.
In Rajkot, government schools remained open while private schools declared a holiday.
Roads in some areas, including Chhotaudepur and Surat, were blocked with burning tyres by protesting Congress workers while bus services were affected in many areas like Rajkot, Amreli and Ahmedabad.
The police said over 300 Congress functionaries, including state party chief Amit Chavda and Gujarat party in-charge Rajiv Satav, were detained.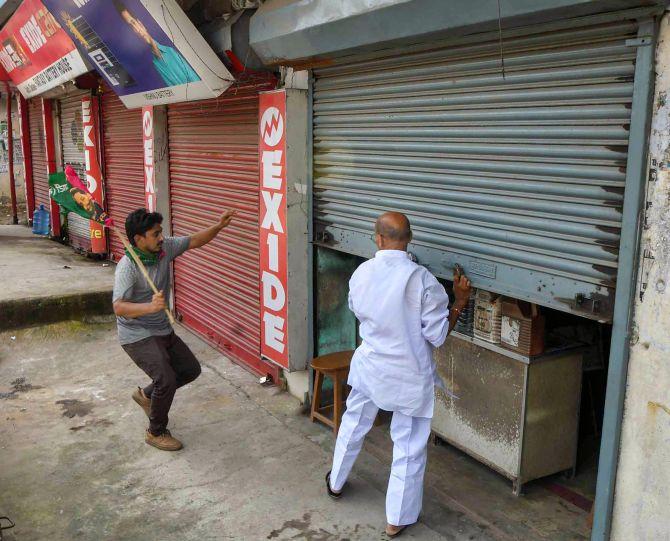 In Odisha, train services were disrupted in many places as Congress workers blocked railway tracks to enforce the bandh. At least 10 trains were cancelled.
Normal life was thrown out of gear in Karnataka where the Congress-Janata Dal(Secular) combine is in power.
Roads in Bengaluru wore a deserted look as government buses, private taxis and most autorickshaws did not ply. Businesses, shops, malls, some private enterprises remained closed.
Karnataka State Road Transport Corporation buses kept off the road and city buses also did not ply. In Mangaluru, incidents of stone pelting at hotels and shops, which remained open, were reported.
Almost all schools, colleges and offices were open in Trinamool Congress-ruled West Bengal where examinations were held as scheduled.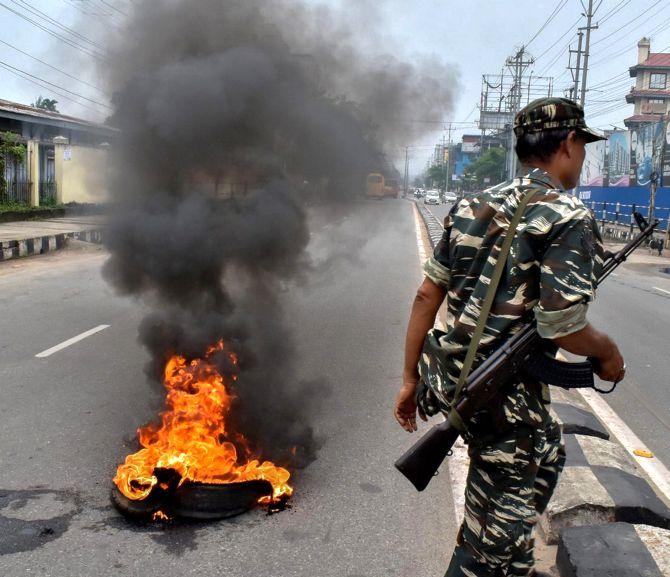 Chief Minister Mamata Banerjee, who is among the strongest critics of the BJP, said she 'in principle' supported the issue on which the 'Bharat bandh' was called but not the bandh.
In Tamil Nadu, normal life largely remained unaffected. However, autorickshaws affiliated to trade unions participating in the shutdown kept off the roads.
Police said city buses were operating but those bound for Kerala were not plying. Buses bound to Karnataka from here were stopped at inter-state border in Hosur, the police added.
Normal life was affected in Arunachal Pradesh. All shops and business establishments were closed and private vehicles were off the roads.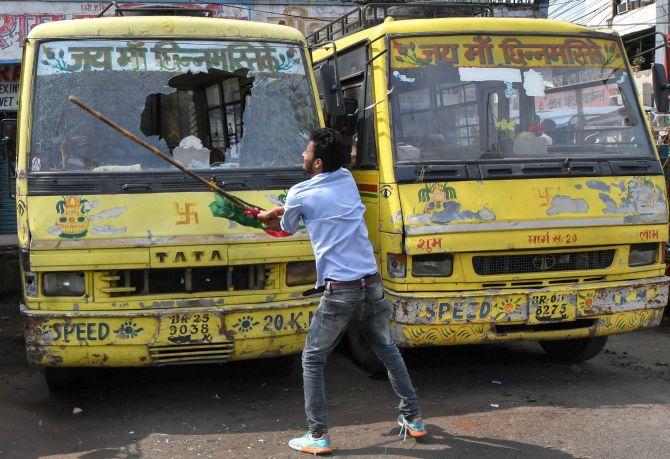 The call for bandh evoked little response in Uttar Pradesh and most commercial establishments remained open.
Congress workers attempted to stop movement of trains by squatting on the railway tracks and also tried to block national highways and main roads across Assam by burning tyres and setting up bamboo barricades to prevent movement of vehicles, police reports said.
In Vijayawada, the Andhra Pradesh state Congress President N Raghuveera Reddy led a bullock cart rally from the party office to the protest site.
WATCH: Congress workers conducts bike rally, blocks rail service