Tears spilled as friends, family and strangers gathered in solidarity at Brussels' main square to hold vigils for loved ones lost in Tuesday's terror attacks.
In heartbreaking images, a mother -- known only as Sonia -- held her two young children close as she wept for the victims at the city's Place de la Bourse.
Brussels remained defiant on Wednesday as mourners broke out in a round of applause after the minute's silence held.
Stoic Belgians gathered together in unity to support one another in the aftermath of Tuesday's shocking attack on Zaventem Airport and a further bomb attack at Maelbeek Metro Station that left 34 dead and 200 injured.
On the Place de la Bourse, crammed with people and decked out with flags and flowers left by mourners, the crowd chanted: 'Long live Belgium', followed by 'Brussels above all'.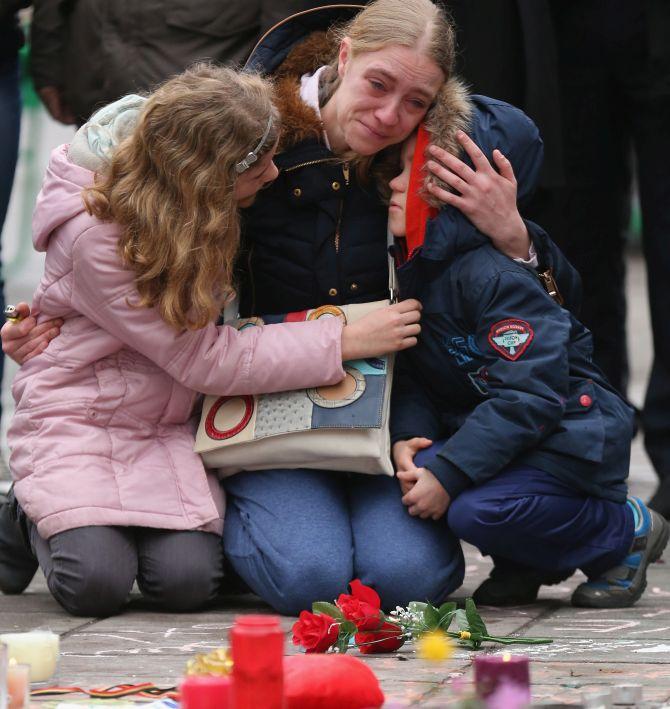 Sonia (surname witheld) embraces her children Mateo and Alessia at The Place de la Bourse as she pays her respects to victims following Tuesday's terrorists attacks in Brussels. Photograph: Christopher Furlong/Getty Images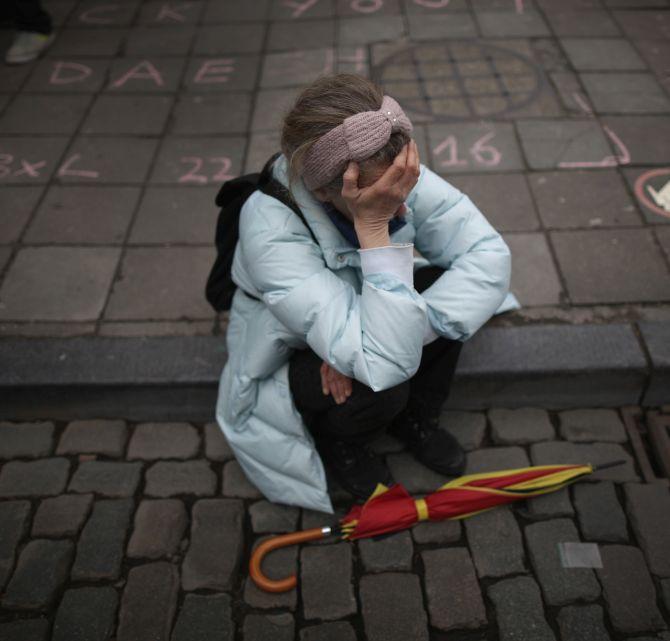 A woman pauses for thought after people observed a one minute silence at the Place De La Bourse in honour of the victims of the attacks. Photograph: Christopher Furlong/Getty Images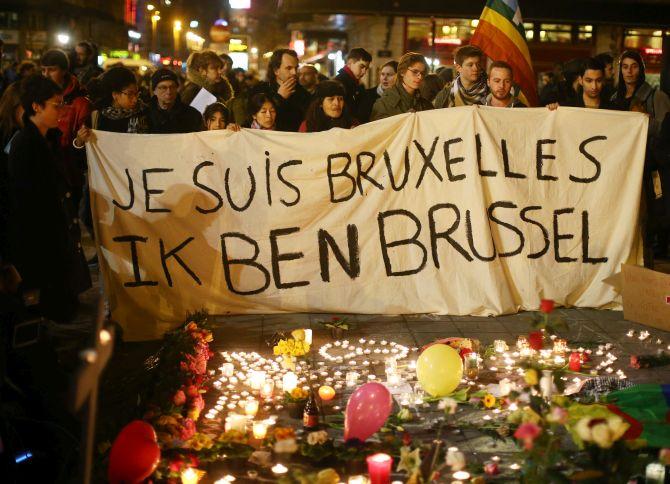 People hold up a banner as a mark of solidarity at the Place de la Bourse. Photograph: Carl Court/Getty Images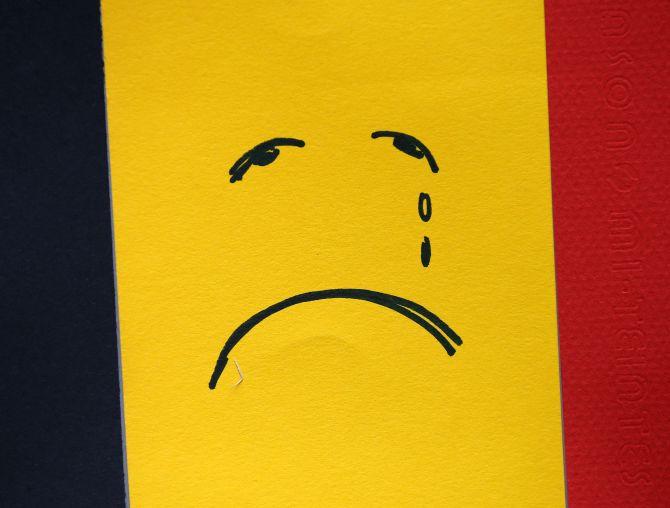 A sad face is drawn on a Belgian flag near Maelbeek metro station following Tuesday's attack. Photograph: Carl Court/Getty Images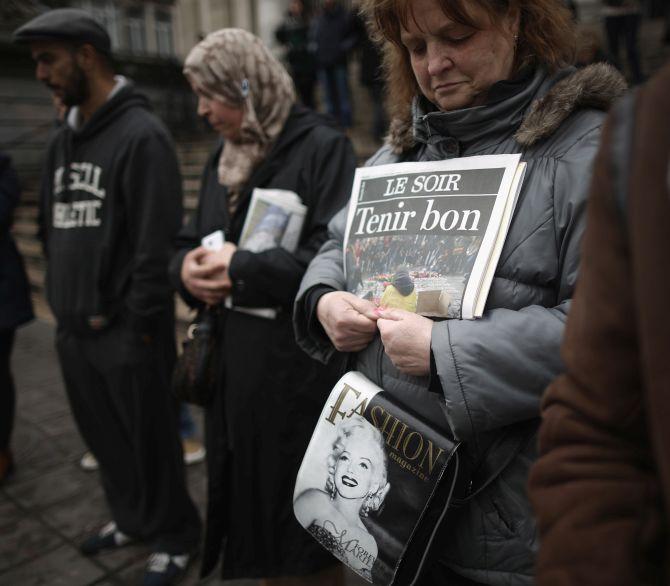 People pay their respects to the victims and injured at The Place de la Bourse following the terrorists attacks in Brussels. Belgium is observing three days of national mourning after 34 people were killed. Photograph: Christopher Furlong/Getty Images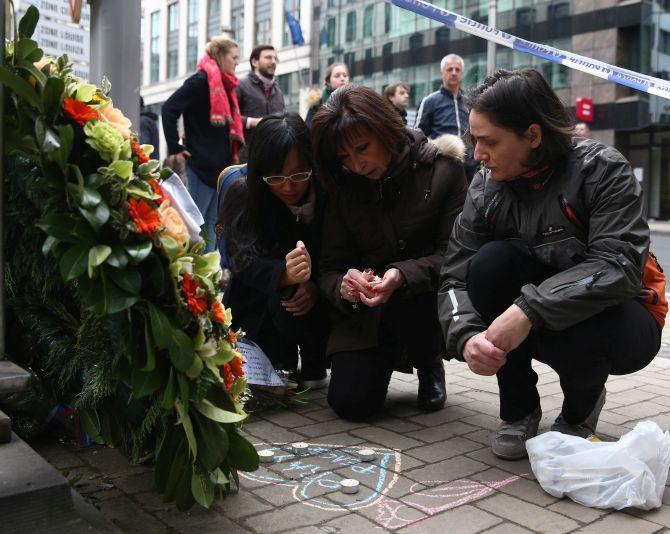 Women light candles to place with flowers near Maelbeek metro station, one of the site where an explosion took place killing over 15 people. Photograph: Carl Court/Getty Images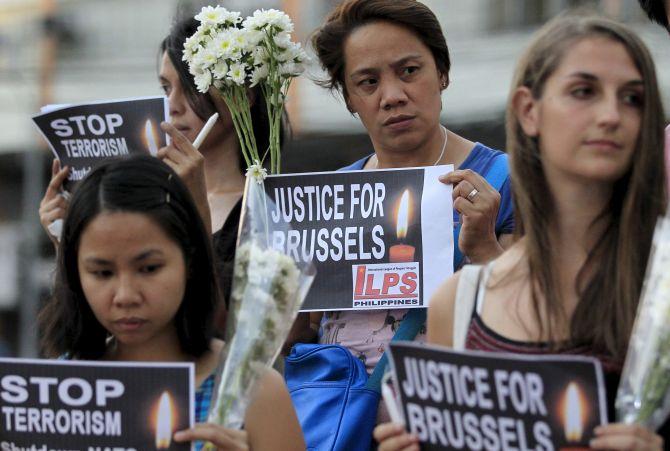 Activists hold placards asking for the "Justice for Brussels" during a memorial event. Photograph: Romeo Ranoco/Reuters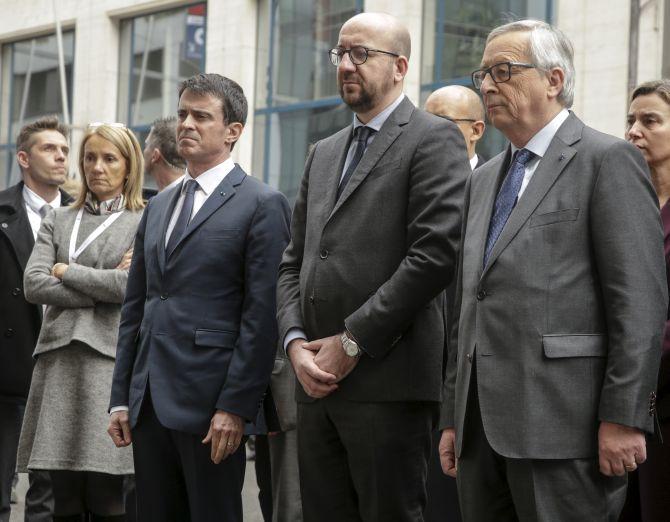 French Prime Minister Manuel Valls, Belgian Prime Minister Charles Michel, European Commission President Jean Claude Juncker and EU foreign policy chief Federica Mogherini (from left to right) pay tribute to the victims of a blast in the metro station of Maalbeek in Brussels. Photograph: Thierry Roge/Pool/Reuters