Spanish authorities on Monday shot and killed Younes Abouyaaqoub, the suspected driver of the van that ploughed into crowds last week in Barcelona, according to a tweet from the Catalan police.
Abouyaaqoub, a 22-year-old Moroccan national, was killed during an operation in Subirats.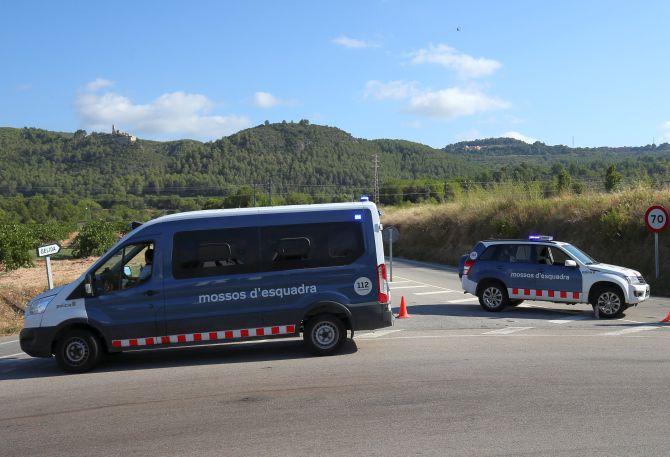 IMAGE: Catalan Mossos d'Escuadra officers and vans block a road near the place where a suspect was killed by police in Sant Sadurni d'Noia, Spain. Photograph:

Albert Gea/Reuters
Police tracked him to the town of Subirats on Monday afternoon when residents reported seeing a man trying to break into houses before fleeing into a nearby vineyard.
Armed units were scrambled before confronting Abouyaaquob, 22, who was wearing what appeared to be a suicide vest. He died in a hail of bullets.
The public had been warned that he was dangerous and could be armed, and it was feared he could have escaped across the border into France.
Police, who have been hunting for Abouyaaqoub since last Thursday's attack, said earlier on Monday that he had killed another man while stealing a car to make his escape after the attack on Las Ramblas boulevard.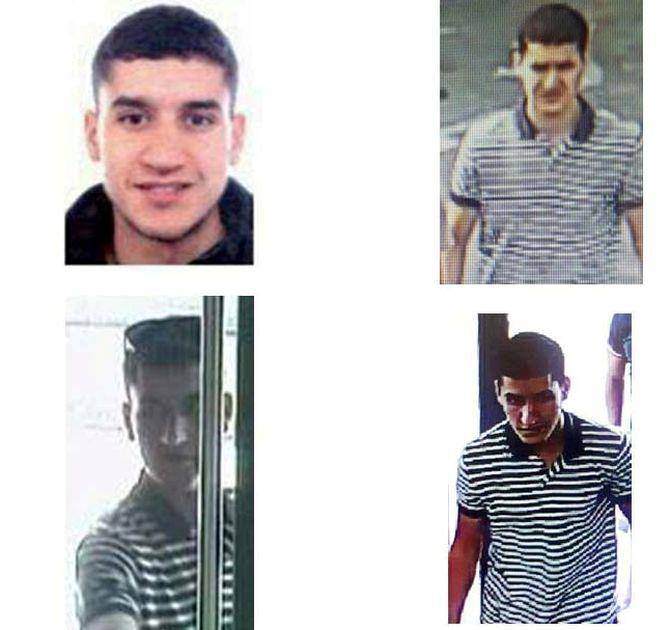 IMAGE: A combination photo of Younes Abouyaaqoub, the suspected driver of the van that crashed into pedestrians in Las Ramblas in Barcelona. Photograph: Spanish Interior Ministry/Reuters
As the manhunt was launched following the attack, Joaquin Form, the Catalan regional interior secretary, told local radio that "everything indicates" that Abouyaaqoub, a 22-year-old Moroccan and resident of the northern town of Ripoll, was the van driver.
Police have 'scientific evidence' showing Abouyaaqoub drove the speeding van in Las Ramblas and also killed Perez on Thursday night, regional police chief Josep Lluis Trapero said Monday.
He said the suspect walked through Barcelona for about 90 minutes after the van attack -- through the famed La Boqueria market and nearly to Barcelona University -- before hijacking the car.
Perez was parking his car, a Ford Focus, in a lot between 6.10 pm and 6.20 pm when Abouyaaqoub stabbed him, put him in the car's rear seats and drove away, Trapero said.
Spanish authorities have now raised the death toll in the country's two vehicle attacks to 15, with some 50 people still being treated in hospital for their injuries.