A flower has been named in honour the Indian prime minister.
Prime Minister Narendra Modi visited the Danziger "Dan" flower farm along with his Israeli counterpart Benjamin Netanyahu in Mishmar Hashiva where they were briefed about the latest technologies being used for floriculture.
The Danziger flower farm is one of Israel's leading floriculture companies with approximately 80,000 square metres of state-of-the-art greenhouses specialising in reproduction of plants.
"Beginning with a focus on agriculture... Prime Minister Narendra Modi visits the Danziger Flower Farm," Office of the Prime Minister said in a tweet.
"At the Danziger Flower Farm, advanced agriculture technologies were showcased by the Israeli Government," it said in another tweet.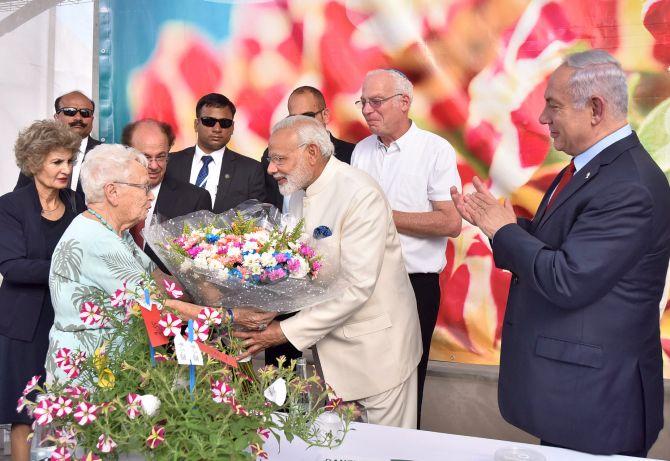 "In another special gesture, Israeli Prime Minister Netanyahu accompanied Prime Minister @narendramodi to the flower farm.
The highlight of visit was that a Chrysanthemum has been named after Prime Minister Narendra Modi. It was announced that the flower will be called Modi.
"The two leaders were briefed about the research technologies being used there for floriculture," the office said in a series of tweets.
The farm, founded in 1953, is located in Moshav Mishmar Hashiva, about 56 km from Jerusalem, in central Israel.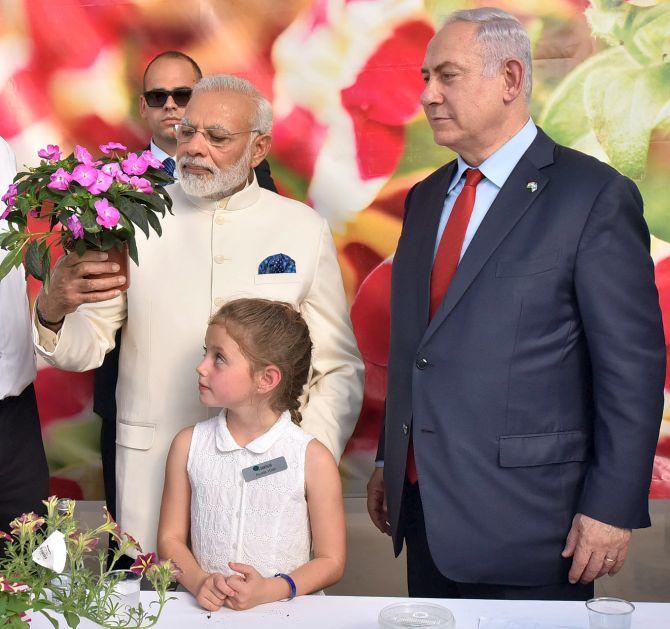 "Reaffirming potential of deeper cooperation in agriculture! Prime Ministers visit Danziger Flower farm – a leading facility for Research and Development in plant varieties," ministry of external affairs spokesperson Gopal Baglay said in a tweet.
Soon after landing, Prime Minister Modi visited the Danziger flower farm in Moshav Mishmar Hashiva along with Netanyahu and Agriculture Minister Uri Ariel to learn about latest innovations and advancements in floriculture.
The visit to the farm highlights that one of Israel's key interests in closer cooperation with India is its expertise in agricultural technology, officials said.
Danziger flower farm developed into a company of 200 employee from a small family business, growing and selling cut flowers.
Photographs: Press Information Bureau