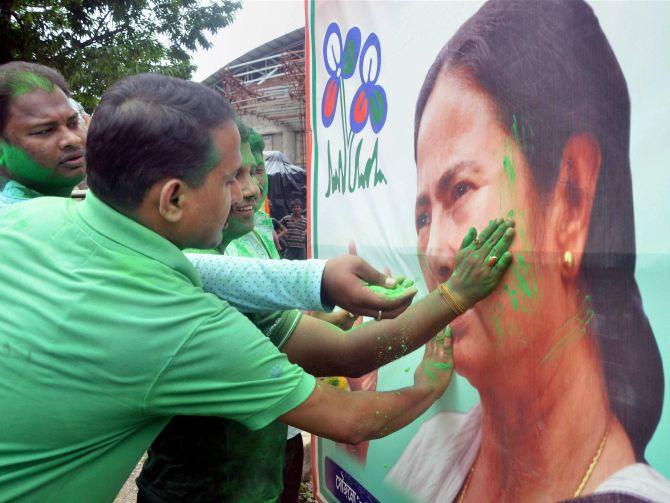 IMAGE: Workers smear green colour on the poster carrying the photo of Mamata Banerjee. Photograph: PTI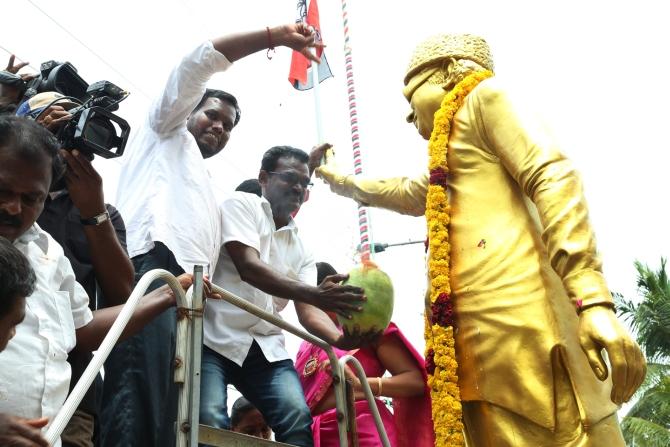 IMAGE: AIADMK supporters offer tributes to a statue of party founder M G Ramachandra near the party headquarters in Chennai. Photograph: Sreeram Selvaraj
As the early trends projected an advantage for the ruling All India Anna Dravida Munetra Kazhagam, its ecstatic workers began flocking the party headquarters and supremo Jayalalithaa's residence in the city, gearing up for celebrations.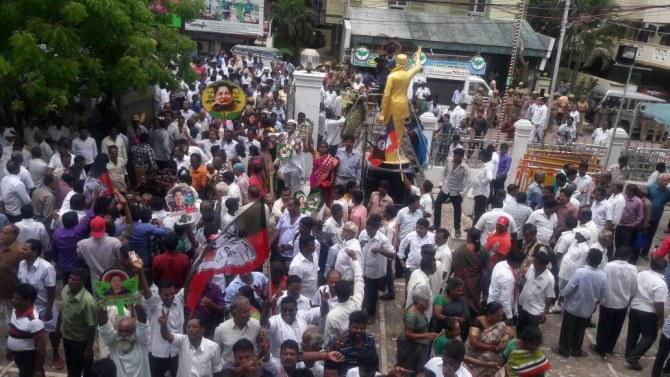 IMAGE: Supporters gather at the AIADMK headquarters in Chennai. Photograph: S Suresh
Even before the trends started coming, eager party workers were seen glued to their smart phones viewing the counting progress online near the Poes Garden residence of Jayalalithaa.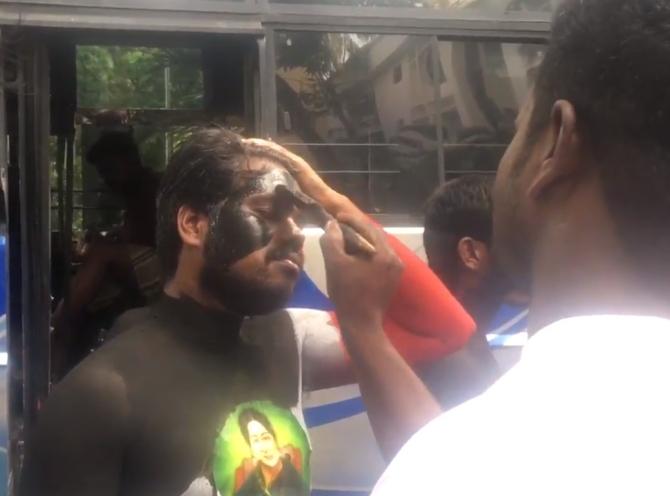 IMAGE: A supporter get ready to take part in celebrations. Photograph: Screengrab
By 10 am, while the official trends put the AIADMK ahead in 94 seats with Dravida Munetra Kazhagam leading in 53 constituencies, several Tamil TV channels based on inputs from all the 32 districts gave the ruling party lead in 116 plus seats.
Encouraged by the trends, jubilant party workers were seen making preparations for celebrations.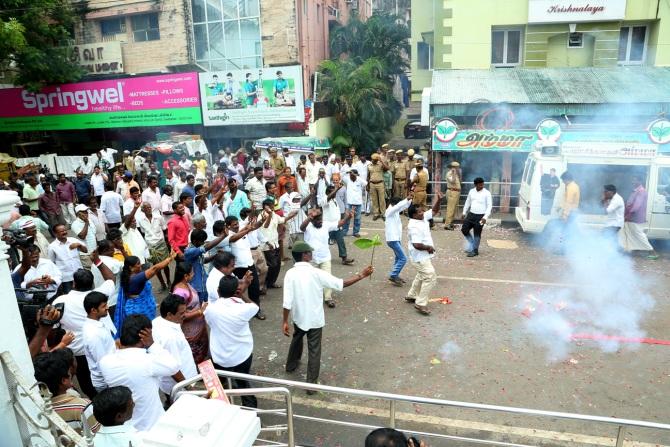 IMAGE: AIADMK supporters burst crackers near the party headquarters in Chennai.
AIADMK headquarters is also seeing a steady stream of party workers. Waving party flags they too are getting ready to celebrate.
Once the results are out giving AIADMK a clear win, Jayalalithaa is expected come out of her house and greet them, like she did in 2011 when the party wrested power from the DMK.
West Bengal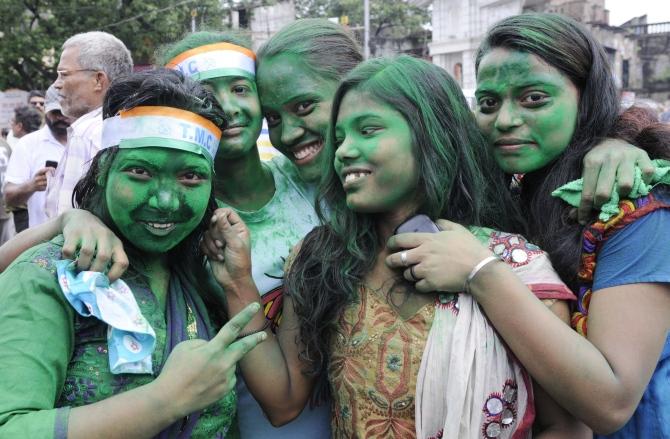 IMAGE:

Thanking the people, Banerjee said politics in the state had hit a 'historic low'

during the electioneering and there should be a 'Laxman Rekha' to maintain decency in public discourse.e. Photograph: Abhiroop Dey Sarkar
With Chief Minister Mamata Banerjee constructing another sweep, with her Trinamool Congress ahead in 200 of the state's 294 seats, enthusiastic supporters gathered outside her Kalighat residence on Thursday morning to celebrate her premature win.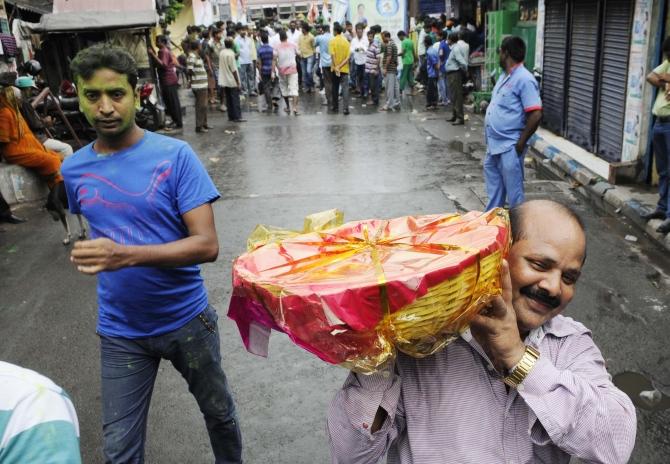 IMAGE: The TMC is all set to retain power as the party was leading in 214 of 294 seats. The Left and Congress were ahead in 73 seats while BJP in seven. Photograph: Abhiroop Dey Sarkar.
Slogan like 'Thanda thanda cool, cool; ghore ghore Trinamool' was heard outside Banerjee's residence as hundreds of TMC supporters thronged the Chief Minister's residence at Harish Chatterjee Street in Kalighat.
Elections in the state were held in six-phases beginning from April 4 with 1,961 candidates including 198 women in the fray.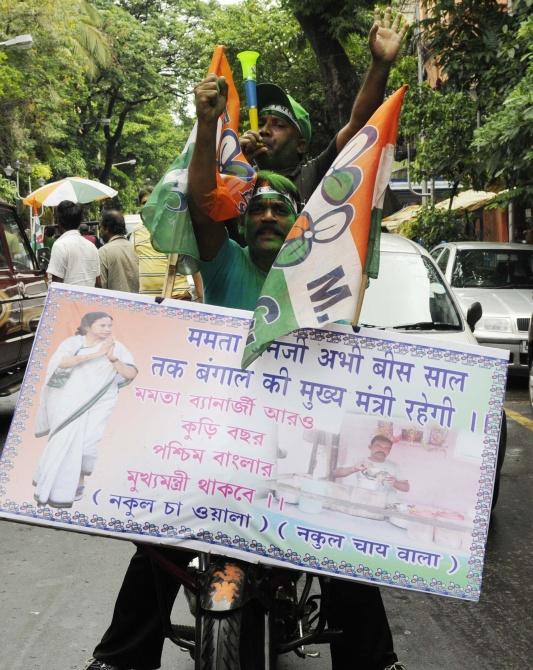 IMAGE: Banerjee said the party will organise a host of cultural events till May 30 to celebrate the victory. Photograph: Abhiroop Dey Sarkar
In the two parts of first phase elections, the voter turnout was 84.22 per cent and over 83 percent respectively.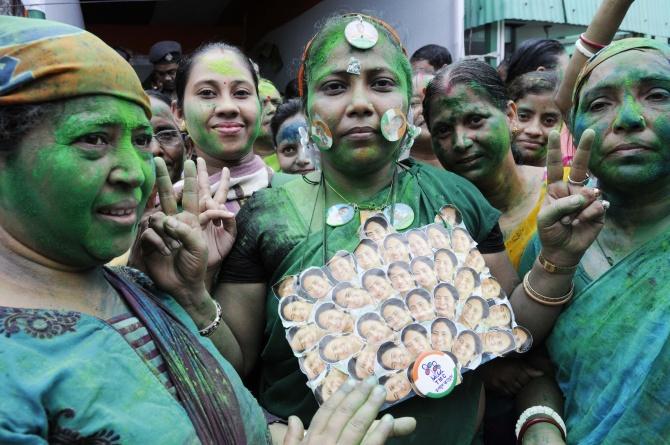 IMAGE: The TMC, which had won 184 seats in 2011 in alliance with Congress, was today victorious in 9 seats and ahead in 205 seats. Photograph: Abhiroop Dey Sarkar
In the second phase, 79.70 per cent people exercised their right to vote.
Assam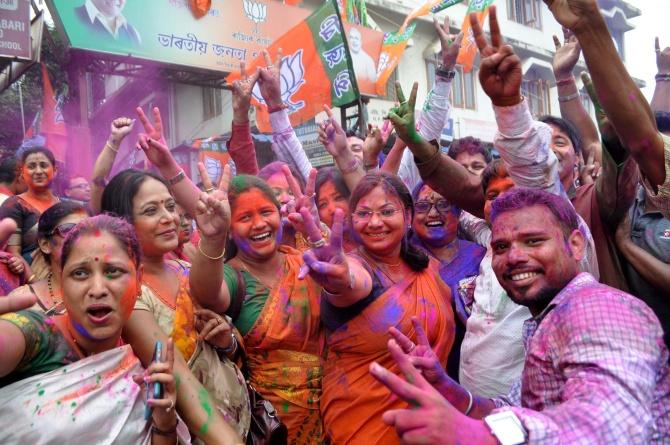 IMAGE: Heavy presence of security personnel was seen outside counting centres across five states, with multiple tiers of security being put in place to ensure smooth counting.
The National Democratic Alliance continued to march ahead in Assam, leading in 83 of the total 126 Assembly seats, where counting is underway.
While the BJP is leading in 55, its ally AGP is ahead in 15 and Bodoland Peoples Party in 12.
The Congress, which was seeking to be returned for the fourth straight term, is leading in 27. BJP chief ministerial candidate Sarbananda Sonowal and outgoing chief minister Tarun Gogoi are both leading in Majuli and Titabar Assembly constituencies.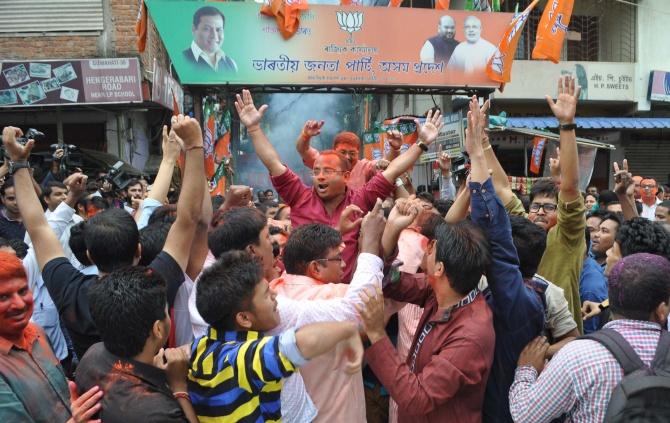 IMAGE: Exits polls had predicted an edge for the BJP in Assam.
All India United Democratic Front leader Badruddin Ajmal is trailing in his South Salmara seat. Independents are ahead in six and Communist Party of India-Marxist in one seat.
Congress dissident leader Himanta Biswa Sarma, who had joined BJP is leading in Jalukbari. But another prominent BJP candidate Pawan Singh Ghatowar, a former Union minister, is trailing in Moran.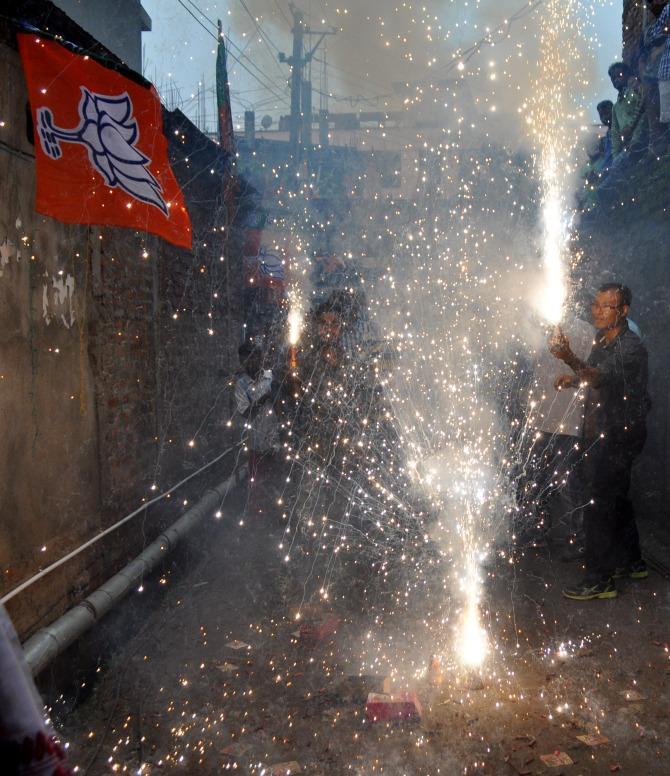 IMAGE: Battling anti-incumbency and age, Tarun Gogoi failed to weave his magic to bring Congress back to power after creating history earlier with a hat trick in the last elections.
AGP leader Prafulla Kumar Mahanta, former two-time chief minister, is leading in Baharampur while his party's working president Atul Bora is ahead at Bokakhat.
Congress candidate and minister of the outgoing cabinet Rakibul Hussain is trailing at Samaguri as is also Ajanta Neog, also a minister, at Golaghat.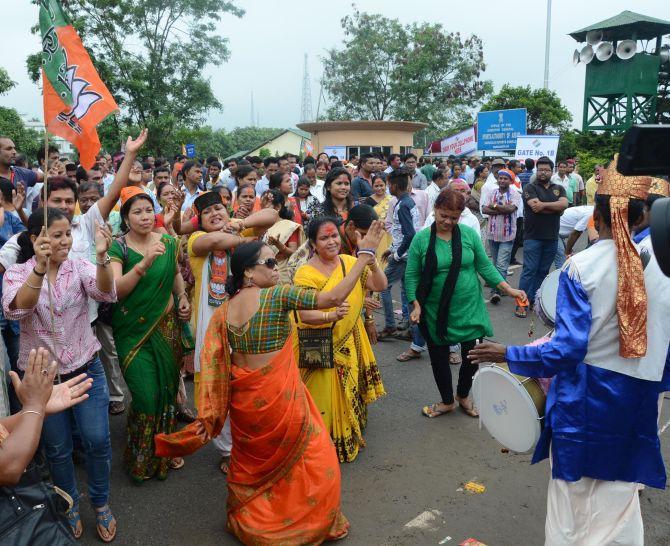 IMAGE: BJP supporters dance and celebrate the party's victory in Guwahati. Photograph: Rediff.com