Paying glowing tributes to former president A P J Abdul Kalam on his 84th birth anniversary, Prime Minister Narendra Modi on Thursday said that Kalam always looked for "challenges" and his life is a source of inspiration for all Indians.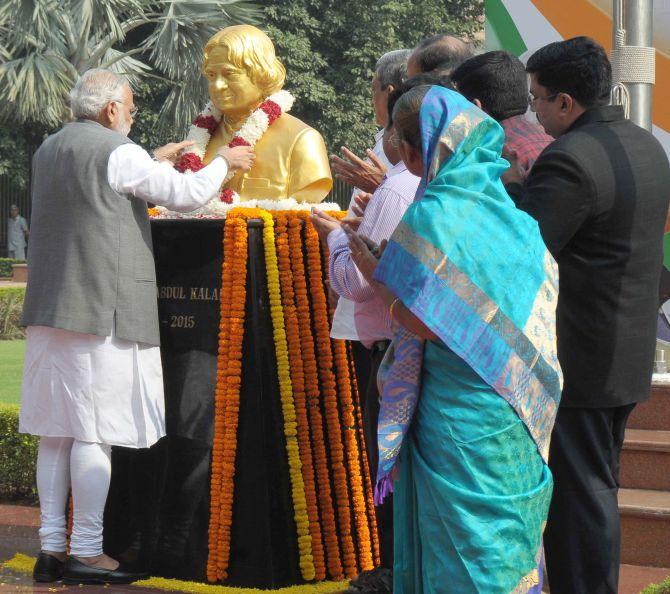 PM Narendra Modi unveils a bust of former President Abdul Kalam. Photograph: Press Information Bureau
He said that the government would construct a memorial for Kalam at his birth place in Tamil Nadu.
"There are two types of people, one who look for opportunities and the other who look for challenges. Kalam Sahab was the one who always looked for challenges, which he continued doing till the end of his life," Modi added while addressing a function organised to celebrate the birth anniversary of the former president, who passed away on July 27.
He said that Kalam was a "Rashtra ratna" before he became a Rashtrapati.
Hailing the former president's rich contribution, Modi said that the void left by his absence can only be filled by following his teachings in true spirit.
"Just after leaving the presidency, after such a big position, he went to teach. This can't happen without an inherent commitment.... Our young scientists should get inspired by the way shown by Dr Kalam," he further added.
Modi said that the government has already acquired the land for Kalam's memorial at his birth place Rameswaram, adding, "A committee has been set up to discuss modalities in this regard."
The PM also released a commemorative postage stamp.
Earlier in the day, the PM inaugurated a photo exhibition titled as 'A Celebration of Dr Kalam's Life' and unveiled a bust at the Defence Research and Development Organisation.
Defence Minister Manohar Parrikar, Urban Development Minister Venkaiah Naidu, Communication and Information Technology Minister Ravi Shankar Prasad and Science and Technology Minister Harsh Vardhan were among the dignitaries present on the occasion.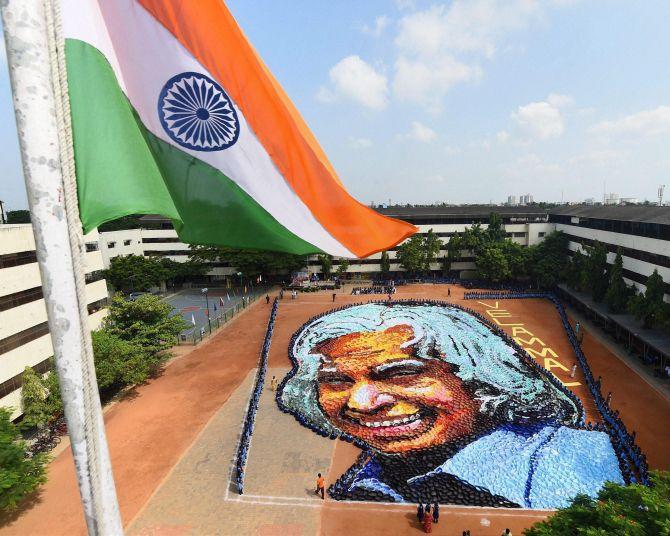 Around 6,000 students created a paper filigree of former President of India Dr APJ Abdul Kalam to mark his birth anniversary in Chennai. Photograph: PTI
Across the country, various tributes were being paid to the 'People's President on his 84th birth anniversary. A non-profit organisation has begun a community art project inviting people from all walks of life to participate in a project where they pen handwritten postcards expressing their sentiments about the late President.
Kochi-based LetterFarms said he campaign 'dearkalamsir' aims to create an anthology of postcards. "The campaign has been launched today and we aim to reach
and get letters from across all the 30 states of the country. This event will finally culminate on the first death anniversary of Dr Kalam on July 27, 2016," Jubie John of LetterFarms said.
The campaign aims to call on students, corporate, celebrities to send to pick up a simple postcard and add their unique voice in form of a letter or a drawing or a sketch or a poem.
"We are leveraging on people's handwritten power for creating a tribute in a very personal way, making Dr Kalam the only public leader for whom such a people-powered movement was ever created," John said.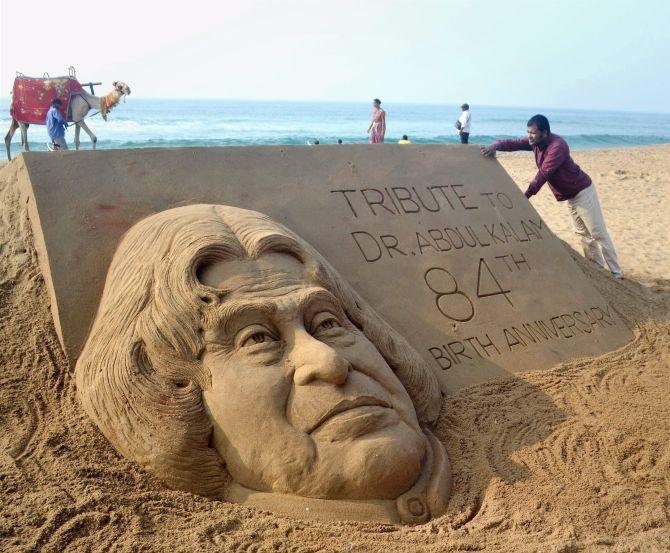 Renowned sand artist Sudarsan Pattnaik creates a sand sculpture of former President APJ Abdul Kalam to pay him tributes in Puri, Odisha. Photograph: PTI
In Maharashtra, students had a 'no bags day' as they celebrated Kalam's birth anniversary. The education department, asking students to read non-academic books in school as well, had asked the schools to ensure that students left their school bags at home.
The decision to celebrate October 15 as 'Reading Day' was taken by state Education Minister Vinod Tawde soon after Kalam's death in July.
In a government resolution, the state has asked all schools to host book exhibitions and implement 'gift a book' programme.