Hundreds of thousands of people have flooded the American capital on Saturday for the "March for Our Lives" to support tougher gun controls and protest Congress's refusal to consider them.
The event is being led by the student survivors of the Marjory Stoneman Douglas High School shooting on February 14 when 17 were slaughtered by a teenage gunman carrying a legally-purchased AR-15.
Some 700 other events are being held around the world in solidarity.
Take a look.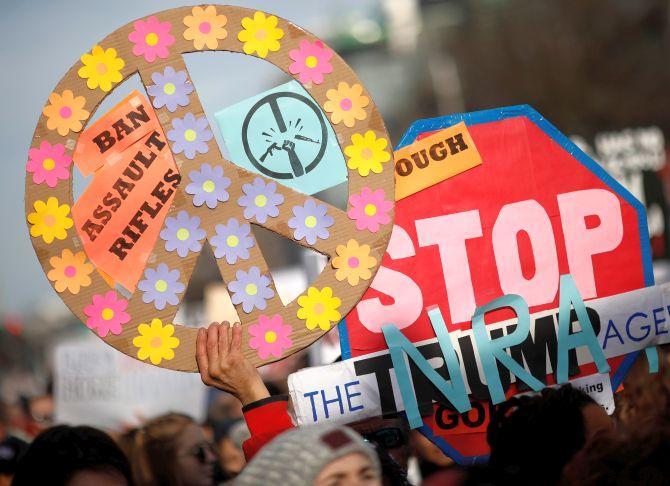 Carrying anti-gun violence signs, protesters in the thousands gathered at Washington, DC to make their message of peace be heard loud and clear.
Photograph: Aaron P Bernstein/Reuters
Daisy Hernandez, age 22, joins the protest at Washington, DC. The protests orchestrated by survivors of the rampage at Marjory Stoneman Douglas High School are aimed at breaking through a legislative gridlock that has long stymied efforts to tighten firearms controls. Mass shootings at American schools and colleges have become a regular occurrence.
Photograph: Jonathan Ernst/Reuters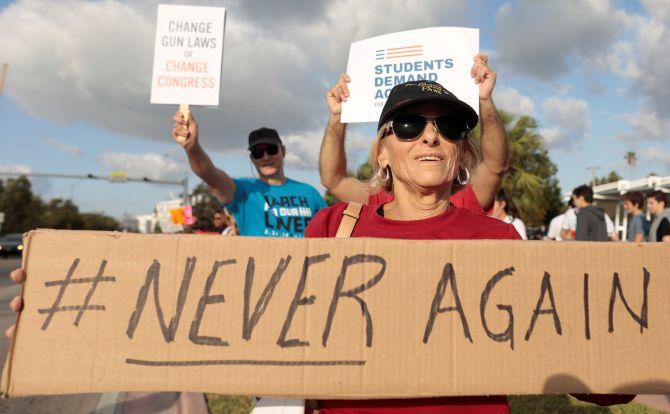 Celebrities such as George Clooney, Ariana Grande, Jennifer Hudson, Miley Cyrus, Demi Lovato and many more have extended their support to the march. Organisers want Congress, many of whose members are up for re-election this year, to ban the sale of assault weapons like the one used in the Florida rampage and to tighten background checks for gun buyers. Photograph: Javier Galeano/Reuters
Saturday's march comes on the heels of last week's National School Walkout, which saw students from various schools walking out of their institutions for 17 minutes in honour of the 17 who died in the Stoneman tragedy in Florida.
Photograph: Eric Thayer/Reuters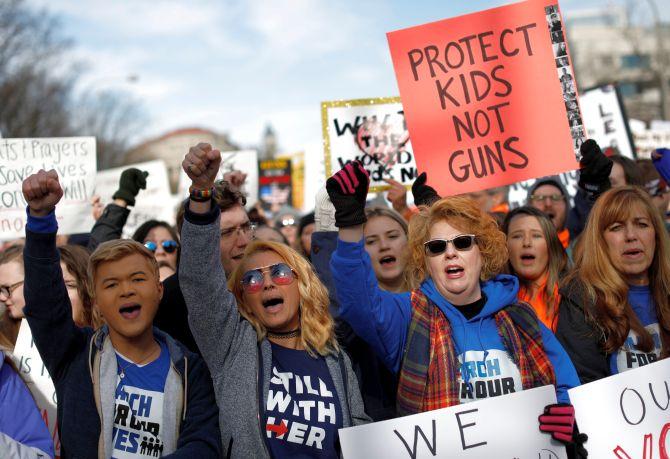 The marches aren't only being held in America. Sister marches are being held in Australia and in the United Kingdom.
Photograph: Aaron P Bernstein/Reuters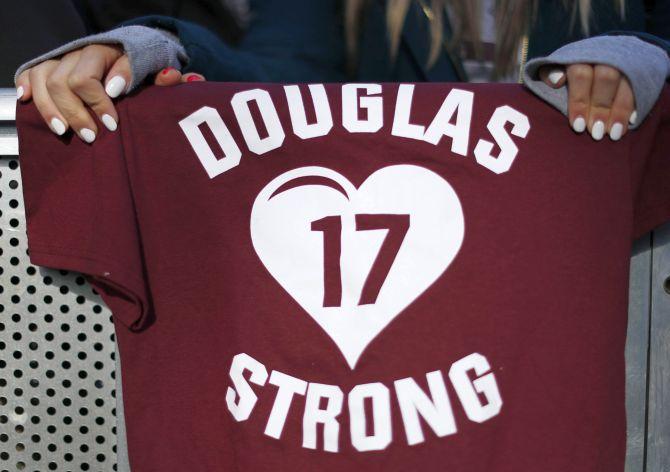 Angela Sitaras, a junior at Marjory Stoneman Douglas High School in Parkland, Florida, holds a sign referring to the 17 students killed in the February 14 mass shooting at her high school as she rallies with thousands of other students and young people at the "March for Our Lives" event demanding gun control in Washington.
Photograph: Jonathan Ernst/Reuters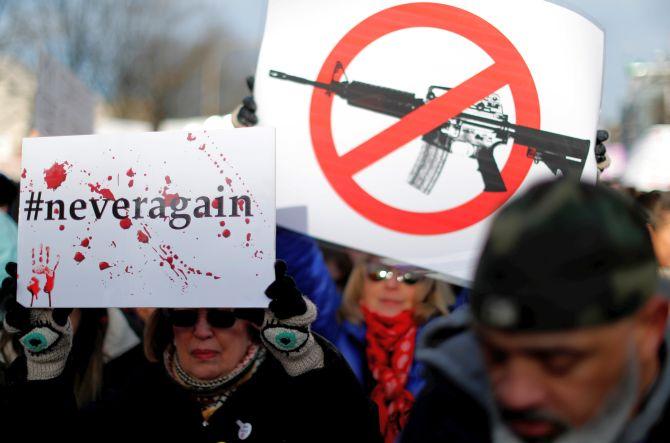 David Hogg, a senior at Stoneman Douglas, said the protests were a way for young Americans to show their opposition to the National Rifle Association, the powerful gun lobby. Photograph: Jonathan Ernst/Reuters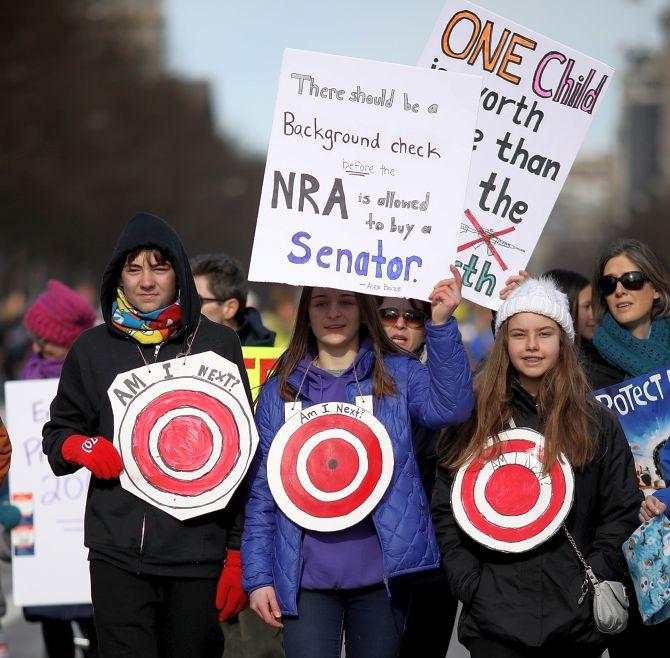 Hogg, a survivor of the Florida shooting said, "We are the children. We are making our voices heard and we will change America with or without these politicians and today is the beginning of that revolution."
Photograph: Win McNamee/Getty Images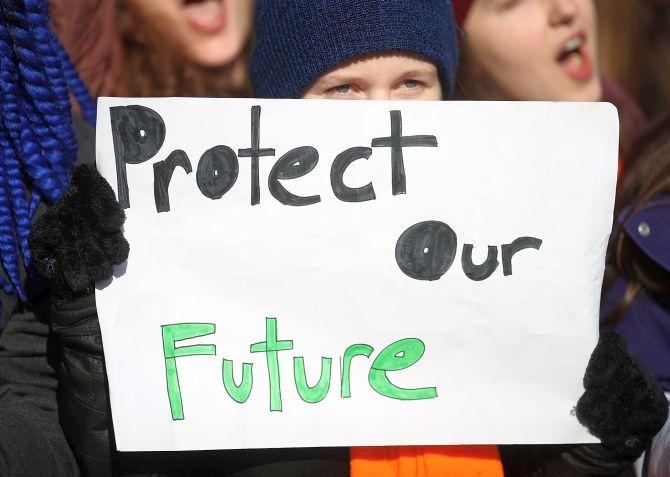 Americans have been reluctant to give up their guns and there have been few changes in gun laws in response to mass shootings.
Photograph: Mark Wilson/Getty Images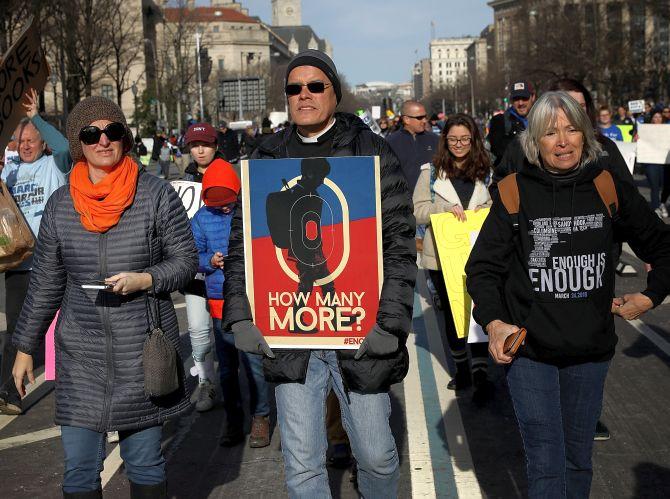 A new poll conducted by the Associated Press-NORC Center for Public Affairs Research, however, indicates that sentiment may be changing. The poll found that 69 per cent of Americans surveyed now think gun laws should be tightened, up from 61 per cent in October, 2016, and 55 percent in October 2013.
Photograph: Win McNamee/Getty Images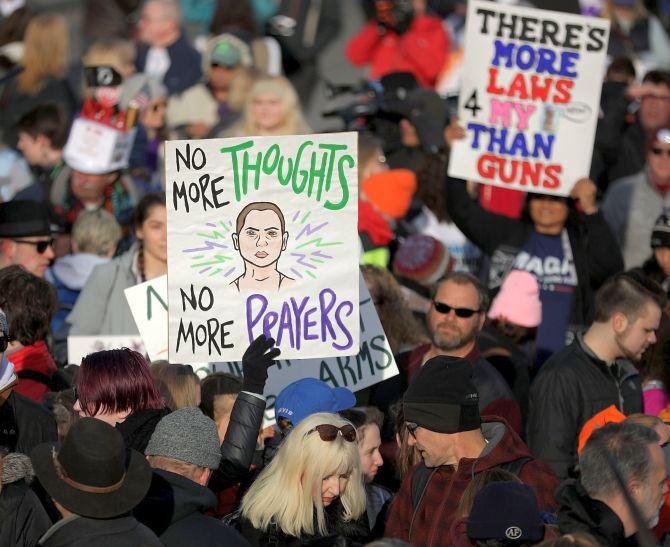 The March for Our Lives website reports that it has almost reached its goal of raising $3.8 million.
Photograph: Chip Somodevilla/Getty Images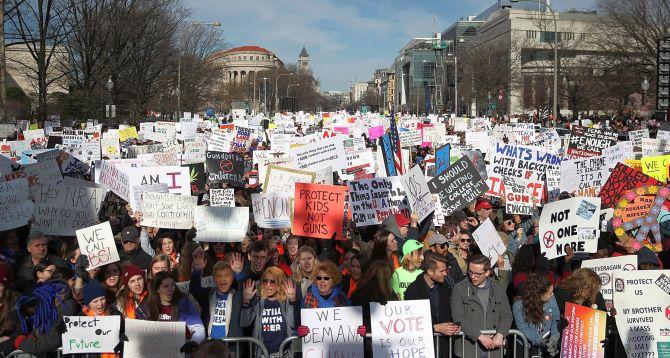 There has been no comment by US President Donald Trump to the march, but deputy press secretary Lindsay Walters issued this statement: "We applaud the many courageous young Americans exercising their first amendment rights [right to free speech] today.Keeping our children safe is a top priority of the president's, which is why he urged Congress to pass the Fix Nics and Stop School Violence Acts, and signed them into law." Photograph: Mark Wilson/Getty Images