Protests broke out in several areas in Jammu on Thursday against raising of Pakistani flags and pro-Pakistan slogans at the rally held by separatist leaders in Srinagar on Wednesday.
Congress workers protest against Masarat Alam demanding strict action by the BJP government in Bangalore. Photograph: PTI
Demanding the arrest of separatists, particularly Masarat Alam, protesters burnt effigies of separatist leaders and raised slogans against them, the state government and the Centre.
Over a hundred archivists under the banner of Kranti Dal raised slogans against Chief Minister Mufti Mohammed Sayeed and Pakistan and held protest demonstrations at Indira Chowk in the city.
Lashing out at the Bharatiya Janata Party-Peoples Democratic Party government at the state and the central government for "encouraging separatists" by releasing Masarat Alam, general secretary of Kranti Dal Pritem Sharma alleged that Mufti Sayeed was carrying forward the agenda of separatists in the state and BJP was supporting them.
Another group of over 150 activists of Jammu West Organisation burnt effigies of Pakistan, Mufti Mohammed Sayeed and separatists.
"Separatists should be arrested and government led by Mufti Mohammad Sayeed should be sacked. Sayeed is carrying forward the agenda of separatists and we will not tolerate them," the organistation's president Sunil Dimple said.
A group of Kashmiri Pandits also held protest demonstrations in Muthi area on the outskirts of Jammu city and charged the CM with shielding separatist elements.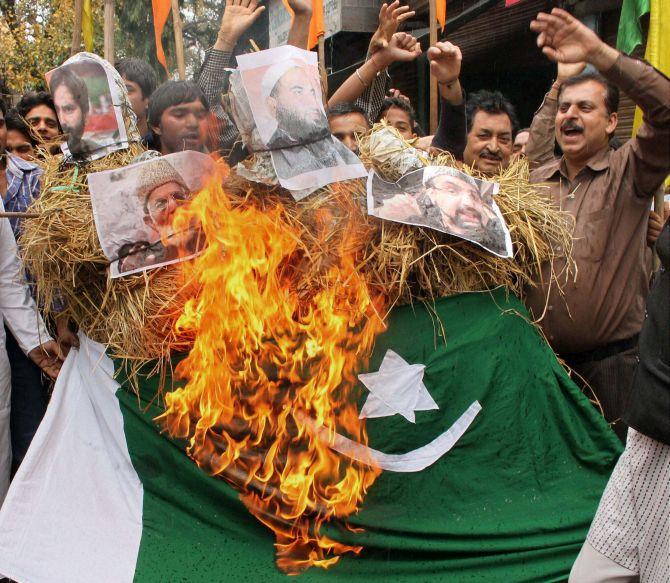 Shiv Sena and Dogra Front workers burn an effigy of Separatist leader Masarat Alam protesting against hoisting a Pakistani flag during a rally in Jammu. Photograph: PTI
Hundreds of Hindu Shiv Sena workers also staged protest against Hurriyat leaders.
They demanded stern action against Masarat Alam and others for chanting pro-Pakistan slogans. The protesters blocked transport in many areas of Jammu and burnt effigy of Hurriyat leaders including Syed Ali Shah Geelani.
After a gap of five years, Jammu and Kashmir government on Wednesday allowed Geelani to hold the rally where his supporters including Masarat Alam, released from jail last month, raised pro-Pakistan slogans and others waved Pakistani flags.
Alam, who was released soon after PDP-BJP government came to power in the state, led the march from the SrinagarAirport to Geelani's residence at Hyderpora.
Besides the Hurriyat flags, some supporters were also seen carrying Pakistani flags as they chanted pro-Pakistan and pro-freedom slogans.