The big birds have flocked at the 11th edition of the international aerospace and defence exhibition -- Aero India 2017 -- at the Air Force Station, Yelahanka in Bengaluru.
One of the most sought after exhibitions in Asia, as many as 549 companies are participating this year with 53 fighter aircraft on display.
While the Sukhoi 30 MKI, the indigenous light combat aircraft Tejas, Lockheed Martin's F-16 Falcon from the US, the Gripen fighter from Sweden's SAAB and the French Rafale have been drawing major attention, the British Yakovlevs aerobatic team, the Scandinavian Skycats and our own Surya Kiran aerobatics team (returning to the show in Hawk AJTs) and the Sarang helicopter display team are providing the stunt thrills.
Scroll down to see few glimpses from Aero India 2017: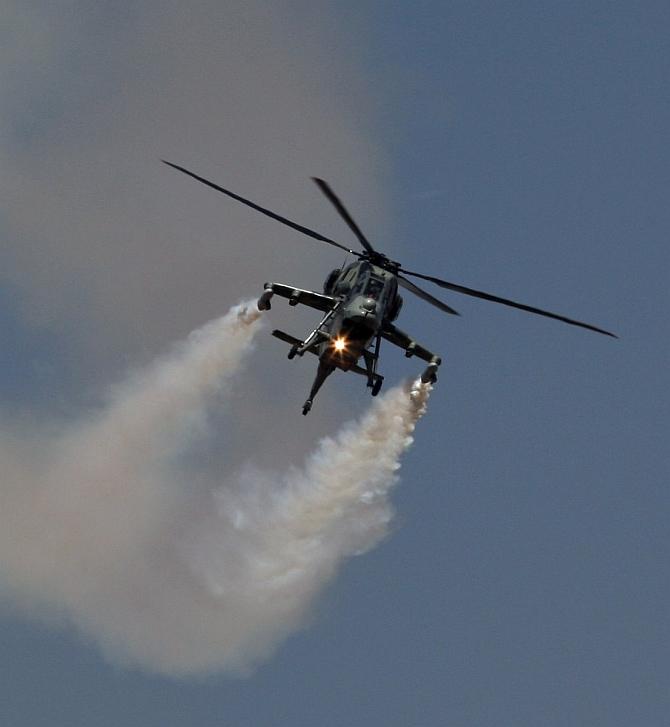 Multi-role Light Combat Helicopter puts up an impressive display. LCH is the first attack helicopter which landed at an altitude of 4.5 km in the Himalayas with considerable load of weapons and fuel. IAF would get 10 LSP variants and Army will get five. IAF will acquire 65 LCHs and Army will acquire 114 LCHs in total. Photograph: MoD/Twitter
---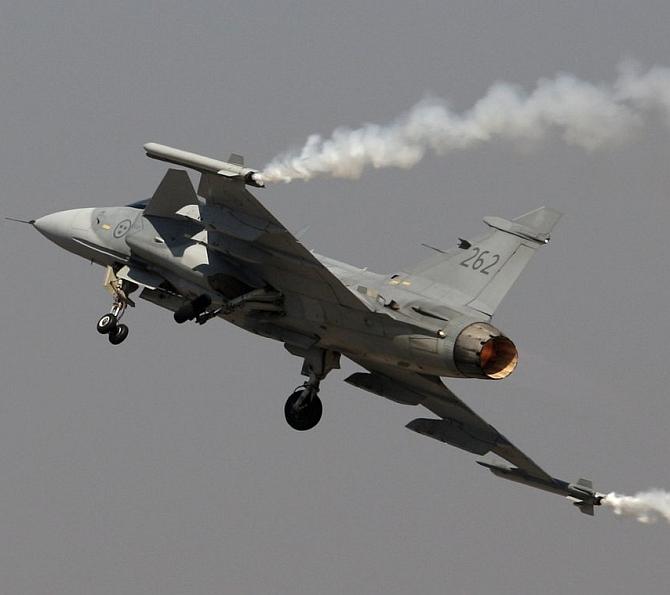 SAAB Gripen presenting aerial maneuvers. Saab says that Gripen is the smart answer to India's need for effective and affordable 21st century airpower. Saab's Gripen E full-scale replica is open to visitors and gives visitors a first-hand experience of Gripen's future-proof operational capabilities. Gripen is also a highlight of the daily flying display. Photograph: MoD/Twitter
---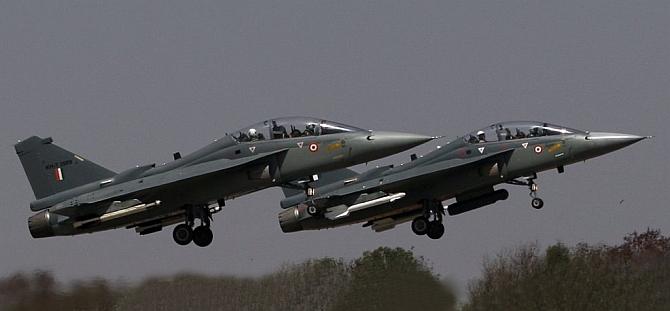 Tejas trainers in a paired take off. The IAF plans to purchase 83 Mark 1A LCA at a cost of Rs 50,025 crore and the Defence Acquisition Council has already given its nod to the procurement by way of acceptance of necessity. This is over and above the 40 Tejas aircraft that the IAF is already getting. Photograph: Rakesh Mangaraj/MoD Twitter
---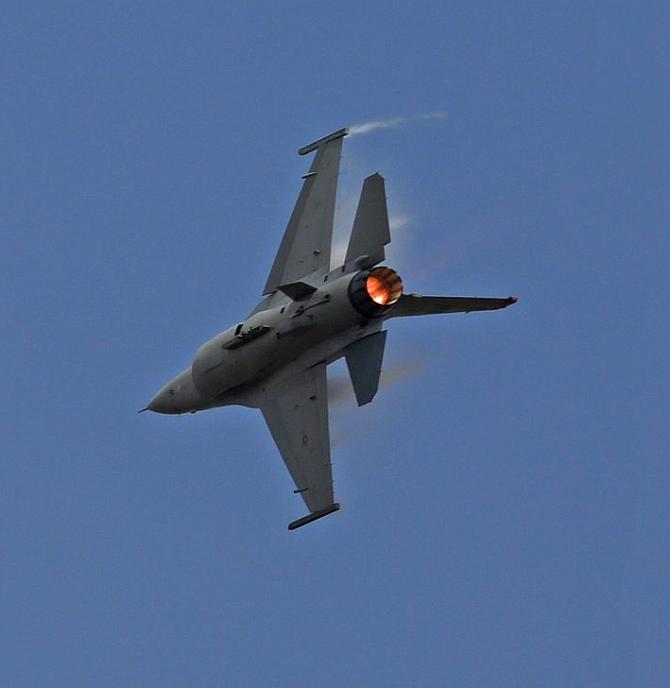 USA's F-16 Falcon, the single-engine supersonic multirole fighter aircraft, in action. At the Aero India, US assets this year include F-16C fighting Falcons, a P-8A Poseidon maritime patrol and reconnaissance aircraft and a C-130J Super Hercules transport. A Pacific Air Forces F-16 demonstration team is showcasing the capability of one of the US Air Force's leading fighters and a combined India-US parachute demonstration is also planned. Photograph: MoD/Twitter
---
Su-30MkI zooms through the sky. Moscow and New Delhi are preparing documents to tie up a contract on modernization of the Russian-designed Sukhoi Su-30MKI multirole fighter. After modernization, the fighter jet will get the AL-41F turbofan engines designed for 4++ generation aircraft currently being installed on the Su-35 fighters. The IAF has a fleet of over 200 Russia-designed aircraft built under license by India's Hindustan Aeronautics Limited. Photograph: MoD/Twitter
---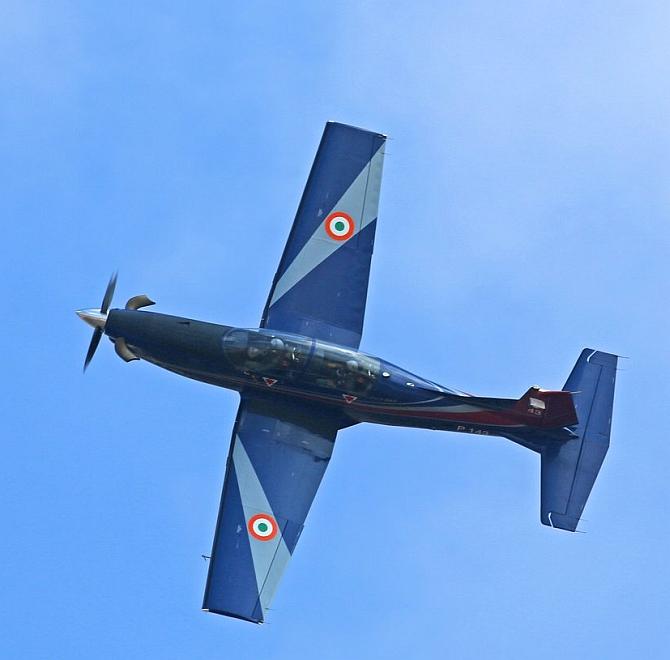 Pilatus PC-7 performing aerobatics. IAF rookie pilots fly the propeller-driven Pilatus PC-7 Mark II. Photograph: MoD/Twitter
---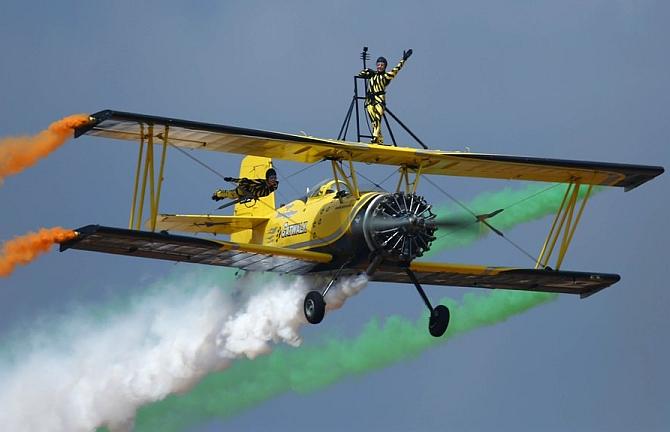 Scandinavian Skycats wave at spectators. During flight the two Skycats climb up and pose on the wings of the aircraft in different formations like "Lazy Cat", "Super Cat" etc. while the pilot makes numerous aerobatic manoeuvres like loops and barrel rolls. Photograph: MoD/Twitter
---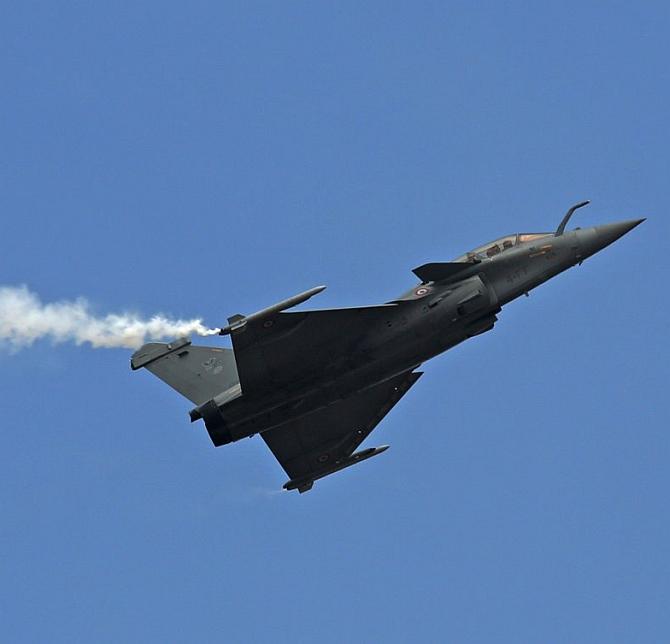 French Rafale zooms through the sky. India is buying 36 of Rafales, which can also play the role 'airborne strategic delivery system', which in simple English means they can carry nuclear bombs. The first squadron of Rafale that India will receive will be deployed on the Chinese border in the north-east and are set to be hardwired for nuclear delivery. India also has an option for 18 more aircraft which can be exercised in the future. Photograph: MoD/Twitter
---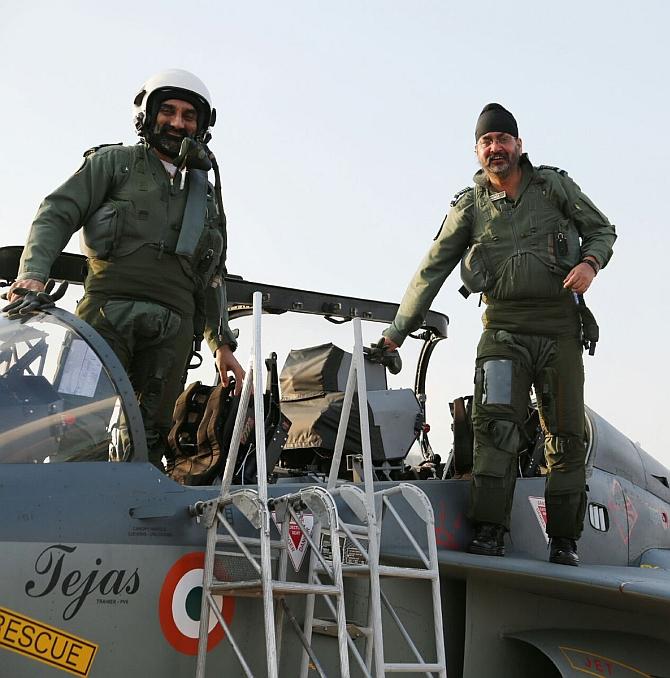 Air Chief Marshal B S Dhanoa flew a trainer version of the Light Combat Aircraft with Air vice-Marshal AP Singh, who is principal director at NFTC, being his co-pilot during the sortie over Yelahanka airbase. Less than 15 days after taking over as the IAF chief, he flew solo in a Mig-21 fighter jet, the oldest fighter aircraft in the IAF's inventory. Dhanoa flew the Mig-21 Type 96 aircraft from the IAF base at Uttarlai, a forward base in Rajasthan. Photograph: MoD/Twitter
---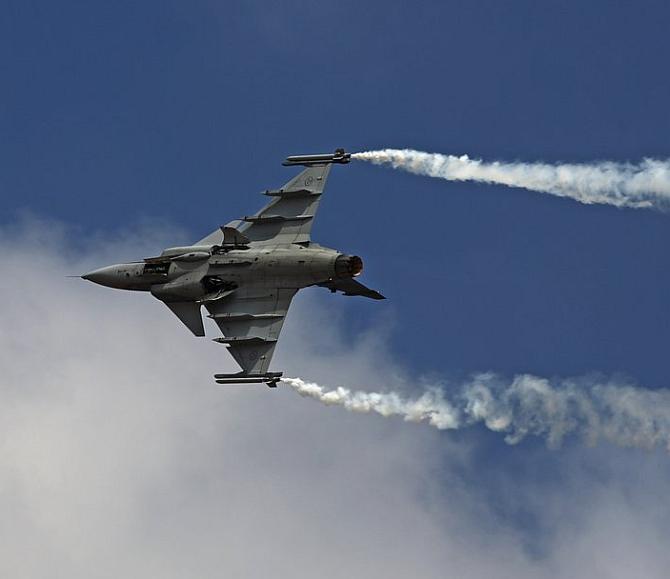 Sweden's SAAB Gripen delivers a thundering aerobatic display. Gripen combines exceptional operational performance, highly advanced net-centric warfare, sensor fusion, unique BVR capability and cost efficiency with true transfer of technology and comprehensive industrial partnership. Weapon Systems include the MBDA Meteor, the RBS 15 and Taurus. Also on display is Gripen Maritime, the naval variant of Gripen E. Photograph: MoD/Twitter
---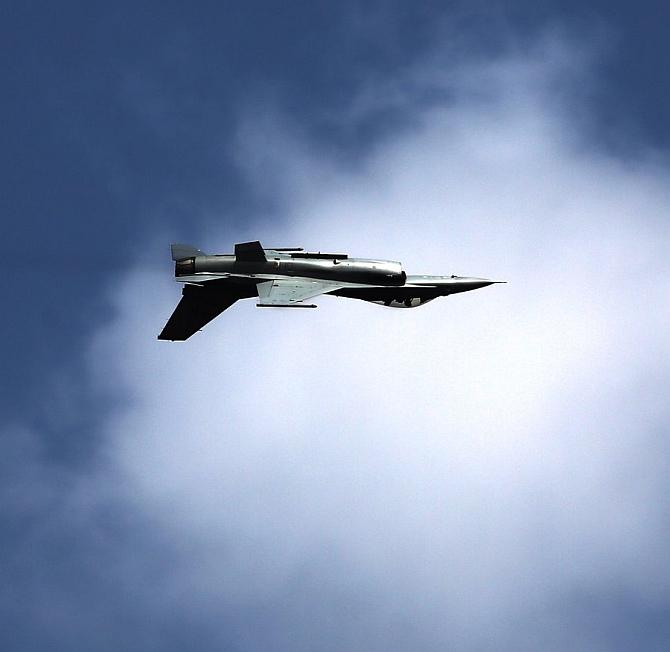 USA's F-16 Falcon steers through the clouds. A cross-section of US military aircraft and equipment is present at the airshow through static displays and aerial demonstrations including two F-16 Fighting Falcons from the 35th Fighter Wing, Misawa Air Base, Japan; and one C-130J Super Hercules from the 143rd Airlift Wing, Rhode Island Air National Guard. One F-16 will conduct a single-ship demonstration during the show. Photograph: GuruDutt/MoD Twitter
---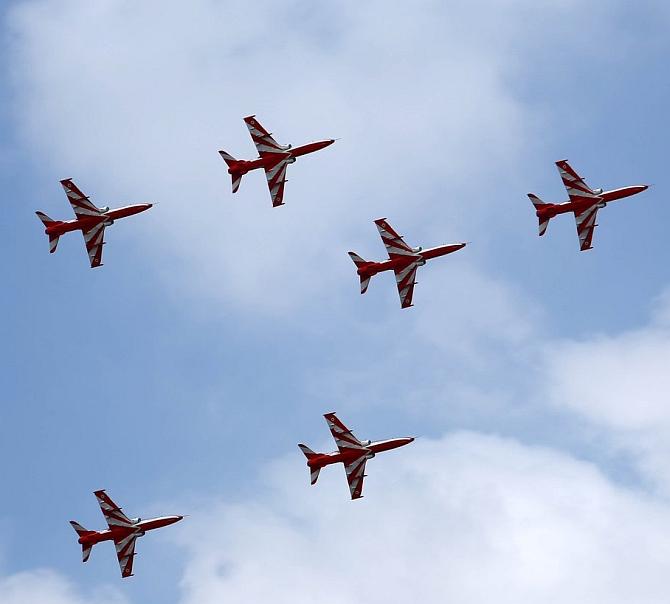 After having skipped two editions of Aero India, the Surya Kiran Aerobatics team of the Indian Air Force was back on display with a new jet-powered advanced Hawk aircraft. The SKAT performed for the record 500th time on Tuesday. Photograph: MoD/Twitter
---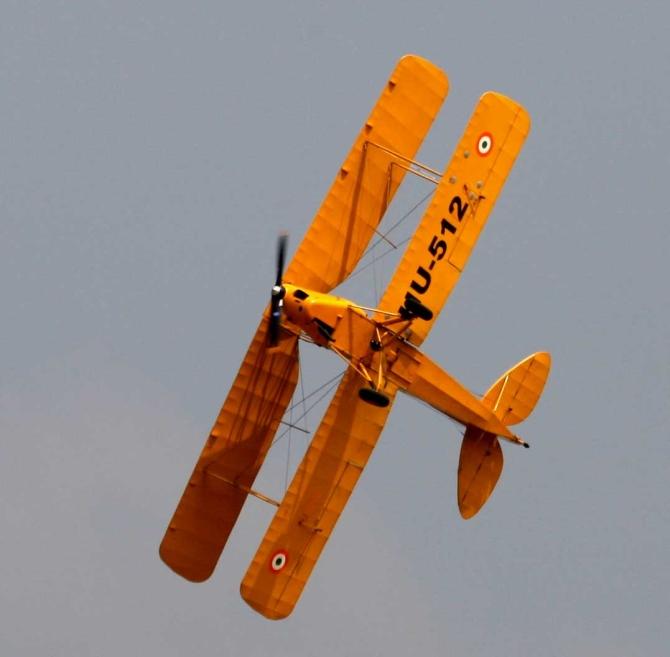 The 'Tiger Moth' over Bengaluru skies. The 'de Havilland DH82 'Tiger Moth' is a two-seat, single bay biplane powered by a 145 hp Gypsy Major four-cylinder inverted air-cooled engine. It was the primary trainer aircraft for the Royal Air Force during the Second World War and was also the basic trainer aircraft in the IAF right from 1940. Training schools in the IAF operated the Tiger Moth and later it was replaced by the HT-2.The Tiger Moth has no electric system and has to be started manually. Even it is refueled manually by pouring fuel in the tank above on the biplane. Photograph: MoD/Twitter
---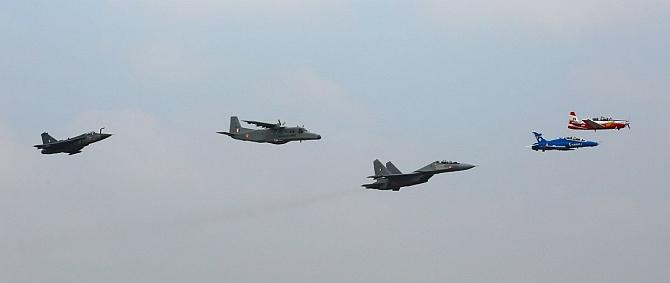 The Make In India ensemble -- LCA Dornier, Su-30MkI, Hawk-i & HTT-40. Photograph: MoD/Twitter
---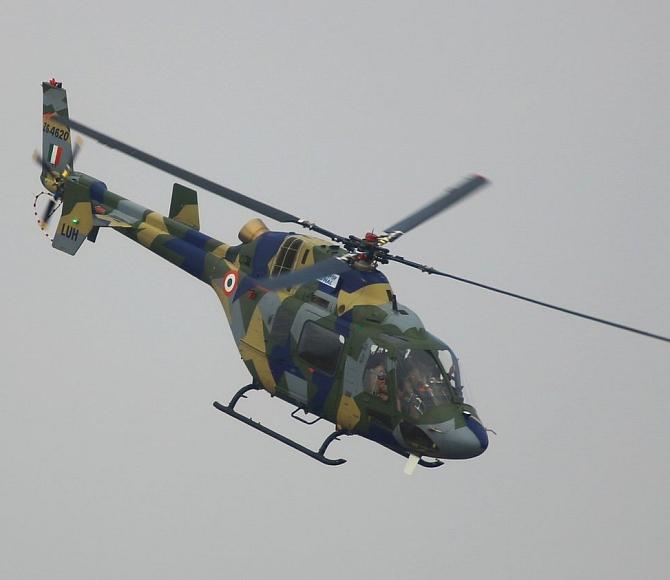 Light Utility Helicopter makes its first-ever public display. The helicopter has been designed and developed by the Bengaluru-headquartered defence PSU Hindustan Aeronautics Limited. Officials said the flight was a big step in the Make in India programme. The prototype was piloted by Wing Commander Unni Pillai. The helicopter, which is suited for operating in small areas, performed several manoeuvres. Photograph: MoD/Twitter
---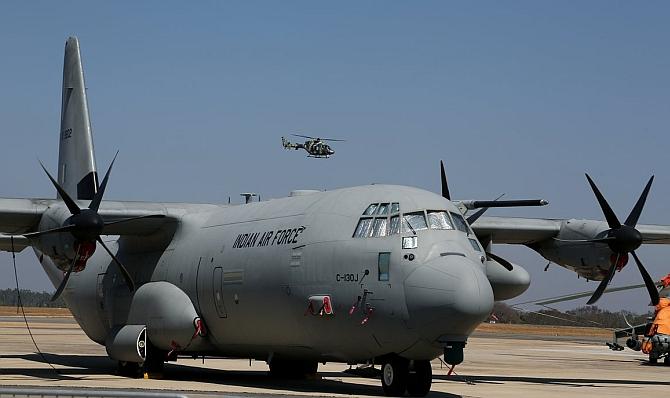 IAF C-130J Super Hercules on the tarmac. The C-130s began operational use with the Sikkim earthquake in September last year, and their legs have been stretched by pilots with visits to Car Nicobar and other remote parts of the country. A modified version of the C-130J called the 'Sea Hercules' will participate in the Indian Navy's medium range maritime reconnaissance aircraft competition. Photograph: MoD/Twitter
---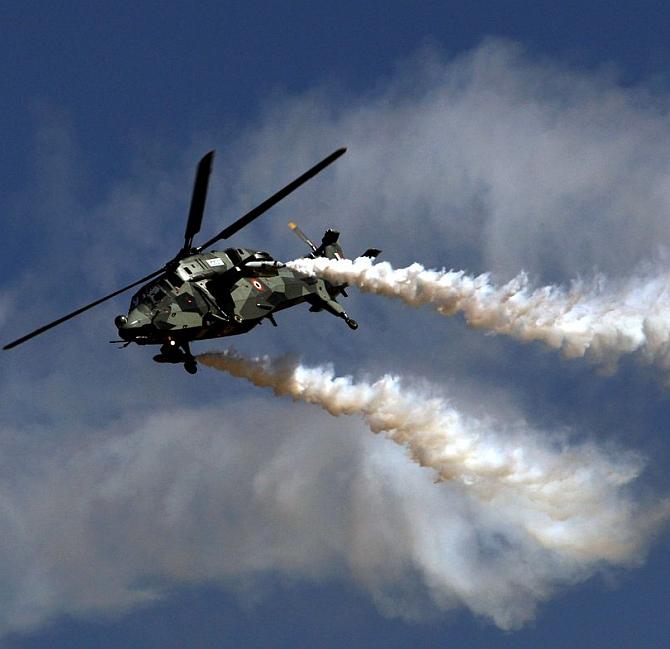 Light Combat Helicopter performing aerial maneuvers. The HAL-developed LCH is capable of high-altitude warfare. It can reach any height ranging from 19,700 to 21,300 feet. It can be used in various operations such as counter surface force operations, destruction of enemy air defence operations, providing an escort to special heliborne operations, counter-insurgency operations, offensive employment in urban warfare, support of combat, search and rescue operations, anti-tank action and scout duties. Photograph: MoD/Twitter
---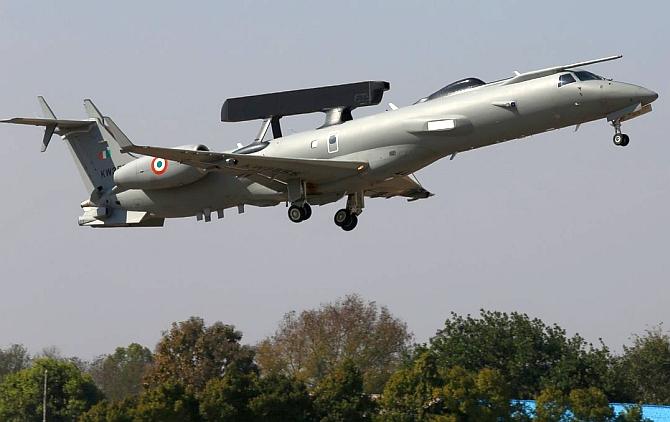 Netra, India's first indigenously-developed airborne early warning and control system, was handed over to the IAF at Aero India. The indigenous system mounted on an aircraft can track area within 240 degrees of its sides at any given point of time. The AEW&C consists of a state-of-the-art active electronically scanned radar, secondary surveillance radar, electronic and communication countermeasures, Line of Sight and beyond-LOS data link, voice communication system and self-protection suite, built on an Emb-145 platform, having a mid-air refuelling capability to enhance surveillance time. Photograph: MoD/Twitter
---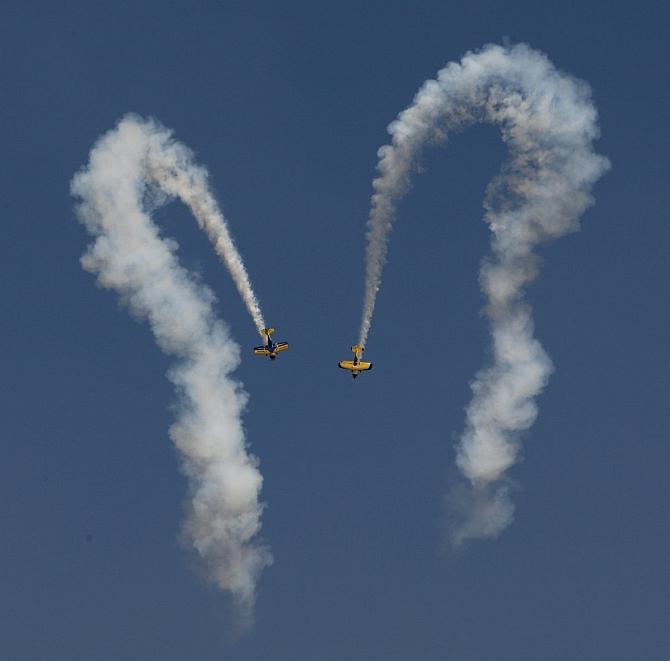 A Scandinavian Wasp enthralling spectators. Photograph: MoD/Twitter
---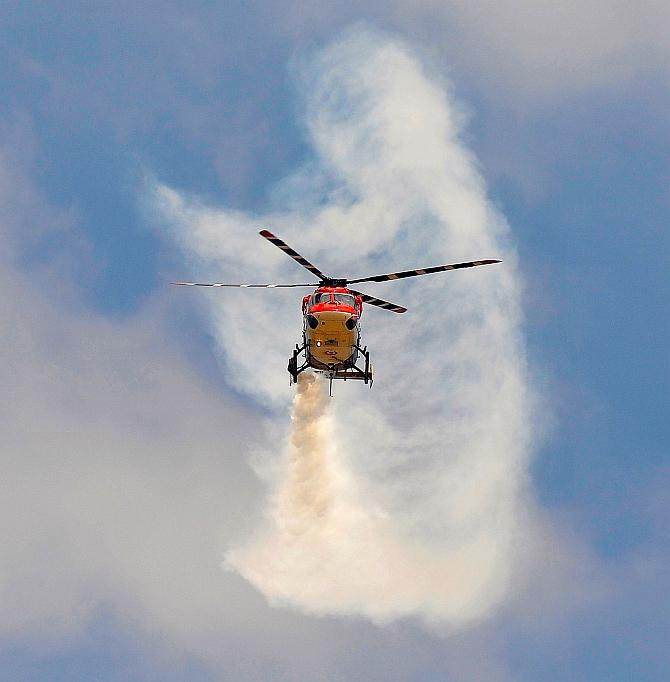 IAF's Sarang helicopter takes flight. The 55-member Sarang team flies the indigenous Advanced Light Helicopter manufactured by the HAL in spectacular formations with a stealth entry. Photograph: Abhishek N Chinnappa/Reuters
---
A Skeldar V-200 remotely-piloted aerial system. SKELDAR V-200 is unique in the VTOL space due to its double payload capacity and ability to run on heavy fuel, making it the ideal platform for maritime and naval operations as well as military and civilian activities. Flexible and highly versatile, the system is multi-role meaning it can perform a wide range of applications including reconnaissance, identification, target acquisition and electronic warfare. Additionally, the drone is deployable with a number of COTS high resolution EO/IR, SAR and EW sensors. Photograph: Shailendra Bhojak/PTI Photo