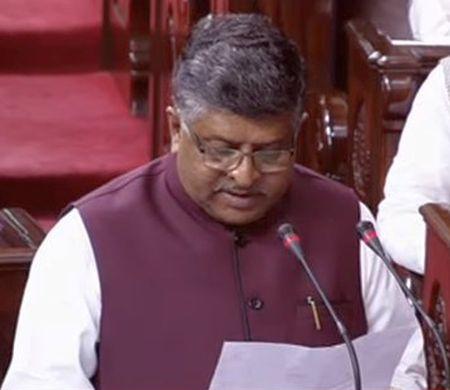 The oath taking comes after elections to the Upper House were held last month.
Union Ministers Ravi Shankar Prasad, Prakash Javadekar, Jagat Prakash Nadda and Dharmendra Pradhan were among the 41 newly-elected Rajya Sabha MPs who took the oath on Tuesday.
Of the 58 members elected from 15 states in elections last month, 41 took oath of affirmation.
Finance Minister Arun Jaitley, who was re-elected to the Upper House from Uttar Pradesh, as also members elected from Rajasthan, Telangana and Odisha did not take the oath on Tuesday.
While almost all the members belonging to the ruling National Democratic Alliance took oath by swearing in the name of god, Human Resources Development Minister Prakash Javadekar, who was re-elected to the Upper House from Maharashtra, took oath affirming his allegiance to the Constitution of India.
Trinamool Congress's Mohammad Nadimul Haque, who was re-elected from West Bengal, swore in the name of 'Allah', while Union Minister Tharwar Chand Gehlot took the oath in Sanskrit.
While members one after the other walked up to a specially put up microphone right below the presiding officer's chair to take oath, BJP's Saroj Pandey was allowed to take the oath from her seat due to a fracture in her leg.
Members after taking oath walked up to Chairman M Venkaiah Naidu who warmly welcomed them with a hand shake.
Thereafter, they signed the members' register and then greeted Prime Minister Narendra Modi, other senior ministers and opposition leaders present in the House.
Naidu said as many as nine languages were used to take the oath, reflecting India's linguistic heritage. He hoped the newly elected members and re-elected members would raise people-oriented issues and enhance the dignity and prestige of the House.
Lawyer-turned-politician Abhishek Manu Singhvi of the Congress, who got elected to the Rajya Sabha from West Bengal with the support of TMC, was among those who took oath on Tuesday.
Others who took the oath included Telugu Desam Party's C M Ramesh and K Ravindra Kumar from Andhra Pradesh, Janata Dal-United's Mahendra Prasad and Bashistha Narain Singh, Rashtriya Janata Dal's Ashfaque Karim and Manoj Kumar Jha (all from Bihar), BJP's Purshottam Rupala and Naranbhai Rathwa and Amee Yajnik of Congress (from Gujarat).
BJP's Devender Paul Vats, elected from Haryana, took oath in Hindi.
Former telecom enterpreneur Rajeev Chandrasekhar, who was elected from Karanataka on a BJP ticket, took the oath in Kannada. However, three members of Congress elected from the state, including L Hanumanthaiah, did not take the oath on Tuesday.