Some call it a social experiment, some see it as an interactive arts festival and some see it as a damn good rave party.
For the past week, nearly 70,000 people from around the world have made the annual pilgrimage to build the Burning Man event's temporary city far from civilization, in the Nevada desert and to close it out by burning artwork and related paraphernalia.
First held in 1986 on Baker Beach in San Francisco as a small function organized by Larry Harvey and a group of friends, it has since been held annually, spanning from the last Monday in August to the first Monday in September (Labor Day).
Burning Man plays host to various forms of artistic expression created for the event by its attendees and others, including experimental and interactive pieces, performance, and art cars among other mediums, often adhering to a yearly theme -- this year it was Carnival of Mirrors.
The event takes its name from its culmination, the ritual burning of a large wooden effigy ("the Man") that traditionally occurs on the Saturday evening of the event.
Let's take a look at some glimpses: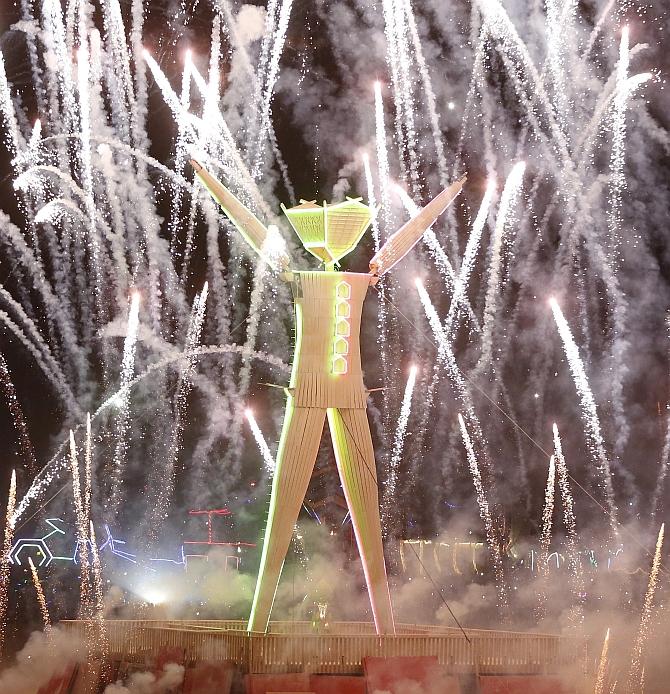 Fireworks are launched as 'The Man' is burned during the Burning Man 2015 "Carnival of Mirrors" arts and music festival in the Black Rock Desert of Nevada. Photograph: Jim Urquhart/Reuters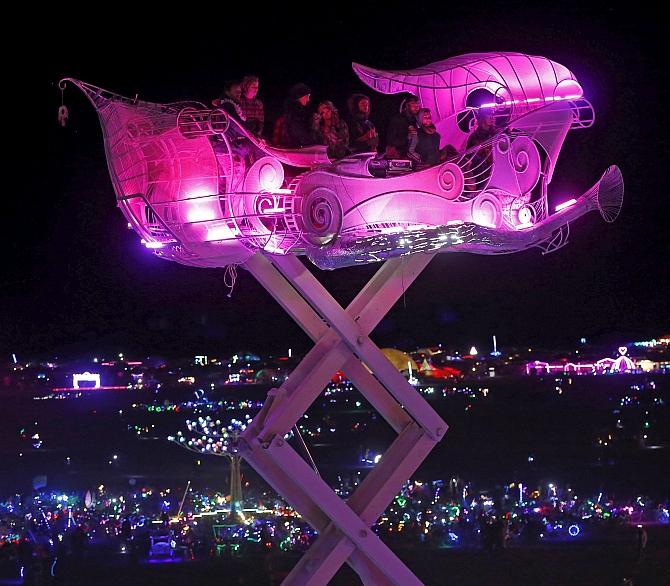 Participants watch 'The Man' burn from an elevated view. Photograph: Jim Urquhart/Reuters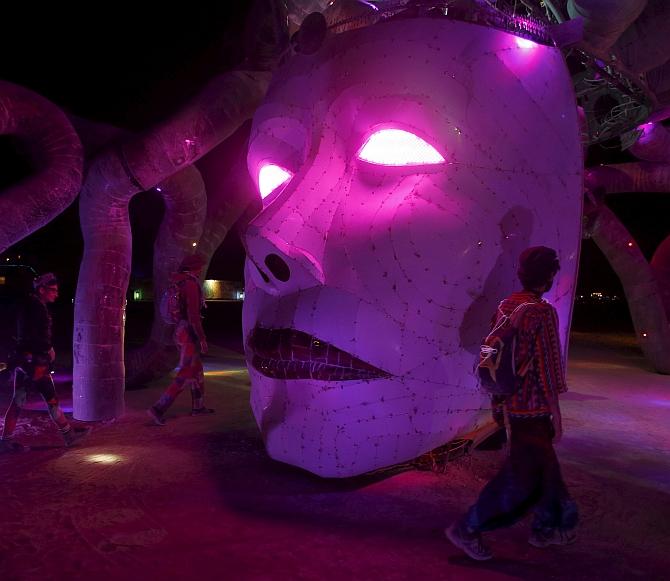 People walk through the art installation Medusa Madness. Photograph: Jim Urquhart/Reuters
Radiant Fire (left) and Sonya Sophia walk across the Playa at sunrise. Photograph: Jim Urquhart/Reuters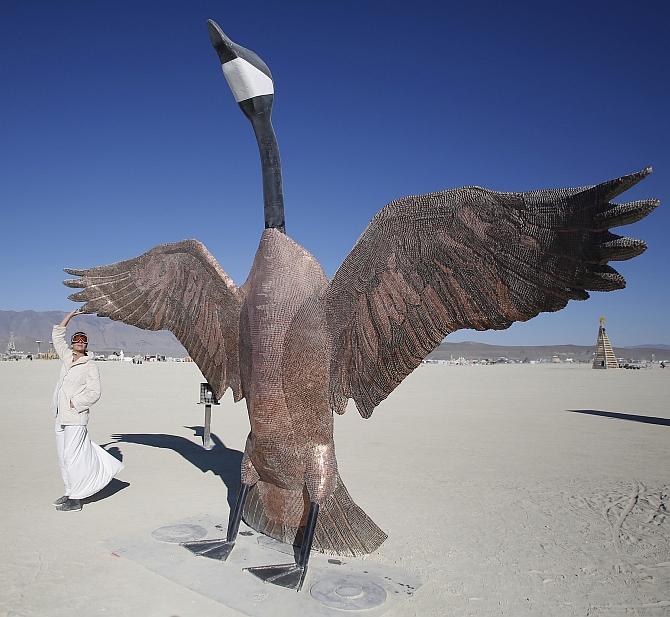 Participant Lea touches the art installation "Penny the Goose". Photograph: Jim Urquhart/Reuters
Participants climb the art installation "Got Framed". Photograph: Jim Urquhart/Reuters
Danielle Stein (left) and Robert Hayward play Pyrokinesis. Photograph: Jim Urquhart/Reuters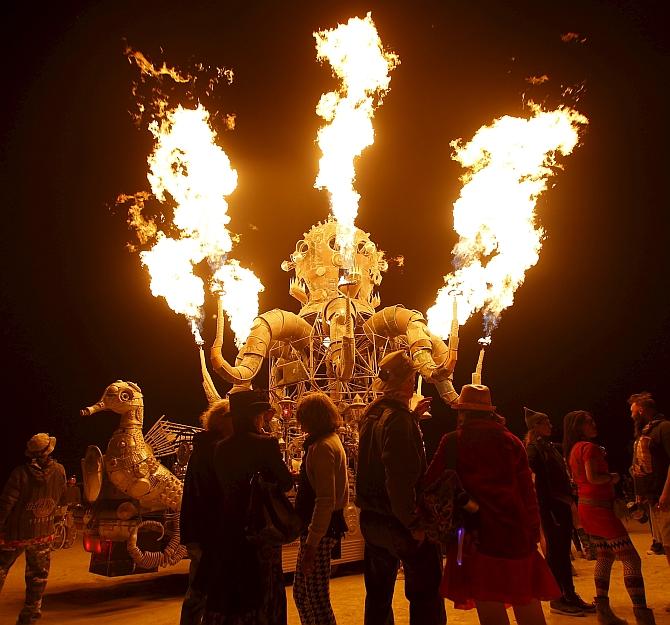 Participants gather to watch the flames from the art car El Popo Mechanico. Photograph: Jim Urquhart/Reuters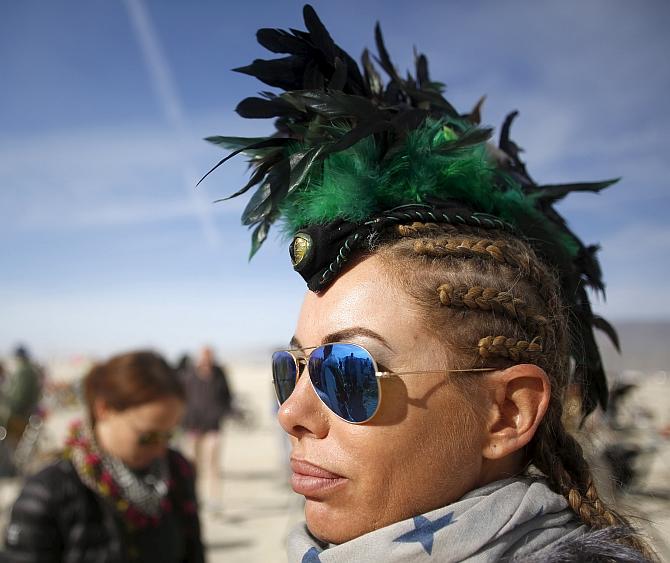 Nadina wears a feathered headdress during the Burning Man 2015 "Carnival of Mirrors" arts and music festival. Photograph: Jim Urquhart/Reuters
Bibi rides her bike on the Playa during the sold-out Burning Man 2015 featival. Photograph: Jim Urquhart/Reuters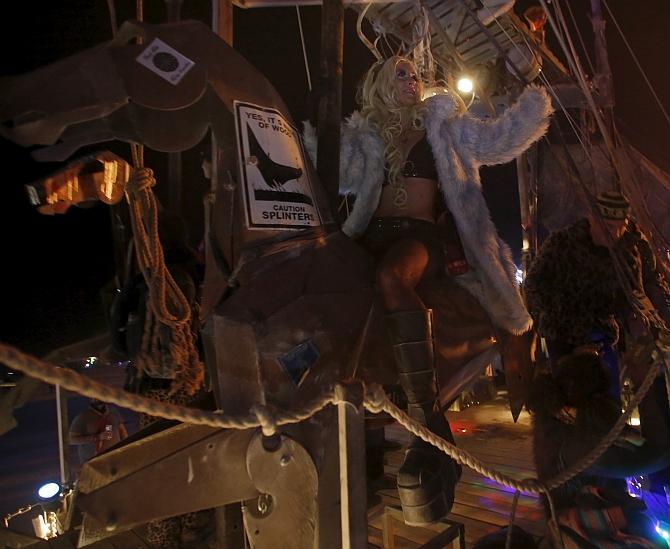 Chandra Jessee rides a wooden horse as 'The Man' burns. Photograph: Jim Urquhart/Reuters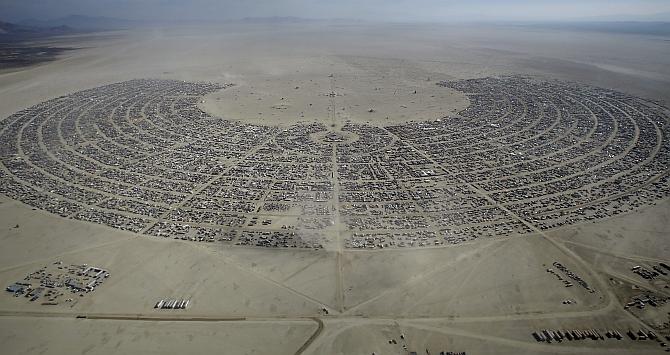 An aerial view of Burning Man 2015 "Carnival of Mirrors" arts and music festival in the Black Rock Desert of Nevada. Photograph: Jim Urquhart/Reuters