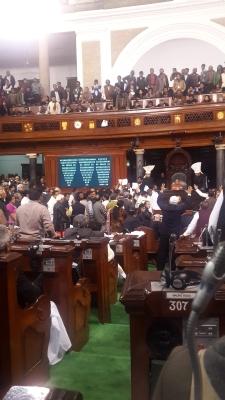 Trinamool Congress leader and Member of Parliament Dinesh Trivedi was irked by the decision of discontinuing the telecast of the Lok Sabha proceedings on Tuesday.
The powerful TV images of the chaotic scene inside Lok Sabha would have created heartburns in Seema-Andhra . When Trivedi came to know, he thought this was the government's action defying the spirit of the Right To Information, so he took this picture.
He was trying to rebel against the blackout. The speaker's office has however denied any negative role and has said that it was due to a technical glitch.
Trivedi also said that if it was only the technical glitch than Speaker Meira Kumar had an option to discontinue the proceedings until the technical issue was fixed.
"I have never seen media men standing up to see the mess below," said Trivedi.