As an NCC cadet, Wani also participated in Republic Day and Independence Day parades.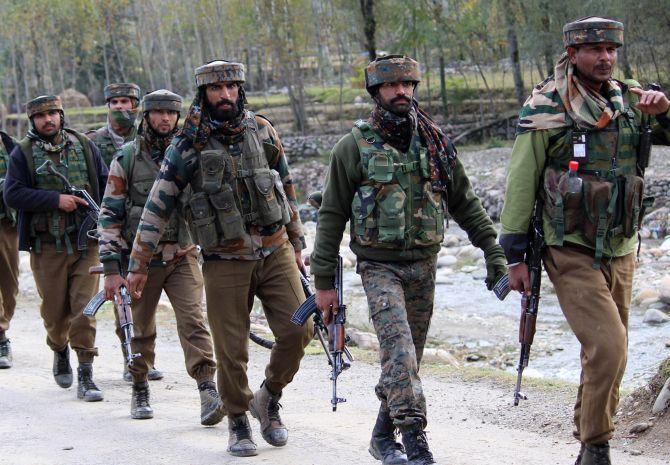 Banned terror outfit Hizbul Mujahideen suffered a setback on Thursday when its top commander Manaan Bashir Wani, who shunned a PhD course in the Aligarh Muslim University to join militancy, was killed along with his associate in a gunbattle with security forces in north Kashmir, police said.
The 27-year-old Wani, who quit PhD studies in Allied Geology and joined the terrorist ranks in January this year, was killed at Shatgund village in Handwara area of Kupwara district during the encounter this morning, they said.
Another Hizb terrorist Ashiq Hussain, who hailed from Langate area of Handwara, was also killed in the operation during which two security force personnel sustained injuries, a police official said.
The encounter broke out in the early hours in Shatgund following specific intelligence about the presence of Wani along with two others in the village.
Giving details, the official said police and other security forces personnel were fired upon by the holed up terrorists resulting in exchange of fire which continued until 11 am.
The police made repeated announcements through public address system appealing the terrorists to surrender, he said.
There was a lull in firing at around 9 am, prompting the police to initiate search operation at the encounter site, but it had to be suspended after firing resumed 15 minutes later, the official said.
Outstanding in studies, Wani, who got his basic education in Jawahar Navodya Vidyalay and Sainik School Manasbal, was considered to be the chief recruiter for terrorists in north Kashmir area following elimination of some of the top ultras in the region over the past two years.
After the due legal process, Wani's body was handed over to his family for last rites in which over 10,000 people participated at his native village at Tekipora in Lolab area of Kupwara district.
As soon as news of Wani's death spread, people took to streets in protest and at some places they resorted to stone pelting on the security forces.
Authorities shut down schools and other educational institutions in north Kashmir as a precautionary measure for maintaining law and order.
Internet services were also snapped in the region while many areas observed a spontaneous shut down.
Separatist leaders have called for a complete shutdown on Friday as a mark of tribute to the gunned down terrorist.
From Sainik School to Hizbul Mujahideen: The journey of Manaan Wani
From being an outstanding student to one of the most wanted terrorists in Kashmir, Manaan Bashir Wani was among a stream of educated youths who have joined militancy since the 2016 unrest in the Valley.
A profile of 27-year-old Wani as sketched by security agencies shows Wani was a brilliant student from the beginning and after his initial education, he went to prestigious Sainik School at Manasbal for completing his 11th and 12th class.
Wani received several awards during his academic years and had also remained indifferent to mass protests that broke out in the Valley in 2010 and 2016 after the death of Burhan Wani, a poster boy of Hizbul Mujahideen group.
His joining of militancy came at a time when other youth like Esa Fazli, a B Tech student from Baba Ghulam Shah Badshah univeristy, had joined terrorist ranks.
After his joining, an MBA student Junaid Ashraf Sehrai, son of Tehreek-e-Hurriyat Chairman Mohammad Ashraf Sehrai, also disappeared to join the terror groups.
Wani was attached to his family a lot especially with his father, Bashir Ahmed Wani, who was a lecturer in college.
From a well-to-do family, Wani remained busy with his studies at Aligarh Muslim University from 2011 where he completed his M.Phil and followed by Ph.D in allied geology.
His name still figures on the official website of Aligarh Muslim University where it is mentioned that Wani, who was a research scholar at Department of Geology, has been awarded the 'Best Paper Presentation Award' in an International Conference on 'Water, Environment, Energy and Society' (ICWEES) held at AISECT University, Bhopal.
The award was conferred to Wani for his paper 'Flood Risk Assessment of Lolab Valley from Watershed Analysis Using Remote Sensing and GIS Techniques'.
Quoting from his last article that appeared in social media in June this year, a police official said Wani had quoted American human rights activist Maclom X 'be peaceful, be courteous, obey the law, respect everyone; but if someone puts his hand on you, send him to cemetery'.
"We did the same thing to Wani. We gave him ample chance to surrender and obey the law but apparently he went against his own ideology," the police officer, who was engaged in the operations this morning in which Wani was killed, said.
During his days in school, Wani participated actively in sports like kabbadi across north India.
As a National Cadet Corps, he participated in Republic Day and Independence Day parades.
Wani's journey to militancy began sometime in late 2017 when he came in contact with students from South Kashmir. He left Aligarh on January 3
this year to join the mlitant ranks, only to return home dead.