It was a simple gesture of cleaning a temple but this act by a group of Muslim youths went viral on the internet. Members of the Jamaat-E-Islami Hind, who are involved in flood relief work in Tamil Nadu, speak to S Saraswathi.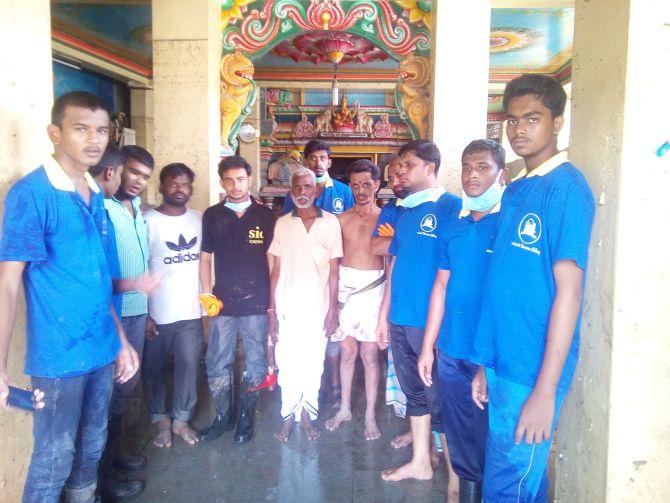 The sun is out in Chennai and relief and rehabilitation work is on in full swing. Along with the various government agencies, a large number of NGOs have pitched in to provide some comfort to the broken and battered people of Chennai.
Good Samaritans have been out on the streets, wading through the still stagnant and dirty water helping people get back on their feet. However, one beautiful gesture has moved the Chennai-ites.
A bunch of youngsters from the Jamaat-E-Islami Hind, a non-governmental organisation, helped clean two temples and a mosque in the flood ravaged areas of Kotturpuram and Saidapet.
Pictures of the youngsters cleaning the temple went viral on social media. With over 3000 members in Tamil Nadu, this NGO has been hard at work from the first week of November.
Jalaludeen, secretary of the group in Tamil Nadu, explains how it was all part of their work and promises they will not rest until they have done everything they can for the flood victims of Chennai.
"To be very frank, we did not go into the area with any intention of cleaning a particular mosque or temple. Since the rain subsided, our members have been on a cleanliness drive. The entire city is filthy with garbage strewn about in every direction. We noticed that the people were finding it extremely difficult to move about with all the sludge and debris that was left behind by the draining water.
"The stench from the rubbish was overwhelming at places. There is a high risk of infection in the coming weeks, which could be even more dangerous than the floods. These past few days, we have helped clean over 10 different areas like Ennore, Adambakkam, Pulianthope. Kotturpuram, Velachery, Perumbur, Saidapet, Dasamakkan, Kannigapuram and Chindadripet.
"We were in Kotturpuram when we found that two mosques and a temple in the area were in a pathetic condition. There was no pre-plan or motive, nor did we realise we would create such a buzz. People wished to pray and we wanted to help them do it. It was as simple as that.
"Actually, our work has been going on for over a month now. The rains in the first week of November were also bad and even then we helped with the relief work.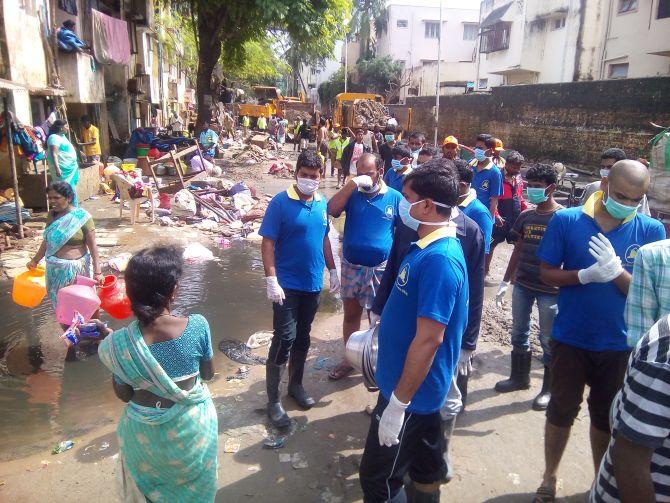 "During this last week, when it was pouring steadily, we were providing food to the stranded victims. We had made arrangements at one of the mosques for food to be prepared. For four consecutive days, starting Wednesday, we distributed 12,000 packets of food every day.
"But when we realised that more help had arrived and lots of people were also doing the same, we decided to move on with the cleaning work.
"Our work has been organised in a phased manner.
"The second phase will involve distributing books and other stationery to students who have lost everything in the floods. In the third phase, we will provide some basic cooking utensils to the women. And finally, we also have plans to help them rebuild their homes.
"There is a lot more to be done, and we will not rest until we have done all we can. This is not the first time, nor will it be the last that we have come out in support of people in need. This is what we do -- we help people in need, disaster or otherwise."