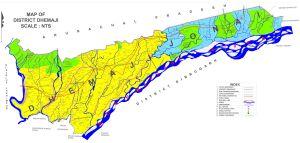 Assam has been hit by floods with 25 villages in flood-prone Dhemaji district inundated on Wednesday, official sources said.
The situation it is feared could deteriorate with the water level of Jiadhol river, a tributary of Brahmaputra, rising alarmingly following heavy rainfall in neighbouring Arunachal Pradesh.
The flood water has inundated 25 villages under Noruathan and Ghughua circles in west Dhemaji affecting more than 30,000 people, the sources said adding the residents have left their homes and taken shelter in the highlands.
There has, however, been no report of any casualty or injury so far.
The Dhemaji district administration has directed the concerned authorities to provide relief to the affected people, the sources added.