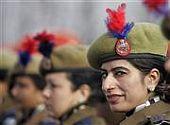 Republic Day was celebrated in Jammu and Kashmir on Tuesday under tight security.
The main function in the state was held in the Maulana Azad stadium in winter capital Jammu where state Governor N N Vohra unfurled the national flag and took the salute.
Asserting that 'our liberal democratic process provides ample space for divergent thought and opinion', the governor said 'conciliation and dialogue are the best means of resolving all issues'.
Greeting the people on the 60th Republic Day, Vohra urged 'all those elements who have not so far inclined to pursue the democratic path for the resolution of their demands to seriously reflect on the untold losses suffered by the people in the past years and recognize the futility of continuing on the path of confrontation'.
In the Kashmir Valley, state Finance Minister Abdul Rahim Rather took the salute at the heavily fortified Bakshi stadium and later addressed the function.
Smartly dressed contingents of state police, Border Security Force, Central Reserve Police Force and school children took part in the function.
The stadium in the heart of summer capital, Srinagar had been taken over by security forces, including the local police and CRPF.
All roads leading to the stadium had been barricaded with razor-fitted wire coils and vehicles that had been parked diagonally to block the passages to the stadium.
Sharp shooters were mobilised to occupy high-rise buildings around the stadium.
A three tier cordon had been laid by the security forces around the Bakshi stadium to secure it from any terrorist attack. Hi-tech electronic jamming equipments were used as part of the overall security arrangement.
A complete strike was observed across the Kashmir Valley on a call given by the various separatist groups.
Shops and business establishments in the Valley are shut and vehicles are off roads.