Mobile internet services will remain suspended in 'sensitive' parts of Haryana till Wednesday to prevent any disturbance.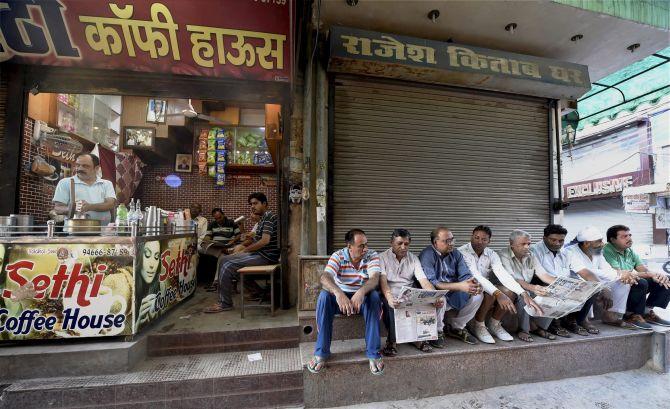 IMAGE: Morning walkers gather at a tea stall after the curfew was relaxed for 12 hours in Sirsa on Tuesday. Photograph: Vijay Verma/PTI Photo
Peace prevailed in Haryana and Punjab on Tuesday with life gradually returning to normal in violence-hit areas, a day after Dera Sacha Sauda chief Gurmeet Ram Rahim Singh was sentenced to 20 years in jail for raping two of his followers.
No untoward incident was reported from anywhere in the two states, officials said.
Authorities in Sirsa gave a 12-hour curfew relaxation from 7 am after no violent incident was reported from anywhere in the district.
Curfew had earlier been lifted from other towns of Haryana where it was imposed including Panchkula and Kaithal.
Sirsa town is home to the sprawling Dera headquarters where the sect's followers had gathered in large numbers ahead of Ram Rahim's conviction.
However, mobile internet services will remain suspended in 'sensitive' parts of Haryana till Wednesday to prevent any disturbance.
While mobile internet services will be restored in other parts, it will continue to remain suspended till 12 noon on Wednesday in seven districts of Haryana, considered as 'sensitive', officials said on Tuesday.
The seven districts are Ambala, Kurukshetra, Sirsa, Fatehabad, Jind, Hisar and Kaithal, they said.
Authorities had last week suspended services to prevent spread of rumours ahead of the court appearance of the Dera chief, who was convicted by a CBI court in Panchkula on Friday in the case.
Most of the Dera followers, who had come from different parts of Punjab, Haryana and elsewhere had left after the administration helped them come out of the Sirsa premises.
Life in sensitive districts of Punjab including Bathinda, Patiala and Moga where there is sizeable presence of Dera followers, was gradually limping back to normal.
However, the two states were still on high alert to prevent any incidence of violence or arson as was witnessed in Panchkula on Friday last after conviction of the Dera chief by the Central Bureau of Investigation court.
Haryana Chief Minister Manohar Lal Khattar has appealed to the people, especially Dera Sacha Sauda followers, to respect the sentence pronounced by the CBI court in the case and help in maintaining peace in the state.
Khattar had said effective arrangements have been made to maintain peace in the state following the decision of the court.
Strict action would be taken against any person who attempts to disturb the law and order situation which was reviewed at a high-level meeting held in Chandigarh on Monday, he added.
Punjab Chief Minister Amarinder Singh on Monday met Governor V P Singh Badnore to apprise him of the law and order situation and the steps taken by his government to prevent any breakdown of law and order in the wake of the sentencing of the Dera Sacha Sauda chief.
On the continuation of curfew in some sensitive ares of Punjab, the chief minister said the state government would review the situation again today before taking any decision on lifting the curfew imposed in some areas as a precautionary measure.
Curfew has already been lifted from five of the 10 districts where prohibitory orders were imposed.