'During the 2019 elections they (BJP) will claim they broke up the alliance for the country'
'Policy of brute force would lead to more deaths in the Valley'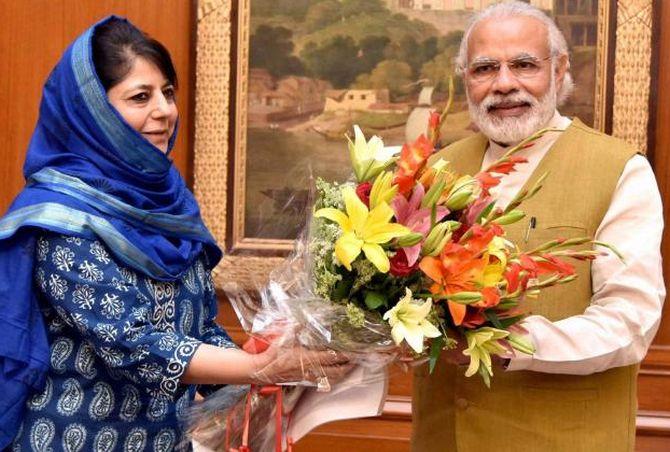 Congress leader Saifuddin Soz is presently in an eye of the storm due to his book 'Kashmir: Glimpses of History and the Story of Struggle.'
Soz, the former president of Jammu and Kashmir Congress committee, has also been in the National Conference. He was also a minister in the United Progressive Alliance government.
PTI-Bhasha spoke to Soz on the issue of breakup of the Bharatiya Janata Party-Peoples Democratic Party alliance in Jammu and Kashmir and the prevailing situation in the Valley.
Here are the excerpts of the interview:
What will you say on the break up of the BJP- PDP alliance?
It was not a right alliance to begin with. It was akin to an alliance of the north and the south poles. Mufti Mohammed Sayed had undertaken an experiment, which was a failure in the past as well present.
Why did the BJP step out of the alliance?
The BJP needs an issue in the 2019 general elections and that's why it has separated itself from the alliance. You will see that during the 2019 elections they will claim they broke up the alliance for the country. But the fact remains that they took the step not for the country but to save their credibility. They will fan communalism now in Jammu.
What future do you see now for the PDP in the Valley?
The PDP had committed a grave error by forging the alliance. They have failed. The party also faces popular resentment. I don't know what would happen to it in the future, but this party has become highly unpopular.
What situation do you foresee emerging in the Valley now?
Unless the Centre changes its policy towards the Valley, nothing much is to happen here. The state government has nothing much to do. The Centre is pursuing a wrong policy now vis-a-vis the state. It would now send more forces to the Valley, more of the Central Reserve Police Force battalions would come here. The policy of using the brute force here would be adopted now. This policy would lead to more deaths in the Valley, but it would yield no result, no solution.
There is speculation on appointment of a new governor in Jammu and Kashmir, what would you say on it?
I will only say that N N Vohra has the understanding of Kashmir. He won't commit a wrong as long as he stays here. He would provide good governance to the state. He is a man with foresight and understanding. I don't know till what time he would be retained by the Centre here.