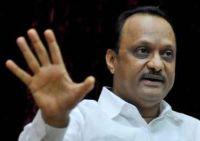 Proceedings of Maharashtra legislative assembly continued to be stalled for the second day today over Deputy Chief Minister Ajit Pawar's remarks on loadshedding and drought, with Opposition's move to bring a censure motion which was rejected by the Speaker.
The Lower House had to be adjourned twice before being adjourned for the day amid noisy scenes.
The Opposition members were in the well shouting slogans against the deputy CM demanding his removal from the ministry.
Only a motion to condole the passing away of former MLA Dattatreya Metkar, who died last week, was taken up.
Speaker Dilip Walse Patil rejected the censure motion sought to be moved by the Opposition against Pawar's comments saying that since the he has apologised, the matter has ended.
Subhash Desai (Shiv Sena), while trying to move the condemnation notice, said Ajit Pawar's remarks were derogatory and deserved to be condemned. Walse Patil cited procedures and rules and said the notice was rejected.
Sudhir Mungantiwar (BJP) and others also tried to speak on the issue but were not allowed by the Chair. But NCP legislators, led by Shashikant Shinde and Jitendra Awhad, rushed to the aisle protesting the Opposition's insistence of raking up the issue again despite the chair's ruling.
Earlier, when the House assembled for the day, Leader of Opposition Eknath Khadse said mere apology by Ajit Pawar will not do.
"He should quit his post. The chief minister should come to the House to make a statement, apologise and sack Ajit Pawar from the ministry," Khadse said.
With his comments, Ajit Pawar has insulted women and lowered the stature of Maharashtra, Khadse added.
"If there is no water in the dam...Should we urinate into it?," Ajit Pawar had said in an insensitive comment recently at a function at Indapur near Pune that kicked up a controversy in the state reeling under severe drought.
The NCP leader followed it up with another remark poking fun at load-shedding in the state, saying, "I have noticed that more children are being born since the lights go off at night. There is no other work left then."
Image: Ajit Pawar