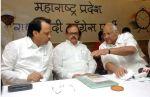 Union minister Tariq Anwar on Thursday said Nationalist Congress Party president Sharad Pawar has sent a "strong message" to those targeting migrants from Bihar and Uttar Pradesh, by making him a Union minister.
"Pawar saheb has given a strong message to people spreading hatred by targeting migrants from Bihar and Eastern Uttar Pradesh in Maharashtra," Anwar, who hails from Bihar but is NCP Rajya Sabha member from Maharashtra, told reporters.
In reply to a question that people from Bihar were celebrating his induction in the Union Cabinet though he was an MP from Maharashtra, Anwar, who left the Congress to float Nationalist Congress Party with Pawar, said "I am no borrowed player for Bihar as the state is my janambhoomi (birth place) as well as karambhoomi (work place)."
Anwar, who met Chief Minister Nitish Kumar, accused that "development is visible only in advertisements of the state government in newspapers and magazines ... not much development can be seen at the grassroots level."
Stating that there was enough space for NCP to strengthen its position in Bihar, Anwar said he would tour the state to broaden the party support base.
Anwar, Union minister of state for agriculture, said the Centre would pay more attention for bringing the second green revolution in the eastern region, the potential of which remained untapped.
For achieving this, there would be more emphasis for increasing production of crops like maize and pulses in addition to paddy in Bihar, West Bengal, Assam and other eastern states.
Anwar said the chief minister told him about the agriculture roadmap prepared by the state government for focused growth of the farm sector.
"I assured him that the Centre will provide all possible help to Bihar to achieve the desired results," he said.
The state has formulated a comprehensive agricultural roadmap for five years (2012-17), which was launched by President Pranab Mukherjee last month, for development of the farm sector, the mainstay of Bihar's economy.
Anwar said it and other eastern states had tremendous scope for development of food processing industries and he would ensure assistance for this.
Stating that a mega food park was proposed at Khagaria, he said his ministry would assist in the development of agro-based industries in Bihar.