Lack of a detailed crowd management plan, poor civic amenities besides absence of district magistrates from duty were some reasons cited by the Bihar government probe panel for the October 3 stampede in the state capital in which 33 people were killed.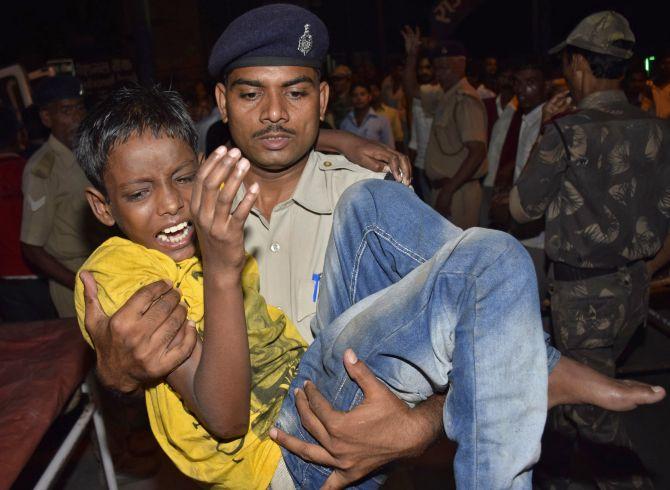 A police official lifts a little boy who was injured during the stampede in Patna. Photograph: Reuters
"During our probe we found several deficiencies in the arrangements due to which the stampede could not be checked. After paying attention to all aspects of the incident we found that the district administration, district police administration, Patna Municipal Corporation and the traffic police were responsible for it," Principal Secretary Home department Amir Subbani said.
The two-member probe team set up by the state government consisted of Subhani and Additional Director General of Police (Headquarters) Gupteshwar Pandey.
READ: 32 dead in Patna stampede during Dussehra celebrations
Subhani said there was no detailed crowd management plan for the event. The high mast light near the place of incident was not working, additional lights were not installed, deputed magistrates were less in number and some of them were absent from duty.
He also said the cow-catcher at the gate was damaged, loudspeakers had not been arranged to direct the movement of people, and traffic was not stopped to facilitate the exit of crowd from Gandhi Maidan.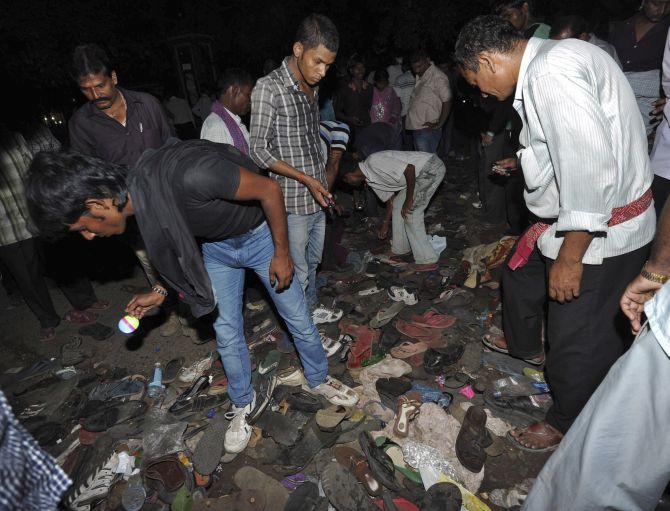 People search for their belongings amongst shoes left behind during a stampede. Photograph: Reuters
Throwing light on the reasons which triggered the stampede, Subhani said eyewitness accounts and other facets of the enquiry revealed that a cable TV wire had fallen on the ground near the exit gate which sparked a rumour that electric current was running through it.
"A big crowd was coming out of the southern gate of Gandhi Maidan at that time and the rumour led to a stampeded. People fell on each other and got trampled to death," he said.
The principal secretary also said that eyewitnesses and relatives of the deceased and injured said that eve-teasing and attempts of molestation by miscreants and rowdy elements were also a reason for the commotion.
The stampede had occurred near the southern gate of the 62-acre Gandhi Maidan soon after the Ravana Vadh programme got over on October 3 this year, when the people who had come to watch the ceremony were exiting from the ground.
Subhani said the stampede probe report has been submitted to the state government and action will be taken against the erring officials within the procedure laid out in the service rules. He, however, did not disclose their names.
"The stampede was the result of collective failure, not because of any one person. Administrative and disciplinary action will be taken against the responsible officials. It is known who all are among them. The government will make a list of responsible people and take action," Subhani added.