A division bench of the Patna High Court, comprising Chief Justice Iqbal Ahmed Ansari and Justice Navaniti Prasad Singh, quashed the April 5 notification of the Bihar government to stop consumption and sale of alcohol in the state.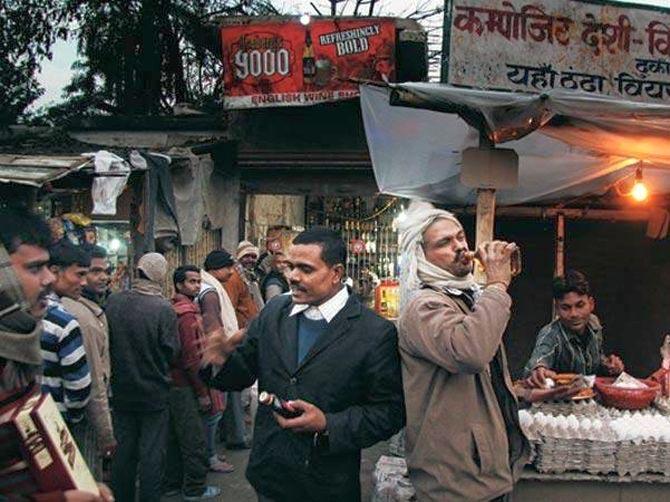 The April 5 notification is ultra vires to the Constitution, hence not enforceable, the court said in its verdict.
The same bench had on May 20 reserved its order on a batch of writ petitions filed by Liquor Trade Association and many individuals challenging the liquor law in Bihar brought by Nitish Kumar government with stringent penal provisions.
Hours later, a high-level meeting called by Chief Minister Nitish Kumar decided to summon the state cabinet on October 2 to ratify a notification on an amended liquor law for continuation of prohibition.
The meeting also deliberated on the option to knock on the doors of the Supreme Court against the high court order, quashing the April 5 notification on liquor ban.
The Grand Secular Alliance government had first banned manufacture, trade, sale and consumption of country-made liquor since April 1 but later, imposed a blanket ban on all types of liquor, including foreign liquor, in the state.
The chief minister has now called the meeting of the state Cabinet on October 2 in which an amended liquor law, passed by both Houses of the state legislature and consented to by the Governor, is likely to be approved for notification with an aim to continue with prohibition in the state.
Fridays's meeting was attended by Chief Secretary Anjani Kumar Singh, Principal Secretary, Excise and Prohibition Amir Subhani and Principal Additional Advocate General Lalit Kishore among others.
Anjani Kumar Singh confirmed that the Cabinet would be meeting on October 2.
JD-U state president Basistha Narayan Singh and senior minister Rajiv Ranjan Singh Lallan also attended the meeting.
"We are not satisfied with today's court order... the option of going to the Supreme Court against it is available to us," Lalit Kishore said after the meeting.
"We will study the 150-page judgment to decide on the next course of action, including the option to move the apex court," he added.
The court's order quashing liquor notification would be a severe jolt to the government.
The chief minister had taken up the cause of prohibition on a mission mode and has been continously monitoring the implementation of the alcohol ban in the state.
Kumar has also toured many places in Jharkhand, Madhya Pradesh, Uttar Pradesh and Punjab championing the cause of prohibition.
As per the last data provided by the state Excise department on September 2, 11,679 litre of Indian Made Foreign Liquor and 92,291.47 litre of country liquor were seized from April to August this year.
Photograph: Reuters