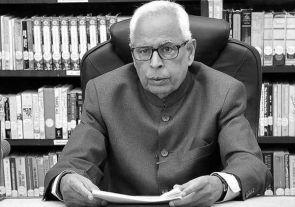 Jammu & Kashmir Governor N N Vohra on Friday ordered a security audit of all vital establishments and installations in Jammu and Kashmir by a multi-disciplinary team of security agencies.
The audit will be completed by January 21, he said, according to an official hand out.
Chairing a high level meeting of senior army, air force, paramilitary, police and intelligence agencies the governor reviewed the existing arrangements for the safety and security of all vital civil and defence establishments and installations in Jammu & Kashmir.
The directive came in the aftermath of the attack on the Pathankot air force base early this month.
The Raj Bhavan spokesman informed that 'consequent to recurring terror attacks since September 2013 across the international border and the line of control and more particularly the recent attack on the Air Force Base at Pathankot, the governor had been speaking to senior army officers including the Northern Army Commander, senior commanders of security forces and police urging them to undertake a time bound review of all existing security arrangements'.
"It was noted that two such attacks had taken place in 2013; three in 2014; six in 2015 and one in January 2016," the statement added.
"Governor observed that in the post Pathankot Air Base terror attack it was of vital importance to review the existing status of the security of important defence and State government establishments in Jammu and Kashmir. In this context, the senior most civil, army, IAF, police and Intelligence agency officers had been invited to participate in the meeting," the statement said.
The meeting also reviewed the security situation in all the border areas of the State, along the IB, LoC and the line of actual control and identified issues which required to be dealt with on urgent basis.
"While reiterating the importance of maintaining close coordination amongst all the departments and agencies, the governor stressed the need of appropriate prompt action being taken to ensure the safety and security of the civil population and use of available science and technology techniques to the maximum possible extent."
"It was agreed that there would be a further review meeting at the end of January 2016," the statement added.