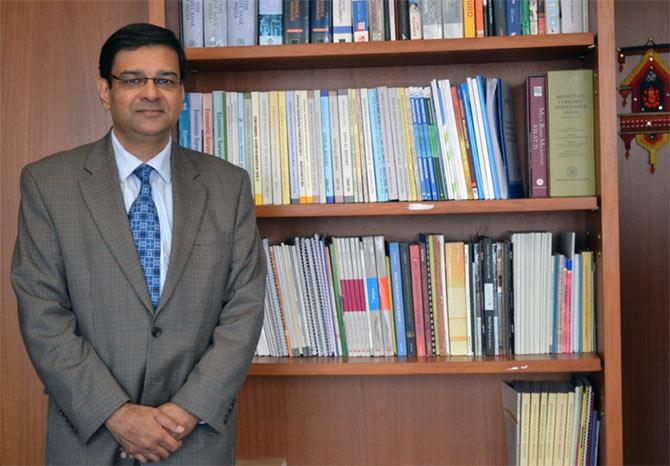 Former prime minister Manmohan Singh on Monday termed Reserve Bank of India Governor Urjit Patel's resignation as 'very unfortunate' and said it was a 'severe blow' to the country's economy.
Patel, who had a run in with the government over autonomy of the central bank, resigned from his job earlier on Monday, citing personal reasons.
His resignation came four days ahead of a crucial meeting of the board of the central bank that could have discussed issues of simmering differences with the government.
In a statement, Singh said he hoped that the RBI Governor's sudden resignation is not a harbinger of Prime Minister Narendra Modi-led government's attempts to 'destroy' the institutional foundations of India's $3 trillion economy.
He said it will be 'foolhardy' to diminish institutions for short-term political gains.
"It is with great sadness that I received the news of the resignation of the Governor of the Reserve Bank of India, Urjit Patel," Singh said.
"Patel's sudden resignation, at a time when the Indian economy is faced with many headwinds, is very unfortunate and is a severe blow to the nation's economy," he said.
The former prime minister added that he has known Patel to be an economist of high repute and also someone who cared deeply about India's financial institutions and economic policy.
"Building institutions take a long time and effort but they can be destroyed in a whimper. It is institutions such as the RBI, among many others, that have served as the edifice of our great nation's progress since independence. It will be foolhardy to diminish these institutions for short-term political gains," Singh said.
He recalled RBI Deputy Governor Viral Acharya's apprehensions about the government's intent to raid the capital reserves of the RBI for fiscal purposes.
"I hope the resignation of the Governor is not a sign that this may soon become a reality," he said.
"I also sincerely hope that this sudden resignation of the Governor is not a harbinger of the Modi government's attempts to destroy the institutional foundations of India's $3 trillion economy," he added.
Patel, 55, who took over as the 24th Governor of the central bank on September 5, 2016, had the shortest tenure since 1992.
His three-year term was to end in September 2019 and he was eligible for a second term, like most of his predecessors.
The government seems to have accepted his resignation with Prime Minister Narendra Modi saying Patel will be missed "immensely".
Former Finance Minister P Chidambaram said he was saddened but not surprised by the resignation of Patel and claimed no self respecting scholar or academic can work in the National Democratic Alliance government.
In a series of tweets, the senior Congress leader said the last meeting of the RBI Board held on November 19 was the 'day of reckoning' and Patel should have resigned on that day.
'Dr Patel may have thought that government will re-trace its steps. I knew it would not. Good he quit before another humiliating meeting.
'Saddened, not surprised, by Dr Urjit Patel's resignation. No self respecting scholar or academic can work in this government,' he said.
Delhi Chief Minister Arvind Kejriwal alleged that Patel was eased out by the government at the Centre to bring in a 'more pliable' person to fill the post.
'RBI governor Urjit Patel has been eased out since he refused to allow the Modi govt to plunder Rs three lakh crore of RBI reserves. Now Modi govt will get a more pliable RBI governor who will allow this loot,' Kejriwal said in a tweet.
Terming the resignation as 'unprecedented', West Bengal Chief Minister Mamata Banerjee said economic emergency in the country has begun.
Banerjee hit out at the Centre over Patel's resignation saying it was a matter of 'great shock'.
'This has never happened before. This is unprecedented. We are deeply concerned. The RBI is the custodian of public money. The credibility of all institutions is being destroyed. This is a financial and economic emergency,' she said in a tweet.
Banerjee alleged that political emergency was ongoing in the country and with the resignation of the RBI governor financial emergency has also begun.
'BJP is behaving like a dictator. Political emergency already exists everywhere. They are threatening every political party and so many leaders sent to jail. If the RBI governor also has to resign, its a matter of grave concern for the country. With this, financial emergency has also started,' she said.
Bharatiya Janata Party MP Subramanian Swamy urged Prime Minister Narendra Modi to dissuade Patel from leaving, saying his resignation would be wrong for the government, economy and the institution at this time.
The prime minister has to persuade Patel that he cannot leave in larger public interest, he said.
"His resignation at this time would be wrong for the government, economy and the RBI. The prime minister should call him and find out what could be the personal reasons and dissuade him from leaving. This is what I think the PM should do," Swamy said.
Asked about his differences with the Finance Ministry, Swamy said it always happens whenever an 'independent, non-rubber stamp' RBI governor is there.
Senior Trinamool Congress leader Sukhendu Sekhar Roy said, "The BJP regime functions arbitrarily. No person who has self respect can work in the NDA government. Be it the decision on demonetisation or GST the BJP government has taken steps to destroy the economy."
Patel's resignation is an 'ominous sign' for Indian economy, Roy, also the deputy leader of the party in Rajya Sabha said without elaborating.
Congress president Rahul Gandhi, addressing the media after a meeting of top leaders from over a dozen opposition parties, said that in the middle of the meet 'we were told that RSS-BJP agenda is progressing further'.
The RBI chief has resigned because he can no longer work in this government, Gandhi alleged.
"There was consensus that we have to stop the BJP's assault on Constitution, assault on the institutions like CBI, RBI and Election Commission. We are going to fight it out," he said.
Andhra Pradesh Chief Minister and Telugu Desam Party supremo N Chandrababu Naidu, who coordinated the opposition meeting that was held to discuss forging of an anti-BJP front for 2019 polls, alleged that there was 'pressure' from the government on RBI to give its surplus.
"He (Patel) tried his best to protect the economy and the nation in the interest of the public. Finally he was unable to bear the pressure and resigned," he said.
The Shiv Sena took a jibe at ally BJP, saying the Union government should take over the central bank.
"Everyone was expecting this. Today, Urjit Patel finally stepped down," Sena chief Uddhav Thackeray said.
"Instead of searching for a new head for the country's central bank, the Union government should bring all such institutions under its control," Thackeray said in a sarcastic note.
Communist Party of India general secretary S Sudhakar Reddy said Patel's resignation was a fallout of a rift between him and Union Finance Minister Arun Jaitley.
"It should be an eye opener for the PM. Even Modi's own people are unable to digest these things. I believe this is a setback to Modi government and particularly to Arun Jaitley," Reddy said.
He claimed said that a rift with Jaitley was the actual reason behind Patel's resignation.
"I think he was very much attacked by Finance Minister Arun Jaitley and his company," he said.