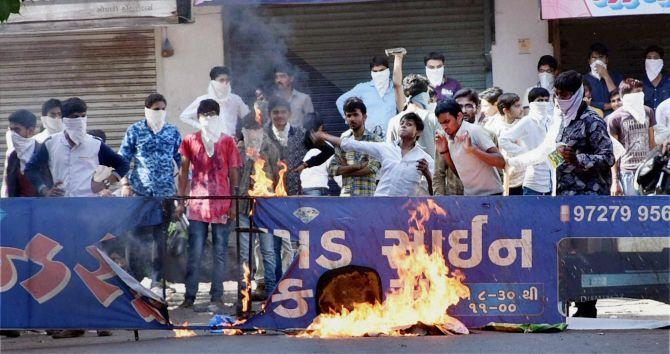 The Gujarat police on Tuesday detained Sardar Patel Group head Lalji Patel in connection with violence during "jail bharo" agitation of Patidar community held last month.
"Mehasana local crime branch on Tuesday detained SPG group leader Lalji Patel. His name was there in the FIR filed in connection with the jail bharo agitation of Patidar community held on April 17," officials of the police control room of Mehasana district said.
"Patel was detained from Lions hospital of the city and taken to LCB office," the police said.
Lalji's SPG group had organised jail bharo protest last month, which had turned violent in Mehasana town.
Lalji had sustained head injuries in the protest, and he at that time had claimed that he was hit in police baton charge. He was admitted to lion's hospital of Mehasana, from where the police detained him on Tuesday.
The police had used teargas and baton charged mob of Patel community members on April 17, when their protest turned violent after some members in the group indulged in stone pelting.
The police had later registered a case of attempt to murder and rioting against Lalji and 37 others.
Lalji's SPG and Hardik Patel floated Patidar Anamat Andolan Samiti are leading Patel quota agitation in Gujarat.