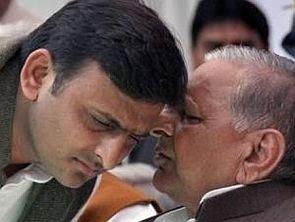 Samajwadi Party supremo Mulayam Singh Yadav and Congress president Sonia Gandhi may be poles apart on most counts, but they seem to be acting in a strikingly similar manner when it comes to fixing responsibility for the debacle of their respective parties in the recently concluded LokSabha poll. Sharat Pradhan reports
In their obvious bid to protect their sons, both Sonia and Mulayam have been staging ritualistic exercises to show their concern on the issue that threatens the very future of their respective parties.
Repeated meetings -- largely monologues by the two leaders -- ostensibly meant to fix the accountability for the devastating electoral reverses, have only ended up without reaching any logical conclusion.
The fate of Mulayam's meeting with the entire council of ministers of his son Akhilesh Yadav's 27-month old government on last Sunday was no different. Even as speculation was rife that the meeting would conclude with rolling of a few heads, it proved to be much ado about nothing.
Predictably, Mulayam's four-hour long session barely included a two-minute mention of Akhilesh, who also systematically kept mum. Sure enough, Mulayam's message was loud and clear about who actually calls the shots.
While the initial game plan was to castigate some ministers and even sack a few others, Mulayam chose to drop the idea at the eleventh hour. It is said that the change in the plan came after a call from his closest confidante cousin and the party's most important general secretary, Ram Gopal Yadav, who is currently on a tour of the United States.
Known as the SP's 'think-tank', he was largely instrumental in pushing Akhilesh's case for chief ministership in March 2012 when Mulayam's younger brother Shivpal Yadav had also thrown his hat in the ring for UP's top job.
Sure enough, Ram Gopal's absence at this crucial hour could have been detrimental to Akhilesh whose capabilities were already being questioned on account of the debacle. It was another matter that no senior party leader was willing to bell the cat, but the issue was a key part of the whispers in the corridors of power, particularly in circles close to Shivpal.
Mulayam's predicament over bringing some ministers in the firing line arose essentially on account of the apprehension that someone could question why Akhilesh was being granted immunity when it was he who had led the campaign. Obviously, a Ram Gopal could come in handy to thwart any such move. Hence the rolling of heads was postponed for another day.
Unlike Congress vice president Rahul Gandhi, who carried out a perfunctory duty of owning up responsibility for the party's devastating defeat by even going to the offering to resign, Akhilesh was not even in a position to do that.
He would surely have to undertake a grave risk -- no matter how much Mulayam might be trying to do a Sonia, SP was no Congress, where the Gandhi family alone was the glue. And in any case, the contender was to emerge from the Yadav clan itself.
Mulayam might have been publicly critical of his son's performance as chief minister. He might have even gone to the extent of humiliating him in front of other party man by observing, "Remember, when I was chief minister, I led the party to win by as many as 36 Lok Sabha seats -- followed by three more victories in bye-elections -- and today (while pointing towards his son) he has got us only five seats."
But that is the father's reprimand to his son. Mulayam would under no circumstances allow anybody else that privilege to run down Akhilesh -- much less his younger brother Shivpal.
Evidently, that was the reason Mulayam allowed Akhilesh to hold on to the dual position of state president of the party even as he dissolved all other units of the party organisation and sacked every other office-bearer of the party at the very first review of the poll debacle last month.
Shivpal's move to grab the state party head's position was frustrated by Mulayam at the very outset. Surely, blood is thicker than water.