Prison superintendent, who has been charged with torturing the underworld don, reveals the perks and privileges the gangster enjoyed behind bars.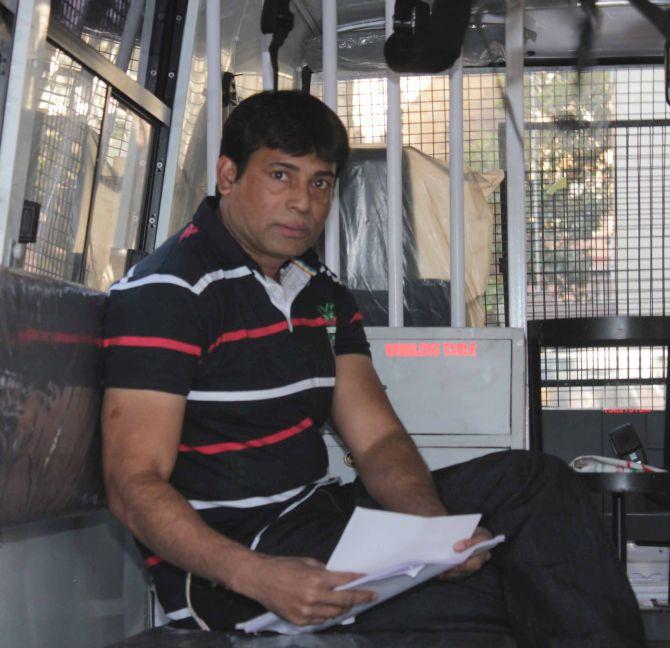 Abu Salem often enjoyed home-cooked meals, whilst his inmate in prison would run around doing his errands and chores, reveals the prison superintendent.
Parties for fellow inmates with home-cooked food, fried chicken and a manservant. Abu Salem, the underworld don and an accused in the 1993 Mumbai blasts case, is living life king size behind bars.
That's the statement of Taloja Jail superintendent, Hiralal Jadhav, who is currently under inquiry for allegedly torturing the gangster.
The statement accessed by mid-day newspaper comes in wake of Salem's allegations that the superintendent was coming up with creative ways to torment and drive him either to insanity or suicide.
Jadhav in his statement, as reported by mid-day, states that till very recently, Salem had an inmate who ran around doing his errands inside the prison. 'The inmate, identified as Raja Utta Lingam Nadar, used to wash Salem's clothes, serve him food, sweep his cell and even clean his utensils.'
The superintendent also said the gangster was provided with hot water and on many occasions cell phone chargers were recovered from his cell, proving that he had access to phones inside the prison.
Jadhav went on to add that Salem continuously looked for excuses to leave the prison, whether for court hearings or needless hospital visits. 'Salem made unjustified demands to be escorted to Delhi for his case hearings, despite the fact that the jail is equipped with video-conferencing facility. In one year alone, Salem visited JJ Hospital at least 42 times for no reason. Even the doctors did not find anything wrong with him,' Jadhav alleged.
Jadhav further went on to add that it was because he stopped Salem's habits and revoked his privileges, that the underworld don filed the torture charge against him. The cop elaborated how Salem would threaten the jail authorities with dire consequences if his privileges were revoked. 'He even manhandled the chief medical officer who had refused to help him get out of jail under the false pretext of medical check-ups,' Jadhav's statement reads.
Salem was shifted to Taloja prison after he was attacked in July 2010 by Mustafa Dossa -- another 1993 Mumbai blasts accused who is a close aide of gangster Dawood Ibrahim -- inside Arthur Road jail.
Abu Salem, an accused in the 1993 Mumbai serial blasts, was extradited from Portugal in 2005. He was sentenced to life imprisonment in February this year for the murder of Mumbai builder Pradeep Jain. He is also named an accused in four other cases across Delhi and Lucknow.