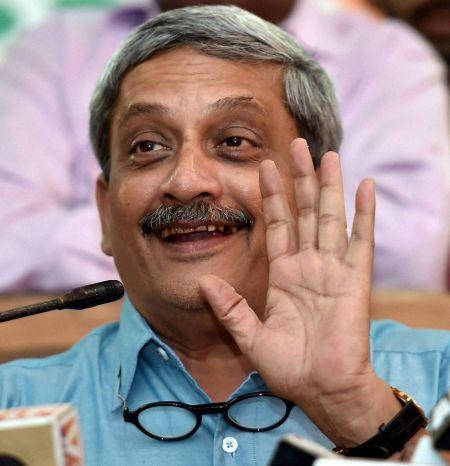 The Goa unit of the Bharatiya Janata Party on Saturday announced that it will observe the birthday of Defence Minister Manohar Parrikar in a simple manner in Panaji on Sunday, a decision which has been objected by the Congress.
"The birthday celebration of Defence Minister Manohar Parrikar will be attended by the Union Home Minister Rajnath Singh and the Union Minister for Road Transport and Highways Nitin Gadkari," Vinay Tendulkar, Goa BJP president said.
"The birthday celebration will not be a grand one. It will be a simple ceremony. There will be no food or buffet, no lavish decoration. The stage will be simple and not too many flower decorations," Tendulkar said.
More than 50,000 guests are expected in the event.
When asked about the funding of the bash, he said, "About the expense, we will tell you later. We will we have another press conference, where we will explain to you."
Goa Tourism Minister Dilip Parulekar said that many people have made contributions for the event.
"A minimum amount of Rs 5 to Rs 1000 we can accept. You can also give. Collection will be done in Sanvordem, Pernem and other parts of the state. There is no target for collection," he said.
Asserting that the BJP has earned the goodwill of the people, he added, "These people are in politics, business and at every level. Along with us, they also feel that Parrikarji's birthday should be celebrated."
The Congress had demanded the celebration to be cancelled and the funds collected for the event to be routed for relief work after the recent Chennai deluge, which resulted in a huge damage to lives and property.
More than 900 buses would be used to ferry the crowd that is expected to attend the function.