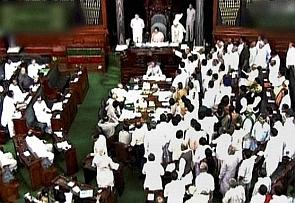 The current session of Parliament may be extended to enable the passage of bills, Parliamentary Affairs Minister Venkaiah Naidu told Bharatiya Janata Party MPs in New Delhi on Tuesday.
Addressing the BJP parliamentary party meeting at the Central Hall of Parliament, he said the government is committed to pass important legislations in Parliament and would extend the current session, if the Congress adopts "obstructionist" measures.
The government is keen to get important bills passed like the National Judicial Appointments Commission bill, the Juvenile Justice (Care and Protection of Children) Bill, Apprentices (Amendment) Bill, Constitution (121st Amendment) Bill, Repealing and Amending Bill, Factories (Amendment) Bill, the Insurance Bill, the Securities Laws (Amendment) Bill and the Labour Laws (Exemption from Furnishing Returns and Maintaining Registers by Certain Establishments) Amendment Bill.
Naidu charged the Congress with "running away" from passage of bills.
The parliamentary affairs minister also asked the party MPs to ensure their presence in both the Houses as there was a Constitutional Amendment Bill to be taken up and passed.
Finance Minister Arun Jaitley listed out the purpose behind bringing the bill on judicial reforms and said it should not be construed as a "government versus judiciary" or "Parliament versus judiciary".
"It is broadly aimed at bringing transparency in appointment of judges and their transfers," he told the MPs.
"The Congress is taking advantage of its majority in the Rajya Sabha. Work hard and ensure the party's success in states going to polls and help bring more of its members to Rajya Sabha to help bring BJP's majority," Naidu told the MPs.
During the meeting, Law Minister Ravi Shankar Prasad said most of the bills that the government has brought are those brought by the previous government. He also explained the history of judicial reforms process and said it is a demand pending for the last 20 years. He said it is also a part of the BJP's manifesto. Prasad also expressed happiness over various parties including the Bahujan Samaj Party, Samajwadi Party, All India Anna Dravida Munnetra Kazhagam, Dravida Munnetra Kazhagam, Trinamool Congress and Left extending their support to the measure.
"The sanctity of the judiciary should be protected," he said at the party meeting.
Naidu told the party MPs to be present at the Independence Day celebrations at Red Fort, when Prime Minister Narendra Modi unfurls the national flag from there.
Naidu also announced holding of a Raksha Bandhan programme for BJP MPs at his residence on August 14 where the second-in-command at RSS Bhayyaji Joshi will be the chief guest.

Image: The monsoon session of Parliament