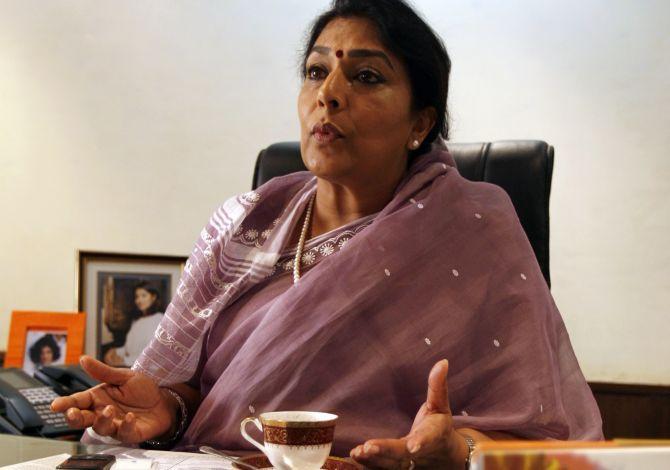 Photograph: Tanushree Punwani/Reuters
Parliament is not immune to the casting couch, Congress leader Renuka Chowdhury on Tuesday said, describing the practice as the 'bitter truth' not just of the film industry but of all work spaces.
The Congress member of Parliament also attacked Prime Minister Narendra Modi, alleging that he had 'snatched' her dignity when he said during a debate in the Rajya Sabha that she reminded him of a character in the Ramayana serial aired on television.
"It's the bitter truth. It is not just in the film industry. This happens everywhere in work spaces. Don't imagine that Parliament is immune (to it) or some other work space is immune," she stressed.
Across the world, Chowdhury said, women were speaking up against harassment.
"It's time India stood up and said 'me too'," the former Rajya Sabha member said, pointing out that top actresses in Hollywood had done so.
"If you look at the western world today, established top actresses took so long to come out and say 'me too'," she told a television channel earlier on Tuesday, in reference to Bollywood choreographer Saroj Khan's remarks defended the casting couch culture, under which people are forced to grant sexual facours in exchange for rewards such as roles or assignments.
Later, at a press conference at her residence in New Delhi, Chowdhury elaborated on the issue.
"Casting couch means privileges of women are taken away and used for personal benefit or in lieu of other compensations," she said.
At the press meet, she also accused Modi of having 'snatched' her dignity.
"Narendra Modi had snatched my dignity when he said I remind him of Surpanakha. Okay, I am Surpanakha and I do not want to become Sita," she said, and accused Union Minister Kiren Rijiju of circulating videos targeting her over her laughter in the Rajya Sabha.
Modi had not referred to demoness Surpanakha by name during the debate in February after Chowdhury had burst out into a loud guffaw.
"Sabhapati ji, I request you not to say anything to Renuka ji. After the Ramayan serial, we got the privilege of hearing this kind of laughter only today," Modi had said.
Chowdhury went on to explain that the casting couch menace was not as prevalent in politics as it was in some other areas.
"Politics is the most transparent system. There are no secrets in politics. A redressal cell in politics is inherent as we have seniors, women colleagues and support systems."
Chowdhury also spoke about the government's recent ordinance allowing the death penalty for those convicted of raping girls below the age of 12 years, and asked if it was 'okay to rape girls of other ages'.
"Okay, the ordinance is a good move, but how many rapists get convicted? Those who commit rapes hire big advocates and spend lakhs of rupees. What about those girls from economically weaker sections? There are cases when rapists get bail and threaten the victims. What law will you implement to protect them," she asked, urging women to break their silence on violence against them.
Pitching for a 'you too' movement, Chowdhury said, "There must be a 'you too' campaign so that any woman can say - I am naming you because you are responsible and you too are an offender."
The MeToo campaign, which calls out sexual offenders, began in Hollywood late last year and triggered a global movement against sexual abuse.
Khan, the choreographer of songs such as Ek Do Teen and Choli Ke Peechhay, had justified the exchange of sexual favours for work in the film industry, saying it was not a new phenomenon and the film industry "at least" provided jobs and did not abandon women after raping them.
The choreographer also put the onus on women and said everyone, including people in the government, indulged in the practice.
"I have already said I am sorry. But you don't know the question that was asked... And now there's so much ruckus," Khan told PTI over the phone today as a video of her interaction with the media did the rounds of television networks and social media.