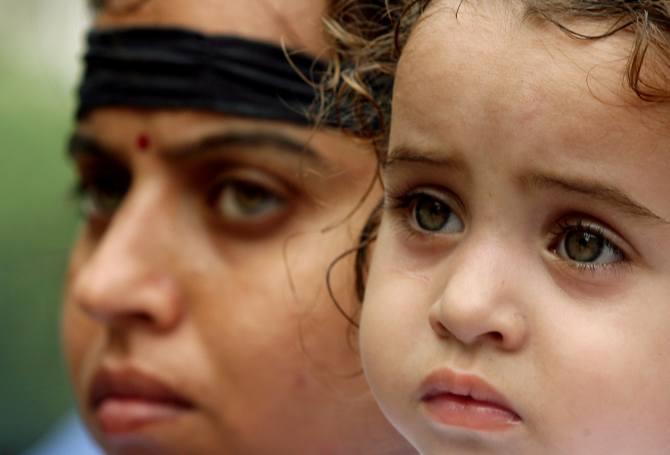 The Lok Sabha on Friday adopted a resolution for immediate steps to rehabilitate people displaced from Kashmir as the government said measures are being taken in this regard.
The resolution, moved by Bharatiya Janata Party's Nishikant Dubey, as well as an amendment to include people who have migrated from Pakistan-occupied Kashmir for rehabilitation, was adopted by a voice vote.
Replying to the discussion, Minister of State for Home Affairs Haribhai Parthibhai Chaudhary said the government is taking steps for rehabilitation of people displaced from Kashmir and the situation is being reviewed.
There is a broad policy framework and various provisions have been made in this regard, the minister said and assured that suggestions made by the members would be considered by the government.
Pitching for scrapping of Article 370, Gopal Shetty of the BJP said the Kashmir problem can be solved if the opposition parties and everyone comes together. There should be discussion not just in the House but outside also, he added.
Dubey said discrimination is still faced by Hindus and Muslims in Jammu and Kashmir.
BJP MP P P Chaudhary said that Article 370 was not meant to be permanent and it should be done away with.
Varaprasad Rao of the Yuvajana Shramika Rythu Congress called for dialogue among the people concerned to reach an understanding towards resolving the Kashmir problem. Economic development is the best solution, he added.
BJP's Bhairon Prasad Mishra suggested that smart city should be first built for Kashmiri Pandits who have been displaced.
Pappu Yadav of Rashtriya Janta Dal said that religion was for individuals and it should not be mixed with politics.
Among others who spoke were BJP members Gajendra Singh Shekhawat and Ramesh Bidhuri.