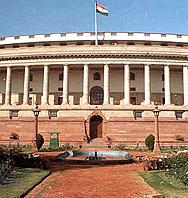 The Budget session of Parliament was abruptly adjourned sine die on Wednesday , with the second phase turning out to be a total washout amid opposition demands for the resignation of Prime Minister Manmohan Singh and ministers Ashwani Kumar and P K Bansal.
The second phase of the session, which began on April 22, was adjourned sine die two days before its scheduled end. With the sudden curtailment of the session, key legislations such as the National Food Security Bill and the Land Acquisition Bill could not be passed.
The only business that was transacted was passage of the Finance Bill marking the completion of the budgetary exercise and the Railway Budget without any discussion after walkout by the Opposition.
The government tried hard for passage of the Food Security Bill in the Lok Sabha but the opposition Bharatiya Janata Party stood ground saying it would facilitate its passage only if the Congress removed Bansal and Kumar.
Rajya Sabha Chairman Hamid Ansari made a terse comment on the functioning of the House saying the record of work done and not done in the second half of the Budget Session was in public domain and did not require any commentary.
He also put three questions including has the balance between deliberation, regulation and accountability totally been lost and have the members of this body assessed the impact of frequent disruptions.
With not much work done in the House, Lok Sabha Speaker Meira Kumar chose not to make her customary valedictory address.