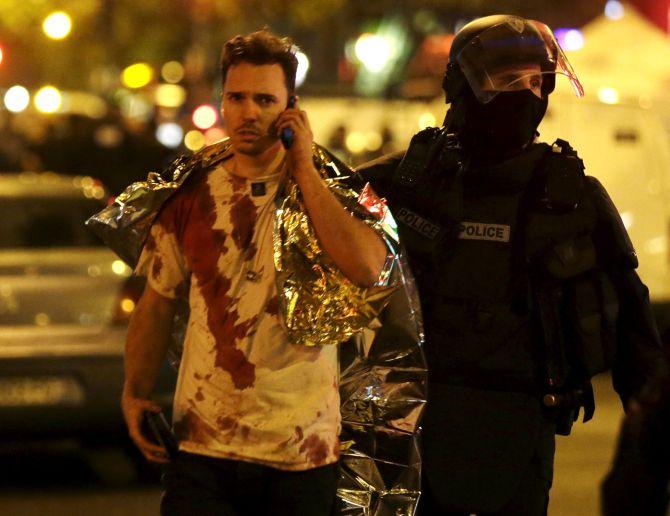 A hero has revealed the heroic events that unfolded during the attack on Paris' Bataclan Theater on Saturday as he jumped to save a pregnant woman dangling from a window
On Saturday, as the attacks in Paris erupted, a pregnant woman was recorded hanging from a ledge of the Bataclan Theater, screaming for help, but was pulled by a man, who, left his hiding place during to bravely save her life.
"Word spread there was an exit behind the stage. I crawled closer to it. I had to crawl over dead bodies and wounded people, and my clothes were full of blood. I took advantage of one shooter who was reloading to escape behind the stage," he said.
"I climbed the stairs, but they led onto the balcony of the concert hall. That's when I went to the windows and saw her." Sebastian told the Catholic Online how three armed Islamic State suicide bombers were roaming corridors of the music hall and were shooting down citizens.
As he fled the arena and through a window to cling to an air vent for safety, he claims he saw the woman clinging to the next window ledge, screaming in French, "Help me, I'm pregnant."
"She was begging people down below if they would catch her if she jumped. But it was chaos down there. We were 15 meters above the ground. I held on for five minutes and then the woman, who was exhausted, begged me to help her get back inside. That's what I did. I don't know where she went afterwards, but I went back to my old hiding place which wasn't great," he said.
"Five minutes later I felt the barrel of a Kalashnikov against my leg and a terrorist yelling: 'Get down from there… Lie on the ground.'"
Sebastian thought they were going to kill him then, but instead the terrorists asked him and others to talk to the press.
"They wanted to talk to reporters," Sebastian said. "They asked if money was important to me and took out a wad of €50 notes and made me burn them. They spoke French to one another," he recounted.
Meanwhile, the pregnant woman, who wishes to remain anonymous, was able to contact Sebastian with the help of friends, one of whom said her friend "wanted to thank everyone who had a part in helping her."
Image: A French policeman assists a blood-covered victim near the Bataclan concert hall following attacks in Paris. Photograph: Philippe Wojazer/Reuters