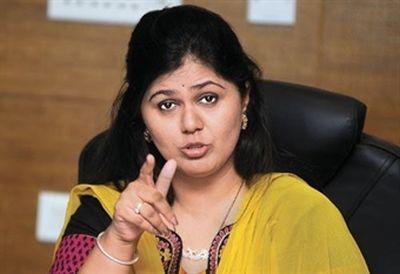 A day after Maharashtra Chief Minister Devendra Fadnavis divested her of the important water conservation portfolio in the Cabinet rejig, Pankaja Munde said that she wouldn't attend an international meet, as she was no longer minister of that department.
Soon after news of her being relieved from the water conservation portfolio became public, Munde said she was to reach Singapore to attend a global water leader summit on Monday but won't do so as she was no longer the minister of that department.
Fadnavis, who is out of the country on an official tour, immediately responded by saying that she must attend the event.
"As a senior minister, you (Munde) would be representing the government of Maharashtra," Fadnavis said.
Earlier, as the water conservation minister, Munde had courted controversy in April by posting a selfie online.
She had later said that she posted selfies on her tour of parched Latur on the weekend in appreciation of the work done there by the local administration for drought relief.
Opposition had then accused Munde of gross insensitivity.