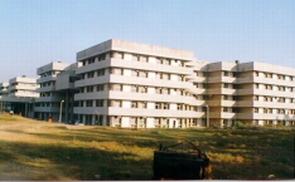 The condition of Pakistani prisoner Sanaullah Ranjay, who was injured in a scuffle with another inmate in a jail in Jammu, remained critical on Saturday.
Sanaullah is on a "ventilator, remains unconsicious and is on dopamine and noradrenaline infusions to maintain his blood pressure," sources at the Post Graduate Institue of Medical Education and Research in Chandigarh said.
Sanaullah was brought to PGIMER on Friday evening from Jammu after being airlifted from there.
The 52-year-old prisoner had been first rushed to Jammu's Government Medical College and Hospital.
Sanaullah was checked by neurosurgeons at the Jammu hospital, "who detected head injuries with a large fracture. CT scan showed multiple contusions with severe brain edema (brain capillaries damaged due to head injury)," according to sources.
He is being looked after by a team of neurosurgeons and other doctors at PGIMER's Trauma ICU, where security has been tigthened, with attendants of some patients complaining about the inconvenience being faced by them.
According to PGIMER, further treatment "including neurosurgical intervention will depend on his stabilisation and neurological status".
Earlier on Saturday, a team of Pakistani high commission officials visited Sanaullah at PGIMER, after India granted consular access to them on Friday night.
The sources said that the officials visited PGIMER again and were in touch with the doctors there to seek regular updates on the prisoner's condition.
Sanuallah is serving a life term after being convicted under Terrorist and Disruptive Activities (Prevention) Act provisions following his arrest in 1999.
Two prison officials, including Jail Superintendent Rajni Sehgal, have been suspended by the Jammu and Kashmir government in connection with the assault.
Image: The Post Graduate Institue of Medical Education and Research, where Sanuallah is hospitalised