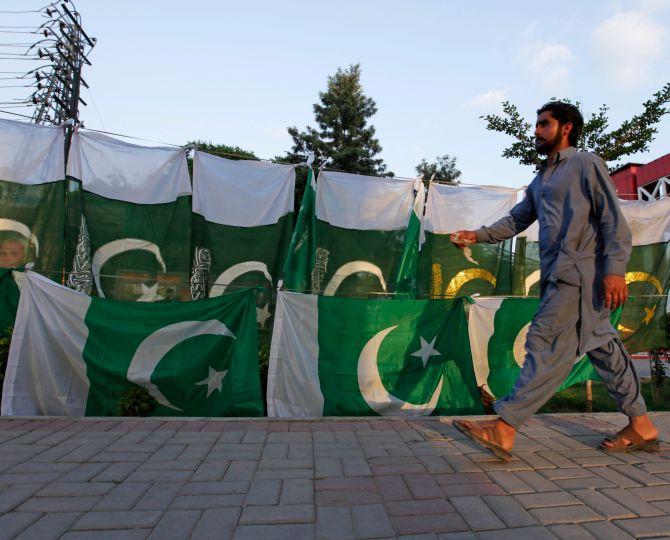 Pakistan on Sunday once again raised the Kashmir issue while celebrating its 70th Independence Day with Pakistan President Mamnoon Hussain saying the country will continue to support Kashmiris in their bid for the right to self-determination.
Hussain addressed the people during the special flag hoisting ceremony in Islamabad and mostly talked about internal challenges and importance of eliminating militancy.
He, however, also touched upon the Kashmir issue and asked the people that they should not forget the people of Kashmir on the Independence Day.
"Pakistan cannot forget Kashmiris and would continue to support them to get right of self-determination in light of the United Nations resolution," he said.
The president urged the people to shun differences and work hard for the prosperity of the country.
Pakistan Prime Minister Nawaz Sharif too echoed similar sentiments, saying that they were dedicating today to the freedom movement in Kashmir.
"I dedicate this year's 14th August to the freedom of Kashmir," the Express Tribune quoted Sharif as saying.
Remembering Quaid-e-Azam Mohammad Ali Jinnah, he said that Pakistan's creation was impossible without the former's leadership.
"When we remember the Quaid, leaders and workers of Pakistan Movement, our hearts are enlightened with the memory people who have become immortal by sacrificing their lives for the country," he said.

Pakistan's High Commissioner to India, Abdul Basit, on Sunday also voiced same feelings, saying Pakistan has always made efforts to improve its relationship with India.

"As far as the relation of Jammu and Kashmir is concerned, we dedicate this year's Independence Day to Kashmir's freedom. We are confident that the sacrifices made by the people of Jammu and Kashmir would be successful," Basit said.

He asserted Pakistan has always given moral support to Jammu and Kashmir's freedom struggle and would continue to do so.

"Struggle for independence will continue till Kashmir gets freedom; sacrifice of the people of Kashmir will not go in vain," he said.
Basit said that no matter "how much" force is used, the political aspiration of people of Jammu and Kashmir cannot be suppressed, and that the "freedom movement" will reach its logical conclusion.
-- With inputs from ANI
Image: A man walks past a Pakistani flag display along a roadside in Rawalpindi, Pakistan. Photograph: Faisal Mahmood/Reuters