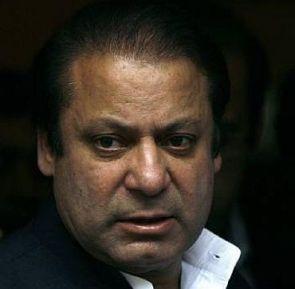 Calling for an end to the arms race in the region, Prime Minister Nawaz Sharif has asked India to join Pakistan in taking steps to cut defence expenditure.
"Regional peace will remain under threat until there is a balance in armament. We want peace and for that, both countries must put a cap on their defence spending," Sharif said.
"No one, apart from the common people, has suffered from the wars between us," Sharif was quoted as saying by The Express Tribune during an interaction with a delegation of the Pakistan Journalists Forum in Jeddah on Sunday.
The premier, currently in Saudi Arabia on a private visit, said he would draft a "comprehensive policy" on Kashmir and other issues after consulting all political parties.
Replying to a question on Afghanistan, Sharif said Pakistan will adopt a policy of "non-interference" while dealing with its neighbour.
Pakistan will not support any particular group in Afghanistan at the expense of others, he said. Islamabad supports the Doha process because it is expected to serve regional and international interests, he added.
In response to another question, Sharif said a commission is investigating allegations against former military ruler Pervez Musharraf. He said he would refrain from commenting on the matter till the commission submits its report.
Sharif claimed that he did not believe in the "politics of revenge".
Sharif's earlier government was ousted during a military coup led by Musharraf in 1999. The former dictator was arrested shortly after he returned to Pakistan after several years in self-imposed exile. He is currently facing charges in several cases, including the 2007 assassination of former premier Benazir Bhutto.
Pakistan was confronted by several challenges like terrorism, sectarianism, power shortage, economic woes and depleted resources, Sharif said. These challenges would not be solved with mutual cooperation, he said.
Sharif said Pakistan will have to adopt the rule of law, end the menace of terrorism and extremism, and create a new political culture in order to be a "civilised nation".
Talking about Pakistan's energy crisis, Sharif said it was sad that a nuclear power was beset by chronic electricity shortages.