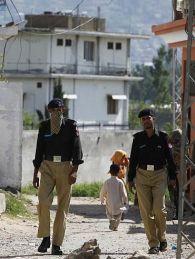 Pakistan's top military commanders have discussed the likely implications of the leaked report of the Abbottabad Commission which has made a series of stinging remarks against the country's powerful security establishment.
Chaired by Chief of Army Staff General Ashfaq Parvez Kayani, the informal meeting was held at the General Headquarters in Rawalpindi on Tuesday, a media report said.
An Inter-Services Public Relations statement said the routine corps commanders meeting undertook a comprehensive review of the prevalent internal and external security situation of the country.
However, sources confirmed that the top brass also discussed the findings of the commission, the Express Tribune reported.
A senior official, speaking on condition of anonymity, said although officially the report was not made public, the conclusions of the commission were nothing new.
The official admitted that there was a "systematic failure" at all levels, the report said.
When asked, he said the military would give its formal reaction once the report was officially made public.
The Dawn daily too said commission report was discussed.
It said a military official insisted that it was not the main point of the agenda.
"The generals pondered over how the secret report was leaked to the media and may have felt intrigued about the timing of the revelation," the media report said.
The disclosures in the report were news also for some of the generals who, despite having a broad view of the findings, were not familiar with the details, particularly critical remarks of the members of the commission, the Dawn reported.