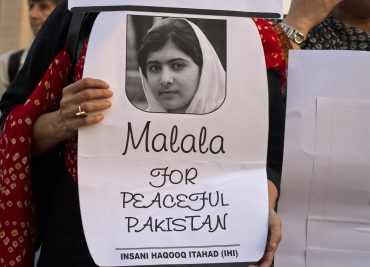 Teenage rights activist Malala Yousufzai, who is still critical after being shot in the head
by the Taliban, was on Thursday airlifted to Pakistan's top army hospital in Rawalpindi for better post-surgery care.
Malala was in the intensive care unit of a Peshawar hospital and a three-hour surgery was performed on her on Wednesday to remove a bullet lodged near her spine. She was shifted to the Armed Forces Institute of Cardiology in the garrison city e on doctors' advice.
Chief military spokesman Major General Asim Bajwa said doctors said that AFIC had better facilities for post-surgery care.
The decision to shift 14-year-old Malala, who along with two of her school friends was attacked by the Taliban on Tuesday in Swat in the country's troubled northwest, was made by a panel of Pakistani and British doctors.
Doctors have said she is improving, though her condition continues to be serious.
"Her condition is not yet out of danger despite improvement," Masood Kausar, governor of the northwestern Khyber-Pakhtunkhwa province, told reporters.
A neurosurgeon from the Peshawar hospital also said that the next 10-15 days are critical for Malala.
The provincial Khyber-Pakhtunkhwa government has offered a reward of Rs one crore for information leading to the arrest of Malala's attackers.
People from all walks of life held demonstrations and candlelight vigils in Lahore and other cities of Punjab province to condemn the Taliban's cowardly act of attacking
Malala, who came to prominence after she spoke out for the rights of girls, when the Swat Valley was controlled by the Taliban in 2008.
Members of civil society organisations and associations of students, teachers, lawyers, clerics and doctors offered prayers in different ceremonies for the recovery of Malala.
Several Islamic clerics urged people to observe Friday as Youm-e-Dua (day of prayers).
The banned Tehrik-e-Taliban Pakistan has claimed responsibility for the attack, saying Malala was targeted for her "pro-West" views and for backing a secular government in
Swat, where the army conducted a major offensive in 2009 to flush out militants.
A number of peaceful protests and candlelight vigils were held in Lahore. The protesters carried banners and placards bearing inscriptions against the cowardly attack.
The banners and placards featured photos of Malala and slogans like We all are Malalas, and We protest against cowardly attack, we condemn terrorist attack on an unarmed young girl.
Pakistan People's Party chairman Bilawal Bhutto Zardari, in a message from Strasbourg in France where he is attending the World Forum for Democracy, described Malala as his sister and prayed for her recovery.
"Malala is the sister of every peace-loving Pakistani. She is the daughter of Shaheed Mohtarma Benazir Bhutto."
Bilawal said the Tehrik-e-Taliban Pakistan was the enemy of the country, Islam and humanity.
He condemned the attack on Malala and urged those "still living in denial to stand united against the threats Pakistan faced from within." "It is our duty as Pakistanis to stand with our brothers and sisters and face the menace of terrorism together," Bilawal said.
He lauded Malala for raising her voice for girls' right to education and bravely facing threats from extremists.
Condemning the attack, leading rights activist Asma Jehangir said an armed assault on a little schoolgirl had maligned Pakistan's image the world over.
The 14-year-old is a peace activist and a symbol of bravery and all sections of society must unite and raise their voice against the attackers, she said.
Image: An activist from non-governmental organisation Insani Haqooq Ittihad holds a picture of Malala Yousufzai during a demonstration in Islamabad | Photograph: Faisal Mahmood/Reuters