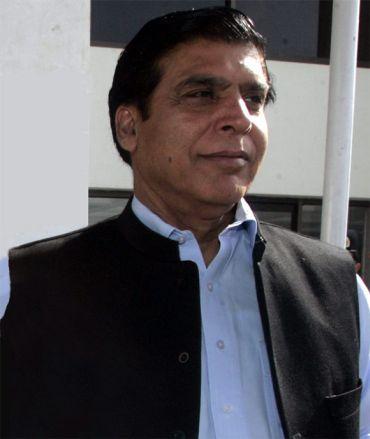 In a huge relief to Pakistan Prime Minster Raja Pervez Ashraf, the country's apex court on Wednesday discharged the court of contempt notice served on him.
It may be recalled that in the same National Reconciliation Ordinance implementation case Ashraf's predecessor Yousuf Raza Gilani was ousted as Pakistan's PM and has been disqualified for five years from holding a seat in the parliament.
The Pakistan Supreme Court on Wednesday withdrew the contempt of court notice served on Ashraf after a much-awaited letter was sent to the authorities in Switzerland seeking reopening of the graft cases against President Asif Ali Zardari.
Appearing before a five-judge special bench hearing the NRO implementation case, Pakistan's Federal Law Minister Farooq H Naek requested the court to dismiss the contempt notice issued against the PM following the complete implementation of the judicial order regarding the dispatch of letter to Swiss authorities against the beneficiaries of NRO.
The court, granting his plea, dismissed the contempt notice against the PM.
Earlier, on September 18, Ashraf, who was likely to face contempt of court proceedings, apprised the court that the government was raring to write a letter to their Swiss counterparts to discard the earlier letter by former attorney general Malik Qayum, provided its reservations regarding immunity for Zardari are kept in view.
It is pertinent to note that the government produced before the court three different drafts of the proposed letter on September 25 and 26 and then on October 5. However, it failed to satisfy the court over the contents of the letter.
The court served the government a final deadline of October 10 to produce the draft in accordance with paragraph 178 of the NRO verdict. The court approved the draft produced on October 10.
According to the request submitted by the government on November 8, the letter was dispatched to Swiss officials through a diplomatic channel on November 5. However, its receipt is yet awaited.
The Pakistan embassy in Berne, Switzerland, has passed on the letter to Switzerland's Federal Office of Justice.
It is believed that the Pakistani embassy in Berne wrote to the foreign office in Islamabad on Thursday and informed that the letter had been delivered to the FOJ. The delivery of the letter brings to the fore the fundamental question as to what happens next, now that the letter has been received by the Swiss authorities.