Pakistan on Friday released 200 Indian fishermen from a prison in Karachi and will hand them over to Indian authorities at the Wagah border after "due process."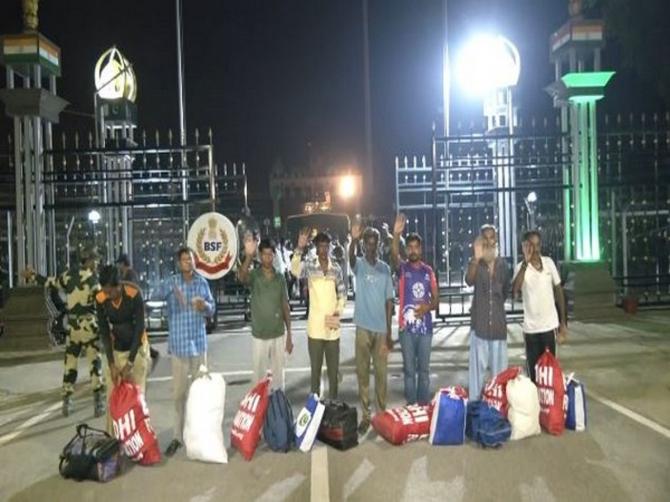 The fishermen were released from the Malir jail in Karachi as part of a decision by the Pakistan government to hand over jailed 500 fishermen to Indian authorities.
Last month, Pakistani authorities released 198 Indian fishermen, languishing in a prison in Karachi after arresting them for allegedly fishing illegally in the country's waters.
They were handed over to India at the Wagah border.
"In the second batch we have released 200 Indian fishermen while another 100 would be freed in July," Malir jail superintendent Nazir Tunio said.
He said the fishermen, including 10 Muslims, were put on a train by Edhi welfare foundation and have reached Lahore.
"In Lahore, they are scheduled to be handed over to Indian authorities at the Wagah border after due process," Tunio said.
Tunio said the majority of those released in the second batch had completed their jail sentences of 5 to 8 years after being arrested and tried by a court.
Pakistan Fisherfolk Forum general secretary Saeed Baloch said that he was relieved to see the release of second batch of Indian fishermen.
"These are poor Indian fishermen who are arrested because they stray into Pakistan's territorial waters to fish and earn their livelihood. They can't be blamed as there is no clear demarcation line in the Arabian sea between the two countries and they don't have the technology on their boats," he said.
He said a third batch of 100 Indian fishermen would be released on July 3.
Earlier, Pakistan Foreign Minister Bilawal Bhutto Zardari tweeted: "Today, Pakistan is releasing 200 Indian fishermen and 3 civilian prisoners. Earlier, 198 Indian fishermen were repatriated on 12 May 2023."
"This is in line with Pakistan's policy of not politicising humanitarian matters. Compassion should take precedence over politics," he added.
Pakistan and India regularly arrest each other's fishermen for violating the maritime boundary, which is poorly marked at some points.