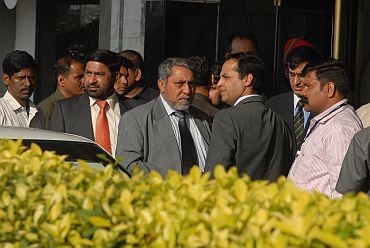 After repeatedly failing to keep the date, a Pakistani judicial commission arrived in Mumbai on Thursday to record the statement of four key persons in connection with the 26/11 Mumbai attacks, including a magistrate who recorded the confessional statement of Ajmal Kasab, the lone surviving perpetrator.
The statements of the four witnesses will be used as evidence in the trial against Lashkar-e-Tayiba top commander Zaki-ur-Rehman Lakhvi and six other suspects in the brazen strikes going on in Pakistan.
The eight-member commission that landed at the domestic airport on Thursday afternoon by an Air India flight amid tight security, will record the statements on March 16 and 17.
The Pakistani commission will be lodged at Marine Palza hotel in South Mumbai, where heavy security has been put in place. On the way to the hotel every member of the panel was surrounded by at least two plain-clothed security personnel. Rediff.com's correspondent also noticed a tin box containing documents with the panel members.
Ahead of their arrival, Chief Metropolitan Magistrate of the Esplanade court in south Mumbai had issued summonses to magistrate R V Sawant Waghule, who had recorded Kasab's
confession, and crime branch officer Ramesh Mahale, investigating officer in the case.
Two doctors -- Medical Officer (forensic department) of JJ Hospital Ganesh Nitukar and Shailesh Mohit of civic-run Nair hospital have also been issued summonses asking them to appear in court to record their statements. They had conducted autopsies on the nine slain terrorists and victims of the assault which lasted  nearly 72 hours and left in its bloody trail 166 dead and many more wounded.
The commission comprises defence lawyers Khwaja Haris,
Riyaz Akram Choudhary, Fakhar Haayat, Raja Ehassan Ulhakhan and Isaam Bin Haris, special public prosecutors Choudhary Mohammed Azhar and Choudhary Ali and court official Azad Khan.
Ujjwal Nikam, who was special public prosecutor in the terror trial, would accompany Indian officers to be questioned by the Pakistani panel.
The panel will collect evidence on behalf of the Pakistani court trying Lakhvi and other suspects in the case.
On November 26, 2008, Kasab, and nine other LeT terrorists had landed in Mumbai by sea and massacred 166 people in a bloody mayhem at city's landmarks including Taj Mahal Hotel, CST Railway Terminus and Oberoi Hotel.
With inputs from PTI
Image: Members of Pakistani judicial commission on 26/11 arrive at a hotel in Mumbai on Thursday
Photograph: Sahil Salve