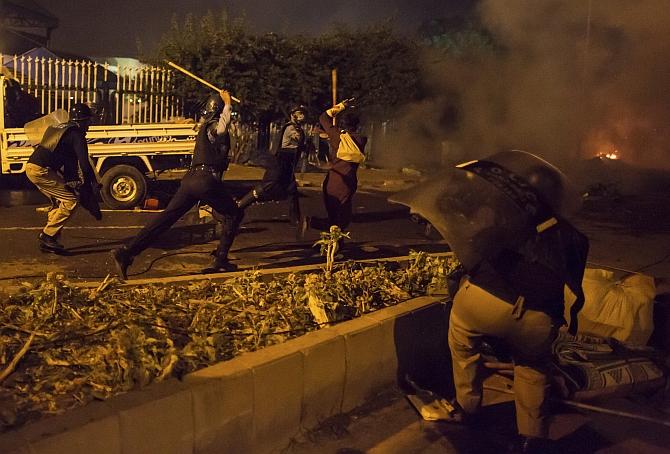 Senior ministers of Pakistan's ruling Pakistan Muslim League - Nawaz party on Wednesday rallied in Parliament in support of embattled Prime Minister Nawaz Sharif and dismissed demands for his resignation by protest leaders Imran Khan and Tahir-ul-Qadri.
Finance Minister Ishaq Dar said that all political parties in Parliament stand united against the demand for the prime minister's resignation raised by Khan's Pakistan Tehreek-e-Insaf and Qadri's Pakistan Awami Tehreek.
Dar said in Parliament that the government has already agreed to five demands presented by the protesting parties but has told them that the sixth point was non-negotiable referring to the demand for Sharif to quit.
He then presented the details about 12 rounds of the dialogue process held so far and said that the PTI presented the first draft of demands to the government on August 30 while the government prepared its response after consulting all the political parties on September 4, and the first meeting was held on September 5.
He also said that PTI's allegation that the government has backed off from its commitments is false. Railways Minister Saad Rafique said that the actions of Khan and Qadri during the past few weeks may even merit a trial for high treason against them under Article 6 of the Constitution, the Dawn reported.
The PML-N leader said the politics of Khan and Qadri was based on hatred and their targets were the country's democratic forces. "Our media trial is being done by a man who has done a total of a 48-hour hunger strike and has spent 2.5 days in jail during the lawyers' movement," Rafique said referring to Khan.
The minister said that fiery cleric Qadri wanted to be Pakistan's "Imam-i-Inqalab" but had no understanding of what a revolution involved and what it actually meant.
Rafique said both Khan and Qadri were busy targeting people in their daily diatribes and had failed to absorb the reality that change could not be brought to Pakistan through use of force, blaming the duo for the 28-day crisis that has paralysed the country.
Khan and Qadri have been protesting outside parliament since mid-August to force Sharif's resignation over alleged rigging in the 2013 general election won by the premier's PML-N party.