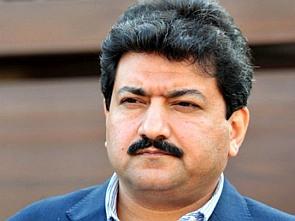 Senior Pakistani TV journalist Hamid Mir, confined to a wheelchair after surviving an assassination attempt, on Friday recorded his statement before a judicial commission probing the attack on him.
The three-member probe panel, constituted by the Supreme Court to investigate the attack, held its proceedings at the Supreme Court's Karachi Registry.
The inquiry commission headed by Justice Anwar Zaheer Jamali and comprising Justice Ejaz Afzal Khan and Justice Iqbal Hameed ur Rehman conducted the judicial proceeding in a closed room where Hamid Mir appeared on a wheelchair and recorded his statement.
The commission comprising three Supreme Court judges was formed last week to probe the attack on Mir. The commission has three weeks to submit its report. A reward of Rs 1 crore has been announced for those who help identify the attackers.
Mir, 47, came to the court under heavy security arrangements. He has already been shifted out of the hospital to an undisclosed location due to "security threats".
"Yes, I had to be taken out of hospital after some serious security threats, and I am right now bleeding from the stitches covered by bandages at the slightest movement," he told the News daily, which is part of the Jang group that Mir works for.
One bullet hit Mir's urinary bladder damaging it as was part of his intestine that was hit by another bullet, a part of which the surgeons removed after the April 19 gun attack.
Though there have been suggestions to move Mir abroad for further treatment, he is not medically fit for air travel as of now.
Mir has blamed the "ISI within the ISI" for orchestrating the attack on him alleging that he is receiving threats which "advise" him to leave the country.
"Yes, advice keeps coming in that I should leave the country but the reason I refuse it is because I and my brother have taken a certain position saying that rogue elements tried to take me out, and I will not bow my head in front of them by leaving the country.
"Repeatedly, I have said I am not against any institution. I have been made an example but this will not deter me in any manner," he was quoted as saying by the daily. Mir's brother has already recorded his statement before the judicial commission.
His brother has also accused "elements in the ISI" of orchestrating the attack on Mir, a charge denied by the military.