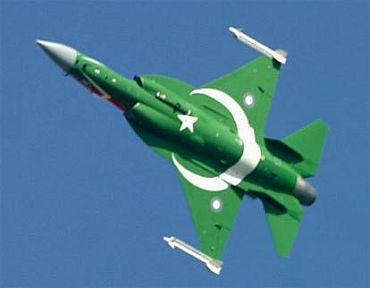 At least 60 militants were killed on Wednesday in precision bombing by air force jets on Taliban targets in Pakistan's restive tribal region on the Afghan border, military officials said.
Air force bombers pounded rebel positions in North Waziristan, which is one of seven tribal agencies where the al-Qaeda-linked Pakistani Taliban have strongholds. A military official said on condition of anonymity that there were confirmed reports about the presence of the militants in the targeted areas.
"As per reports so far, 60 hardcore terrorists including some of the important commanders and foreigners were also killed in the strikes and around 30 were injured," the official said.
He said that a huge cache of arms and ammunition including Improvised Explosive Device-making explosive material has also been destroyed in the strikes.
"There are confirmed reports that terrorists involved in recent attacks including IDP (internally displaced people) camp blast in Peshawar, IED attacks in Mohmand and Bajaur killing innocent civilians and security forces and IED attacks at security forces convoy in NWA (North Waziristan Agency), were hiding in these hideouts," said the official.
There was no independent confirmation of the reported strikes and death toll as the areas are remote and out of reach of the news media. Pakistan's army has adopted a policy of aerial strikes in response to bombings by the Taliban.
General Raheel Sharif since taking over as army chief last year has announced tough measures in response to Taliban attacks on security forces and civilians. Use of aerial strikes was put on hold after announcement of talks by the government in January but negotiations are stalled and the Taliban have resorted to bombings, forcing the army to launch new air attacks.