Pakistan's top election body on Tuesday issued bailable arrest warrants for former prime minister Imran Khan and other top leaders of his party in a contempt case.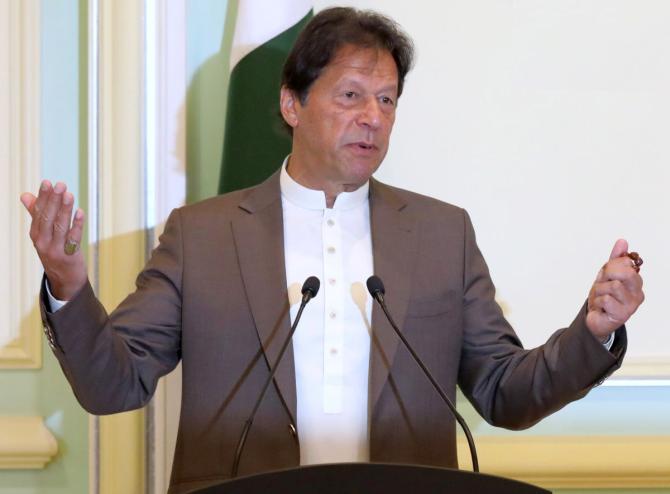 The case is based on statements issued by top Pakistan Tehreek-e-Insaf leaders against the Election Commission of Pakistan (ECP) and Chief Election Commissioner Sikander Sultan Raja.
A four-member ECP bench headed by Nisar Durrani issued warrants against Khan and his close aides - Fawad Chaudhry and Asad Umar.
The election watchdog had issued notices against them in August and September last year in the exercise of its powers of contempt after the Pakistan Tehreek-e-Insaf (PTI) leaders repeatedly bashed the commission and Raja over what they claim is their partisan policy and their alleged favouring of Pakistan Muslim League-Nawaz (PML-N).
At the previous hearing, the ECP had given the PTI leaders a last chance to appear before it.
During the hearing on Tuesday, the commission rejected the pleas for their exemption from appearance and issued arrest warrants against surety bonds worth Rs 50,000 each.
The bench adjourned the hearing till January 17.
Khan has been asking the ECP chief to resign for allegedly failing to play the role of a neutral election commissioner. The chief rejected the calls by asserting he was working as per law.
The senior leaders of Khan's party expressed their dismay and anger at the move.
Chaudhry and Umar, whose arrest warrants were also issued along with Khan, termed the ECP order as biased.
"The ECP's decision to issue a bailable warrant is an insult to the high court's decision," Chaudhry tweeted.
"The case had been fixed for January 17, which was moved up to today against the rules and the case was decided," he claimed and added that it was "yet another biased decision" by the ECP members.
He asserted that the PTI leaders would "pursue a contempt of court case against this decision in the high court".
Umar, who is PTI secretary general, reminded the electoral body to focus on its primary responsibilities instead.
"They are engaged in these tasks instead of conducting elections," he said.
Umar also said that "they are themselves in contempt of court for not having conducted Islamabad [local body] elections."