'We have put people on notice that if you're harbouring terrorists, be warned, be forewarned that we're going to engage with those who are providing safe haven and ask them to change what they're doing.'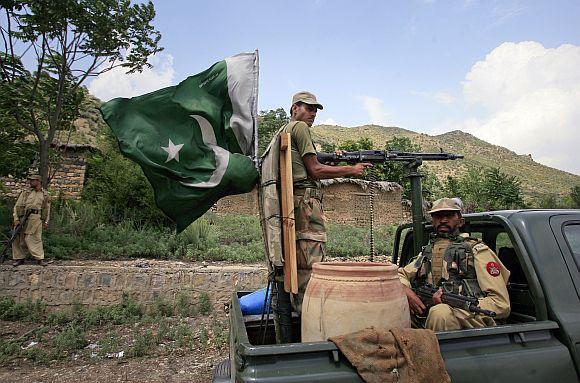 United States Secretary of State Rex Tillerson has warned that the US could consider punishing Pakistan by cutting off its status as a major non-NATO ally if it does not crack down on terrorists.
Tillerson echoed President Donald Trump's tough rhetoric on Pakistan in his address laying out a new strategy for the war in Afghanistan.
'We stand ready to help Pakistan address terrorist organisations inside their country, but they must adopt a different approach themselves,' Tillerson told reporters in Washington, DC on Tuesday, August 22.
'Pakistan and the US historically had very good relationships. But over the last few years, there's been a real erosion in the confidence between our two governments,' Tillersaon said.
'There's been an erosion in trust because we have witnessed terrorist organisations being given safe haven inside Pakistan to plan and carry out attacks against US servicemen, US officials, disrupting peace efforts inside Afghanistan,' the secretary of state added.
Noting that the new Afghan policy is a regional approach, he said it also included a fairly comprehensive review of the US' ties with Pakistan and India.
'We see this approach as requiring an integration of all three of those strategies and use Pakistan and India to also bring pressure to bear on the situation in Afghanistan,' he said.
Tillerson said the Trump administration is adopting conditions-based diplomacy.
'We're going to condition our efforts along with the progress we see being made by the Afghan government who must continue the reform efforts that we've been working on for some time, and in particular, much more rigorous efforts around anti-corruption,' he said.
Trump, he said, was clear that this entire effort is intended to put pressure on the Taliban to understand that it will not win a battlefield victory.
'We're going to attack terrorists wherever they live. We have put people on notice that if you're harbouring and providing safe haven to terrorists, be warned, be forewarned that we're going to engage with those who are providing safe haven and ask them to change what they're doing and help us help them,' Tillerson said.
Tillerson acknowledged that Pakistan's status as the US' non-NATO ally is now in question.
'We have some leverage that's been discussed in terms of the amount of aid and military assistance we give them; their status as a non-NATO alliance partner. All of that can be put on the table,' he said.
'At the end of the day, Pakistan has to decide what is in Pakistan's best long-term interest from a security standpoint for themselves and for their people,' he added.
The Taliban and other organisations inside Pakistan, Tillerson felt, seem to be growing their numbers and at some point they would become a real threat to the stability of the Pakistani government itself.
'hey need to be thinking about what is in their best long-term interest and how can we work with them to achieve a safer, more stable Pakistan in the next decades to come as well,' Tillerson said.
'I think it really is up to them. They've got to ask themselves that question.'
US may sanction Pak officials with ties to terrorists: WH
President Donald Trump has put Pakistan on 'notice' and his get-tough approach could include sanctioning Pakistani officials with ties to terrorist groups such as Haqqani Network, a top White House official has said.
The official also said that with Pakistan the 'business as usual as it has been up to now is over'.
'The important takeaway for the Pakistani government is that, you know, they should understand that they're on notice from this president, from this administration,' the official was quoted as saying by Politico on Tuesday.
'The US has been really patient with Pakistan for a really long time. We haven't been getting a good deal from them,' he added.
He said the US could conceivably impose sanctions on terrorist groups including the Haqqani network, which has links to elements in the Pakistani government, as well as on any Pakistani officials who are tied to these kinds of groups.
The Haqqani network, blamed for several deadly attacks against Indian interests in Afghanistan including the 2008 bombing of the Indian mission in Kabul that killed 58 people, has also carried out a number of kidnappings and attacks against US interests in Afghanistan.
The White House official said that the onus for improving the relationship is now on Pakistan.
He said the president had benefited from an outsider's perspective on the US-Pakistan relationship, eschewing the conventional wisdom that 'however much the Pakistanis double-deal you and lie to you and don't cooperate, you have no choice but to just keep the status quo'.
'How do we get the Pakistan to behave better? The answer is we have leverage points over Pakistan that the strategy contemplates we will use. Ultimately whether they behave better or not is completely up to them,' he said.
'They may calculate that it's more important to remain allied with terrorists, it's more important to give terrorists safe haven, it's more important to do all the nasty things that they've been doing that we don't like than it is to have a good relationship with the US,' he continued.
'If so, that's a choice that they will make and then we will make choices based on their choice,' he said.
Observing that the US gives the Pakistani government substantial security aid, the official said, and in return receive, at best, 'indifference to border crossing and terrorist safe havens and sanctuaries' in Pakistan's tribal regions along the Afghan border.
'In the worst case,' he said, the Pakistani government has been guilty of 'active direct support' for terrorist groups, the media outlet reported.
'UN chief ready to assist Pakistan if help sought to dismantle terror sanctuaries'
The United Nations Secretary-General isready to engage with Pakistan to help it dismantle terrorsanctuaries if sought, his chief spokesperson has said afterUS President Donald Trump warned Islamabad for providing safehavens for terrorists.
"As a matter of principle, Secretary-General's goodoffices are always available to any two parties who, who ask.But that is just a statement of principle," UN chief'sspokesperson Stephane Dujarric said.
Dujarric was asked if the good offices of the Secretary-General Antonio Guterres will be offered to help facilitatediplomatic efforts with Pakistan to dismantle the sanctuariesfor terrorists.
Commenting on Trump's speech, Dujarric said the SecretaryGeneral's hope is that the international community 'will helpcome together and help Afghanistan find a political solutionthat will bring peace to the country'.
"And that's also obviously through the support andefforts of the UN, of the UN Mission there," he said.
Dujarric added that while the good offices of theSecretary General are available if asked for, the UN's focusis on 'finding a political solution to the current crisis inAfghanistan' and help the Afghan people who have suffered somuch for decades.