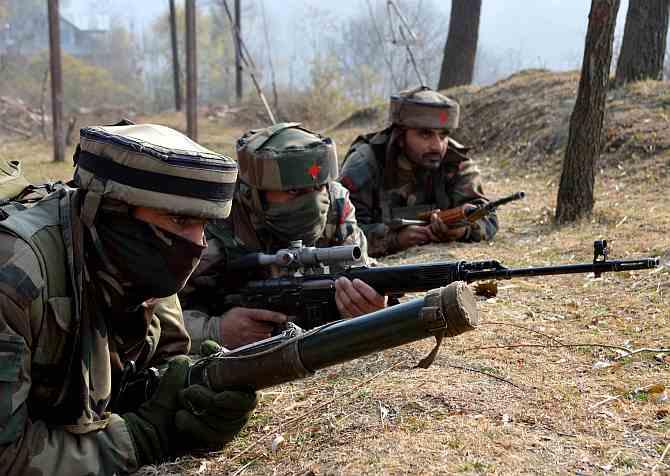 Image: Army men take position during the encounter with terrorists at the camp in Uri on Friday. Photograph: Umar Ganie

The army on Saturday said the food packets recovered from the six slain terrorists, involved in the attack on the Uri camp, bore marks of the Pakistani establishment.
"The food packets, which were recovered from the encounter site, are generally used by Pakistan army," a senior army officer in Srinagar said.
The officer said the recovery of food packets along with the arms and ammunition showed that the terrorists were planning to engage the security forces for a long time.
The encounter between the army and the group of militants lasted just over six hours and left 11 security personnel including eight army soldiers dead. All the six militants were also killed.
Among the other recoveries from the scene of the deadly encounter were six AK rifles with 55 magazines, two shotguns, two night vision binoculars, four radio sets, 32 unused grenades and one medical kit.

Thirteen people -- nine soldiers, three policemen and a civilian -- were killed as terrorists launched a series of attacks in Jammu and Kashmir on Friday.